We know which celebrities will be performing on the America's Got Talent: All Stars finale. Also, we know that the celebrity guests will each perform with one or more of the Top 11 finalists. But who is performing with who? Check out the official NBC production photo stills below to find out!
Note: The entire series was taped last fall. There are spoilers. DO NOT SHARE THEM HERE.
After the epic performances, host Terry Crews will announce which act wins the "ultimate prize." The "superfans" are done voting. The judges–Howie Mandel, Heidi Klum and Simon Cowell–will make no more decisions. Now it's time to find out the WINNER of it ALL.
America's Got Talent: All Stars Celebrity Guest/Contestant Pairings
Adam Lambert performs with Aerialist Aidan Bryant and Hand Balancing siblings, Bello Sisters
This performance is sure to be a dramatic tour de force, with Adam perhaps singing a song off of his new covers album, High Drama. UPDATE: Reports say Adam will be singing Sia's "Chandelier" from the new album.
Magician Mat Franco performs with magician Aidan McCann
Mat Franco won America's Got Talent season season 9 in 2014. He's been headlining his own show in Las Vegas every since. Young Aidan must have been thrilled to partner with him. Although, Piff the Magic Dragon would have been a hoot!
Ventriloquist Terry Fator joins ventriloquist Ana-Maria Margean
The AGT season 2 winner competed in All Stars but surprisingly did not advance to the finale, while young Ana-Maria did. Maybe they'll make hay out of that little fact when they perform on stage together
Musician Babyface joins saxophonist Avery Dixon
Babyface recently performed "America' the Beautiful" at the 2023 Super Bowl.
Weezer and Detroit Youth Choir
The alternative pop stars will perform with a youth choir? That's an interesting and unexpected pairing.
Kodi Lee and Light Balance Kids join forces
In this instance, the show paired up two Top 11 finalists for a performance. No celebrities involved. Kodi will sing and play at the piano, while Light Balance will light up the room with dance.
Violinist Lindsey Stirling joins Aerialist/Dance act Power Duo
Lindsey Stirling is an America's Got Talent alum, now superstar violin performer. She'll set the backdrop for another romantic routine from the Power duo.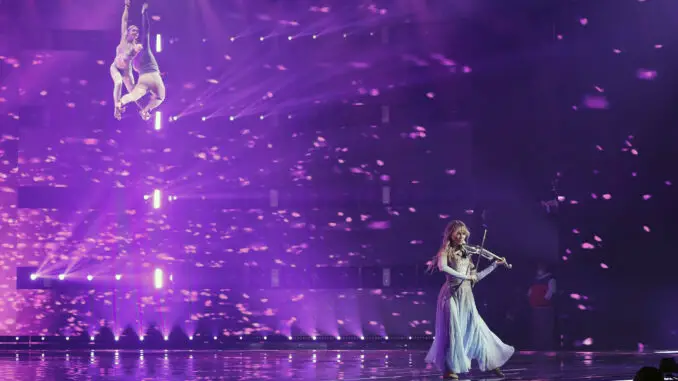 Singer Tom Ball is backed by Voices of Hope choir
Like Terry Fator, The Voices of Hope youth choir auditioned, but did not advance to the finale. Now they have returned to the All Star stage to sing backup for classic singer, Tom Ball. NBC dropped a preview of Tom and the choir singing Queen's "Who Wants to Live Forever. Watch HERE.
Comic Mike E. Winfield performing solo?
The comedian was not paired with a celebrity on the America's Got Talent 2022 finale back in September, either. He introduced a bunch of AGT comics who commenced to roast Simon, but didn't perform a solo routine. NBC didn't upload a photo of Mike from the finale, so we can't even speculate at this point.
America's Got Talent: All Stars Grand Finale airs on NBC Monday Feb 27 at 8 pm ET/PT