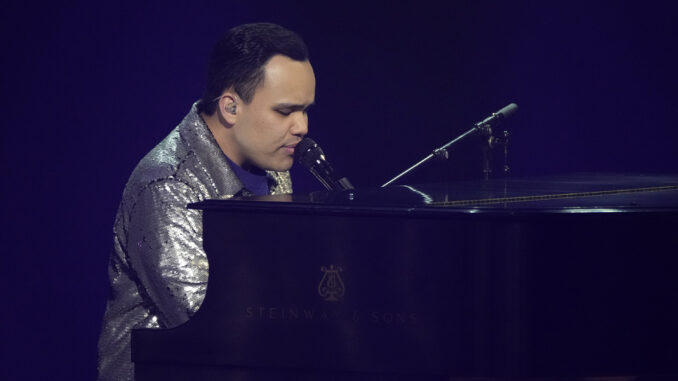 AGT: All Stars 2023 Week 6 Results
AGT: All Stars 2023 Week 6 Results – The auditions END tonight with the sixth and final set of 10 out of 60 America's Got Talent All Star acts. Simon Cowell calls the contestants the best of the best of the best. These are acts who performed well on AGT and Got Talent franchises around the world.
The five Golden Buzzers were handed out week 1-5. Now, only ONE act will go through to the finale, based on the "superfan" vote. Seems a little unfair, doesn't it?
AGT: All Stars 2023 Week 6 Lineup: Which 10 Acts Compete?
America's Got Talent: All Stars Reveal Top 60 Acts Competing
The "superfans" will vote for the winner and results will be revealed during the two-hour finale. Simon Cowell, Howie Mandel and Heidi Klum sit on the judges panel. Terry Crews hosts.
Daneliya Tuleshova – AGT 15 – Singer
Daneliya competed on AGT as a 13 year old in 2020. She's 16 now, and has moved from her home country, Kazakhstan, to America without her parents. She has been winning singing shows since 7 years of age. The young singer made it to the finals, but voters eliminated her outside of the Top 5.
She performs "Arcade" by Duncan Laurence. Her approach is more subtle this time. She was a mature singer 3 years ago, but she's even better than before when it comes to phrasing and shaping a performance. Her deep tones are gorgeous.
The judges give her a standing ovation. Heidi calls it "stunning all the way around." Simon admires her drive. He thinks she comes across as more human now that she's older. Howie calls her "absolutely phenomenal."
Eric Chien – Asia's Got Talent 2019 Winner, AGT 14 – Magician
Eric, who won Asia's Got Talent in 2019, suffered constant comparisons to the previous season's winner, Shin Lim. He believes that he left the competition at the semi-finals after failing to take Simon's advice to "go bigger." Actually, he tried, and failed to please Simon. He should have just stuck to his close up tricks, where he excels.
His sleight of hand is excellent. Objects really do seem to disappear into thin air. Heidi is on stage to help. But she mostly just watches as a close-up observer.
Howie calls the act elegant, smooth and beautiful. Heidi attests to his talent, being so close to the performed tricks. Simon calls it "cute" but insists it lacked the "wow factor." He admits that he doesn't care for close-up magic in any case.
Voices of Hope Children's Choir – AGT 13 – Choir
The 72 member Voices of Hope choir from Orange County, Calif. are back to compete again. Howie didn't love them last time. They were cut in the semi-final round, after guest judge Ken Jeong gave them his Golden Buzzer at Judge Cuts.
The group sings "Together" by For King and Country, and there is no upgrade from their last appearance. They still come off as a well-put together school choir.
Heidi says they "exude positivity." Howie still isn't impressed. "This doesn't rise above a really nice school assembly." He's correct. Simon says they may not be perfectly polished, but they make him feel good. He also believes they improved from last time.
Brandon Leake – AGT 15 Winner – Poet
Brandon rather unexpectedly, won America's Got Talent in 2020 as the first spoken word poet to ever win the show. In his initial audition for AGT, he recited a poem dedicated to his late sister who died as an infant. Howie hit his Golden Buzzer after Brandon's heartfelt poem, recited in an empty auditorium during the pandemic. He'll be performing for a live audience for the first time.
Howie believes that Brandon opened the door for poet Amanda Gorman to perform at Biden's inauguration, which happened a few months after his win. DELUSIONAL if he actually believes that. This time, Brandon recites a poem about a homeless man that he met on the streets. While his themes are cliched, his delivery is compelling.
Simon points out his "brilliant" delivery. Heidi calls him "special." Howie thinks his poetic words "move people…the message is so clear."
Lukas & Falco – Das Supertalent Winner, AGT 14 – Animal Act
Lukas received Falco as a gift from his dad when he was a child. The doggo is 13 years old now, so Lukas brought along his two brothers to help. Back in 2019, the act left the competition at the semifinals. Simon loved the act, Howie hated them.
Lukas and his very cute doggo kick off with a "Top Gun" theme. No arthritis for Falco, who can still jump rope and lift his legs. Falco's brothers appear to do some of the harder stunts. It's still a fun act.
Howie thinks he did more tricks this time, and he's entertained! Heidi calls Lukas "good looking." They are flirting. Simon, however, thought the act was better with only Falco. He doesn't like the brother doggos, who aren't spring chickens either at 7 and 10 years old.
Kodi Lee – AGT 14 – Singer
Heidi wasn't on the panel during Kodi's season. In fact, the singer, who is blind and autistic, was Gabrielle Union's Golden Buzzer. After Kodi won the show, all hell broke loose for AGT (unrelated to him, but still). At the time, the singer mesmerised the panel with a rendition of "Song for You." Now, Kodi headlines the AGT residency at the Luxor in Las Vegas.
Previously, he was a better piano player than singer. But performing in front of audiences night after night has payed off for him. His intonation is much improved–he'd go sharp and flat at times previously. And his interpretation has more resonance and nuance. This rendition of "Biblical" by Calum Scott is very good.
Howie calls him amazing. "You got the superfans," he says. Heidi describes her heart doubling in size when he sings. Simon thinks he will always be amazing. "You define what an all star is."
Brett Loudermilk – AGT 15 – Extreme Variety
Sword swallower Brett Loudermilk, asked judge Sofia Vergara to help him pull a sword out of his throat during his 2020 audition. The comic bit went over big with the judges. But Brett was cut in the semi-finals after throwing up a rubber duck that he swallowed. That, after Howie helped locate it with an endoscopic camera. Ew.
This time, Heidi lends a hand on stage. Simon jokingly buzzes Heidi after she tries and fails to blow up an animal balloon. Once the balloon is full of air, Brett shoves it all the way down his throat. Brett is gross out, but at least he's funny at the same time. Then, he coughs up the balloon with an animal name Terry suggested. The ideas sound, the execution is somewhat iffy.
Simon had already buzzed him before stating that it took Brett too long to get to the end and that he didn't improve from last time. Howie and Heidi disagree. "It's a combination of amazing and disgusting all in one," is the way Howie describes the act. Simon had a point, the act was confusing and took too long to get to the punchline.
Flau'Jae – AGT 13 – Rapper
NBC dropped a preview of this act last week. Eighteen year old rapper, Flau'jae, first auditioned for AGT at 14 in 2018 with a heartbreaking story. Her father, also an aspiring rapper, fell to gun violence before she was born. She was eliminated in the semifinals. But since then, she signed to Roc Nation, toured the world, and played basketball for LSU.
She's a talented rapper propelled by a fierce and confident personality. She has prevailed despite the violence around her. This song would be even better with good production and a feature.
Howie calls her a "beast to be reckoned with…you are my MVP." Heidi calls her both talented, and wise beyond her years. Simon felt "emotional" during her performance. "You're going to be a bigger star. I feel very proud."
Josh Blue – AGT 16 – Comedian
NBC also previewed Josh's audition earlier. The crowd gives him a standing ovation as he takes the stage. The comic is back on AGT because he wanted to return to the scene of the crime, "because I was robbed!" he declares. He's got a point, actually. The comic finished third in 2021 behind magician, Dustin Tavella, whose tearjerking presentation helped get him over the finish line.
Josh delivers self-deprecating humor based on his day to day life, living with cerebral palsy. He dares people to pity him at their own peril. This time, he tells a series of very funny jokes about fatherhood. "Didn't anybody tell you not to shake a baby!" and "I'm just holding them!" He's one of my favorite AGT comics. He deserves to go through to the finale.
Heidi calls his nature sweet, 'What's not to love about you." Simon notes the audience reaction. He thinks the "superfans" will put him through. "You gave us what we need," Howie says.
Sethward – AGT 15, 16, 17 – Variety
He's baaacckkk and is likely never going away! The comic "Sethward" is now America's Got Talent's perennial joke act, The comedian has performed on several seasons of the show, and it's always the same schtick. He comes crawling out on stage in an animal costume, bellowing and pratfalling like a drunk uncle. Simon becomes annoyed, and buzzes him. Last season, the judges finally allowed him into the live shows, but he was cut before the finals.
This time he's "Sethward the Goat" falling all over the stage, stealing Simon's tangerines, before Simon buzzes him. He eventually hits Heidi and Howie's buzzers too. But it doesn't count. The "superfans" can still vote for him. As if.
AGT: All Stars 2023 Week 6 Results
Remember: The Golden Buzzers are gone! Only one act goes through based on the "superfan" vote. The superfans have watched and voted. The first act in the Top 3 is Brandon Leake! The next act in the Top 3 is…Kodi Lee! The third and final act in the Top 3 is…Josh Blue!
The act finishing in third place and leaving the competition is Josh Blue. Not surprising, but ROBBED AGAIN. The act going into the final is…Kodi Lee. Brandon Leake is eliminated in 2nd place. Again, not surprising.
If the show wanted to ensure at least one comic got through to the finale, Josh should have gotten the Golden Buzzer instead of Mike E. Winfield and his dumb "step man" jokes. Oh well.
Through to the finale:
Kodi Lee – The "superfans" have spoken
America's Got Talent All Stars Top 11 Finalists
Light Balance Kids – LED Dance Group – Howie Mandel Golden Buzzer
Detroit Youth Choir – Choir – Terry Crews Golden Buzzer
Mike E. Winfield – Comic – Simon Cowell Golden Buzzer
Aidan McCann – Magician – Heidi Klum Golden Buzzer
Tom Ball – Singer – Group Golden Buzzer
Bello Sisters – Hand Balancers – Superfan vote
Aidan Bryant – Aerialist – Superfan vote
Avery Dixon – Saxophonist – Superfan vote
Power Duo – Aerial/Dance – Superfan vote
Ana-Maria Margean – Ventriloquist – Superfan vote
Kodi Lee – Singer – Superfan vote