AGT: All Stars 2023 Week 5 lineup: The series moves on to feature 10 more contestants. After this week's episode, ONE week of auditions remains before the big finale.
Does America's Got Talent: All Stars Have a Cash Prize for the Winner? More about the "superfans"
The entire GROUP has the LAST of the 5 Golden Buzzers this week. Whomever they choose, advances straight to the finale. The second contestant to advance to the finale will be voted through by the "superfans."
The AGT: All Stars 2023 Week 5 lineup includes two more international Got Talent winners, plus several fan-favorite AGT alum like Peter Rosalita, Mandy Harvey and Archie Williams.
Simon Cowell, Howie Mandel and Heidi Klum sit on the judges panel. Terry Crews hosts. America's Got Talent: All Stars features acts from around the world competing for the ultimate All-Star title. See a list of the full Top 60 line up HERE.
AGT: All Stars 2023 Week 5 Lineup
Ana-Maria Margean – Romania's Got Talent 2021 Winner – Ventriloquist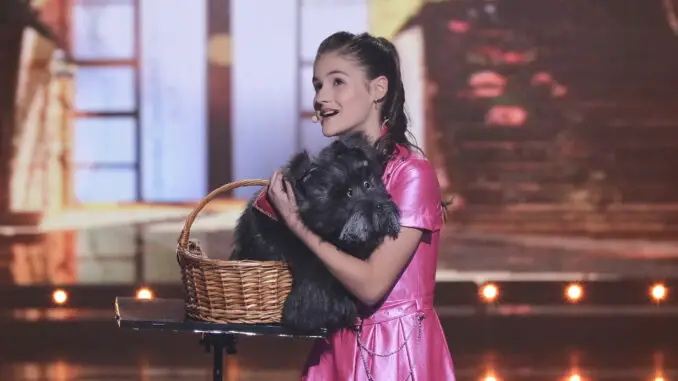 13 year old Ana-Maria Margean won Romania's Got Talent in 2021. During the COVID lockdown, Ana discovered a video of AGT alum Terry Fator doing ventriloquism, and became fascinated with it. Her parents gave her first of many puppet friends. With limited experience, she received the Golden Buzzer and then won RGT. NBC previewed Ana's audition over the weekend. – VIDEO
Archie Williams – AGT Season 15 – Singer
Archie was falsely convicted of rape and murder in the early 80s. Subsequently, he spent 36 years in prison, until DNA evidence exonerated him. He brought the audience to its feet in 2020 with a rendition of "Don't Let the Sun Go Down on Me." He made it to the finale that year, but finished outside of the Top 5. – VIDEO
Axel Blake – Britain's Got Talent 2022 Winner – Comedian
Axel won Britain's Got Talent in 2022 as Simon Cowell's Golden Buzzer. Before BGT, Axel worked in construction, while hitting open mics and honing his craft. Axel hoped to inspire his teen son. – VIDEO
Jasper Cherry – Britain's Got Talent 2020 – Magician
Jasper Cherry, now 16 years old, competed on Britain's Got Talent in 2020. The season aired in two parts due to COVID-19 complications. Subsequently, BGT didn't return to the schedule until 2022. In the final, which aired in October of that year, the young magician finished in 9th place. Before auditioning for BGT, Jasper had only demonstrated his tricks for family. On the show, he performed close-up magic in front of the judges. – VIDEO
Mandy Harvey – AGT Season 12 – Singer
Mandy lost her hearing at age 18 due to a connective tissue disorder. She gave up singing at first, but then learned to use her muscle memory, floor vibrations and visual pitch to continue following her dreams. Despite being deaf, she sings beautifully. Simon was so moved by her audition, he gave her his Golden Buzzer. The video clip earned more than 600 million views collectively. She finished the season in fourth place in 2017. – VIDEO
Mervant Vera – AGT Season 17 – Magician
Mervant Vera is the "rapping magician" from AGT 2022. He's been rapping all of his life, but became fascinated with magic after watching it on television. One day, he decided to merge the two. On the show, he performed card tricks for the judges while spitting rhymes. After Simon remarked that Mervant seemed nervous, he was cut in the semi-finals. – VIDEO
Peter Rosalita – AGT Season 16 – Singer
Peter Rosalita is originally from the Philippines, but lives with his family in the United Arab Emirates. His big voiced audition video in 2021 went viral. But unfortunately, during the semi-finals, he missed his cue and asked production to start over again. He was eliminated the next night. NBC previewed his audition earlier this week. – VIDEO
Tom Ball – Britain's Got Talent 2022 – Singer
Tom Ball worked as a secondary school teacher in the UK, but he always wanted to be a singer. He appeared on BGT last year as a way to inspire his students. At his audition, Simon predicted Tom would make it into the finale. Indeed, he did, but he fell short of winning, finishing in 7th place (fellow AGT: All Star contestants Axel Blake and Jamie Leahey finished first and second, respectively). – VIDEO
World Taekwondo – AGT Season 16 – Martial Arts
The South Korean taekwondo demonstration team, World Taekwondo was Terry Crews Golden Buzzer on season 16. The group performs energetic and highly choreographed demonstrations of martial arts moves, including kicks, jumps. and breaking things in half with their feet and hands. The group made the finals in 2021, but finished outside of the Top 5. – VIDEO
Yumbo Dump – Asia's Got Talent/AGT Season 13 – Variety
Yumbo Dump are a silly joke act from Japan. The act consists mostly of the two performing dumb stunts and puns that involve their big stomachs. "Feels so good!" is their big catch phrase. Despite Heidi hating them, the duo made it to the quarterfinals in 2018, where they were eliminated. The duo also appeared on Asia's Got Talent that same year. – VIDEO
The AGT: All Stars 2023 Week 5 lineup performs Monday, Jan. 30 at 8 p.m. ET/PT on NBC.