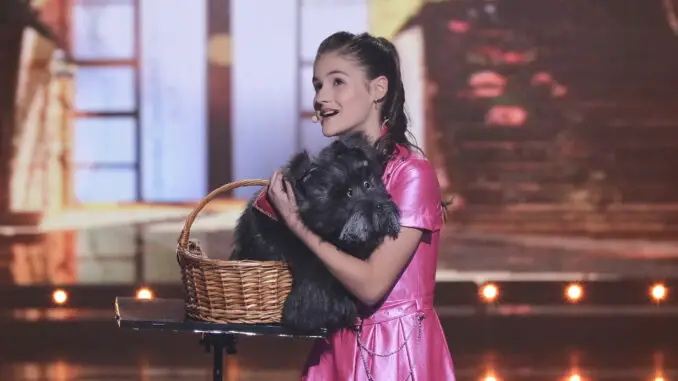 Ana Maria Margean won Romania's Got Talent in 2021. She was 11 years old then, and just learning how to do ventriloquism. During the COVID-19 lockdown, she became fascinated by videos from America's Got Talent season 2 winner, Terry Fator.
After Ana's parents bought her the first of many puppets, she auditioned for Romania's Got Talent. First she earned the Golden Buzzer and then went on to win the series. After winning, she became so successful in Romania, that her family was able to move out of their small apartment into a house they built themselves.
Now, by competing on America's Got Talent: All Stars, Ana Maria is fulfilling a dream. She hopes to have a show in Las Vegas some day, just like her hero Terry Fator.
For her AGT: All Stars audition, Ana brings her "rescue dog" puppet Waldo. They do a bit of cute banter back and forth arguing about who rescued who, before launching into a performance of the 60s classic "You Don't Own Me." She's very similar to AGT 2017 winner Darci Lynne, who was also a pre-teen singing ventriloquist. Like Darci Lynne, Ana's cute bits are augmented by a voice that could stand alone without the puppets.
The judges are on their feet
Afterward, the judges are on their feet. "No wonder you won," says Heidi Klum, "You are incredible." Howie Mandel can't believe Ana's story, that she started performing ventriloquism just a few years ago. He calls her an "AGT All Star" and declares that the "superfans" who vote one act into the finale, will love her. Simon Cowell feigns surprise that Waldo isn't a real dog, adding "you are really funny. I really like your dog!"
Will the "superfans" vote Ana and her cute puppy puppet Waldo through to the finals? Watch America's Got Talent: All Stars Week 5 auditions on NBC Monday, Jan 30 at 8 pm.