Adam Lambert toured a bunch of major tv shows this week to promote his brand new album of covers, High Drama.
The American Idol alum performed his cover of the iconic 80s hit by Boy George and Culture Club, "Do You Really Want to Hurt Me" on The Tonight Show starring Jimmy Fallon on Wednesday (March 1). In a recent interview with E! News, the Queen frontman shared that he didn't share the cover with his good friend Boy George until after he recorded it. But "he loved it" a relieved adm Adam recalled.
Earlier in the day he dropped by Good Morning America. Before singing another cut from the album, Bonnie Tyler's "Holding Out for a Hero," Adam thought it would be a "fun challenge to take songs and completely reinvent them…and give them my brand of theatricality and glam rock." He joked about his elaborate make up, 'I'm basically wearing a scrapbook on my face!"
The music industry has grown a lot since 2009
On Wednesday, Adam dropped by The View, where he also performed "Do You Really Want to Hurt Me," (Watch HERE). But he also sat down with The View panel to chat. Adam agreed that the industry has grown a lot since he competed on American Idol in 2009. "When I got out of American Idol and got signed to a record label…I was promoting songs to radio and there were no other gay men that I knew of that were in the scene at the time."
He joked that folks were speculating "is he or isn't he?" because Adam didn't come out officially until he was off the show. He laughed and pointed to himself "Really? C'mon!" Host Alyssa Farah Griffin, confessed to having a crush on him, not realizing he was gay. "You can have a crush on a gay guy," Adam said. "Half of Hollywood!" Whoopi Goldberg quipped.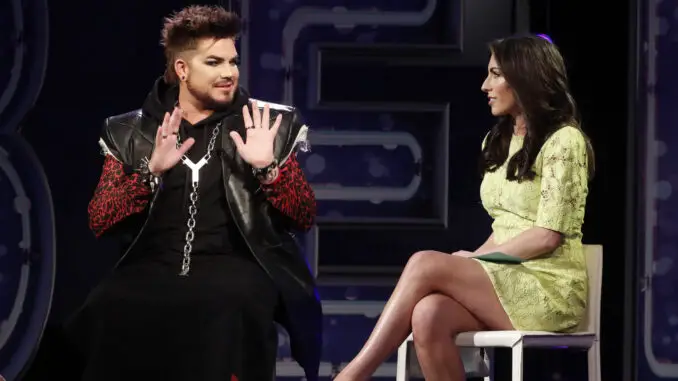 "All of these songs are things I really relate to."
The aim of the album was to reinvent cover songs, said Adam. But it was important to be completely authentic throughout the process. "If I didn't feel like the story being told in the song could come from my life, I was thinking that wouldn't make a good cover. All of these songs are things I really relate to."
As far as the Boy George cover is concerned, his good friend loved Adam's rendition. "I want to sing it with him at some point."
Recently, Adam co-starred in the Sofia Coppola directed Fairyland. "I've always acted," said Adam. But when he first moved to Los Angeles at 19, he wasn't entirely comfortable auditioning for parts." He's excited that Hollywood has become more diverse. There are more acting opportunities for him than ever, because "People want to see themselves on screen, more than ever."
Adam Lambert's album of cover songs, High Drama, is streaming and available for download everywhere now.