Welcome to the 49th Annual ACM Awards! You're stuck with Luke Bryan and Blake Shelton as cohosts, and with me for the live blog. Which one is worse? Who will be more drunk by the end of the night? This and more pressing questions will be answered tonight.
So what exactly do the letters ACM stand for? Well, based on tonight's lineup of expected performers, you could be forgiven for thinking it stands for the Academy of Country Men. Out of 23 confirmed performances, only 1 of the solo spots went to a solo country female (Miranda Lambert, performing her current single "Automatic"), and that same solo female will later join George Strait for a Merle Haggard tribute. Sure, there are other females performing: Stevie Nicks will join Lady Antebellum for a medley combining their most recent hit with a Fleetwood Mac classic, and Voice coach Shakira will perform her power pop duet "Medicine" with Blake, plus The Band Perry features a female lead. Meanwhile, we can have a debate about whether it makes things better or worse that several solo country females will be featured in supporting roles for solo males: Faith Hill will join her husband Tim McGraw for a new track called "Meanwhile, Back At Mama's", Sheryl Crow will join pal Dierks Bentley on his most recent #1 hit "I Hold On," and Voice alum Gwen Sebastian will back her former coach Blake on a performance of his new single, "My Eyes."
But if you were hoping that tonight's award show would look any more balanced than country radio these days, then you're out of luck. The ACMs made room for 6 male non-nominated acts to perform their own songs, but only 1 solo female, as mentioned. Kacey Musgraves has 5 nominations tonight and is coming off a big sales boost from her Grammy wins and performance. But she isn't in the announced lineup tonight. Double nominee Carrie Underwood is in between albums and has told her fans she's looking forward to sitting back and enjoying the show. She'll be presenting tonight, but not performing. Fear not, Carrie fans! There's a credible indication she'll debut a new tune "written for" the ACM All Star Salute To The Troops special at its taping tomorrow (to air on CBS 5/20). Megastar dabbler in the country market Taylor Swift is also in between albums and also scheduled to present tonight.
But back to the meaning of the ACMs. Maybe you think it means the Academy of Country Making It Up. After all, this is the awards show that nominated 5 year veteran hitmaker Justin Moore for its Best New Artist award despite his ineligibility according to their own rules, and then asserted its right to be flexible and ignore its own stated criteria. Justin Moore and his team have been heavily soliciting votes, so between that and the fanbase he's had 5+ years to build up, look for him to take the trophy. Speaking of "flexibility," the night's top award, Entertainer Of The Year is, according to ACM rules, "determined by a combination of votes from the professional membership of the ACM and fan voting (online and/or text)." It's safe to say Luke Bryan, who won this last year over Blake, Taylor, and Miranda, is probably the favorite if fan votes are weighted more heavily, but is the ACM Board going to be OK with this year's award going to anybody other than the legend George Strait? If not, this would be a good year to be "flexible" and weigh the "professional membership" vote more heavily, wouldn't you say?
Speaking of "making it up," this is also the show whose cohost Blake Shelton sent out a press release right before the start of the final round of voting, claiming he'd sold out Madison Square Garden & the Hollywood Bowl. Unfortunately, all it took was checking Ticketmaster to know that just wasn't the case (not even close in the case of Madison Square Garden). Blake's team is probably the most aggressive these days when it comes to awards campaigns. It also got attention for its gag ACM promo mailer.
So will Blake's campaigning work? He's a previous Male Vocalist Of The Year despite being surpassed in sales and, in some cases, critical acclaim, by peers like Eric Church, Jason Aldean, and his cohost Luke Bryan. But as his wife Miranda Lambert (who is herself running a 4-year streak as Female Vocalist Of The Year despite a widespread media consensus that Carrie Underwood ought to have taken the title last year and perhaps this year as well) pointed out, country awards show wins are facilitated by "relationships," and the power couple has them in spades. Miranda is a virtual lock to repeat as Female Vocalist despite Carrie's acclaim and more wide-ranging success and Kacey's widespread critical acclaim. Blake's hold on Male Vocalist is weaker though, and it feels like a matter of time before Luke Bryan and the large label (Capitol Nashville, part of UMG Nashville) he has backing him take over in that category.
But Blake's campaign may be enough to win him Album of the Year over bigger selling albums from Luke and (*gag*) Florida-Georgia Line, as well as the only album in the category that got any critical acclaim: Same Trailer, Different Park by Kacey Musgraves. Kacey's album is the Grammy winner and really the only album nominated that deserves its nomination. But Blake managed to get the CMA win over 4 albums that received much better reviews, several of which had outsold his. Relationships.
We may see a change in the Vocal Group category, where the super-talented and well-liked reigning champs Little Big Town lost ground at radio despite releasing 2 widely acclaimed and beloved singles. The Band Perry, which is set to open tonight's show with an "explosive," long-planned performance of its current single "Chainsaw," hasn't quite been able to keep up the momentum from their platinum #1 hit "Better Dig Two," but the band scored 3 consecutive t10 hits while the other major contender Lady Antebellum suffered a big loss of momentum that caused the postponement of the 1st leg of their tour. Still, Lady A has come back with another #1 hit in "Compass," and their increased visibility plus backing from UMG Nashville could return them to the podium.
As far as the Single & Song categories, Song looks like a 3 way race between the beloved Lee Brice hit "I Drive Your Truck" (cowritten by Jessi Alexander, Connie Harrington, and Jimmy Yeary), the smart Brandy Clark/Shane McAnally/Kacey Musgraves-penned Miranda Lambert hit "Mama's Broken Heart," and the Bob Dylan/Ketch Secor penned "Wagon Wheel," as covered by Darius Rucker Those 3 will also contend for Single against the monster "Cruise" and the three-headed monster "The Highway Don't Care." "Cruise"'s crossover success may make it difficult to beat here, unless ACM voters want to make a statement that they are different from CMA voters.
But who cares about the awards? For the past couple years, the ACMs haven't even given out the 1st award before the 45-50 minute mark of the show. Tonight's dude-heavy show will feature some genuinely good country songs, with Lee Brice and Darius Rucker both performing their nominated songs, the aforementioned performances by Miranda Lambert with George Strait, Dierks Bentley, and Tim McGraw with Faith Hill, Eric Church performing…something other than "The Outsiders," presumably, and more. Also look for Brad Paisley to debut his playful new single "River Bank" in a pretaped performance, Hunter Hayes to perform his current single "Invisible" as part of a campaign against child hunger, Keith Urban to forego his current single to perform album track "Even The Stars Fall 4 U" (maybe Harry Connick Jr will show up to ask him about the textspeak title?), and more. The night will also feature appearances by Garth Brooks and Trisha Yearwood, and they can only make things better.
The Live Blog starts below. Join us by weighing in during comments, won't you?
********************************
Check out the list of nominees for the 49th Annual Academy Of Country Music awards here.
Live stream the red carpet here!
Check out Season 4 Voice champ Danielle Bradbery looking gorgeous on tonight's ACM red carpet!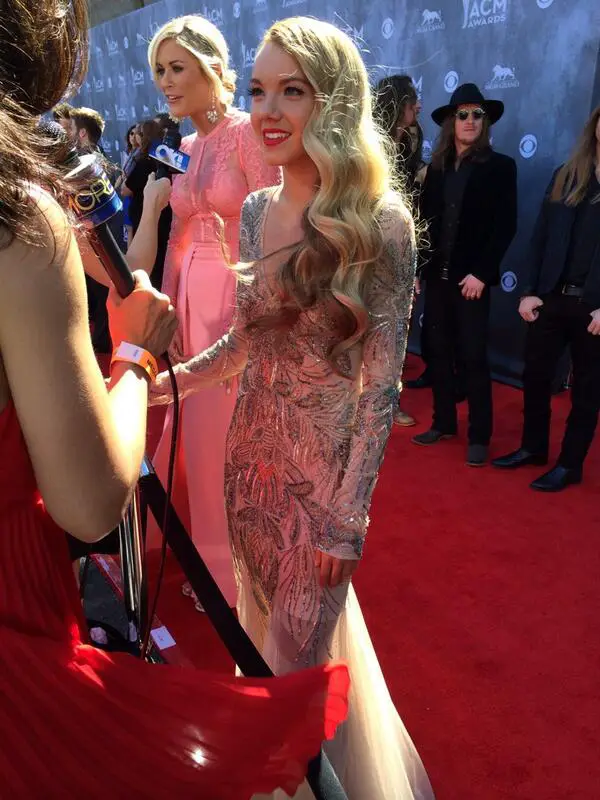 The ACM for Vocal Event Of The Year goes to Keith Urban and Miranda Lambert for "We Were Us."
The ACM for Video Of The Year goes to Tim McGraw, Taylor Swift, and Keith Urban for the unintentionally hilarious floating Taylors and Keiths in "The Highway Don't Care" video.
The Band Perry kicks us off with a performance of "Chainsaw" that is really about the energy, Kimberly Perry's midriff, and so. much. confetti. than it is about hitting the right notes. Lots of posing, lots of energy, but the most fun part of this performance is probably the fact that the industry is drowned in confetti.
This point is not lost on our cohosts Luke and Blake, who score instantly by quipping that there's about $20 million worth of hairstyles in the audience and they're all topped off by confetti now. "This is not a Head & Shoulders commercial, everybody," says Luke. Ha! But things go south quickly when Blake goes in on Britney's lack of liveness in her Vegas show. I mean, he's not wrong, but self-satisfaction isn't a great look. Luke introduces Dallas Cowboys owner Jerry Jones in the audience (response is a mix of applause and boos, how many of those came from Cowboys fans?) and announces the ACMs will go to Dallas and Cowboys Stadium for a year next year. Blake is amazed and says they never have awards shows in Cowboys Stadium. Luke points out they never have playoff games in Cowboy Stadiums, either. BURN! Easy target but hey! They congratulate Carrie for her part in the ratings success of The Sound Of Music Live! and joke that this has led to country acts being considered for Broadway roles, like Dolly Parton for Hello Dolly! and Reba McEntire and Vince Gill (who are from Oklahoma) for Oklahoma! This leads Luke to crack that Miranda and Blake would be perfect for Beauty & The Beast and Blake says Luke could be in American Idiot. OK. Luke talks about how all you're hearing about this year is "same sex" marriage when last year all it meant was the "same sex" over and over again. Lame. There's also a joke about the legalization of marijuana, which means everybody doesn't have to go to Eric Church's dressing room anymore. OK. Merle Haggard joke about how his songs were about his younger self, but now they could describe Justin Bieber. Merle seems only mildly amused. And then they crack a joke about Jake Owen's partially amputated finger, found on Miley Cyrus's tour bus? Whatever. Luke cracks that Jake may only have 9 full fingers but he's probably waving 1 of them at Blake right now. Well yeah. They banter about Entertainer Of The Year, and Blake brags he's already Miranda's Entertainer Of The Year, which Luke converts to Entertainer Of The Minute after spotting him 30 seconds. Is this funny to anybody?
Blake and Luke throw the show over to the Fan Jam, where Florida-Georgia Line caterwauls its way through "Stay," which is their attempt not to be "bro country." It tells you everything you need to know about Florida-Georgia Line that their idea of showing depth is covering a Black Stone Cherry song in the Nickelbackiest way possible. And oh GAWD. Considering they've already announced that cohost Luke will join FGL for a performance, this means we have to hear from these dopes again.
We cut immediately over to Brad Paisley's pre-taped performance of his new single "River Bank." Catchy little attempt by Brad to get back into country radio's good graces. Safe and pandering? Undoubtedly. But Brad does little things like play with lyrics by starting out talking about money problems and building to the hook "we'll be laughing all of the way to the river bank" that make you realize he's putting a little more effort into this than most acts jockeying for radio play do.
Blake Shelton is joined by his former Voice team member Gwen Sebastian for his snoozy new single "My Eyes." Good vocals as you can expect from Blake and Gwen, but not much of a melody here.
New Artist nominee Brett Eldredge performs a clip from his current single "Beat Of The Music.
After a detailed introduction from Martina McBride detailing his many accomplishments over his career, including being the only artist in any genre to score a t10 hit every year for 30 years straight, George Strait performs his current single, "I Got A Car." A little sharp to start, but the simple performance and vocal is refreshing here.
Lee Brice, nominated for 5 ACMs, gets about a minute to sing "I Drive Your Truck" acoustically. He struggles through a lot of it – it's an emotional song and I'm sure it didn't help that he had no time to build it up. No time for you to sing the full song, Lee Brice, we have Guy Fieri to introduce so he can pimp….some product of his. Fieri also runs us through a recap of some of the ACM-related concerts and events from the past couple days.
We return to Eric Church performing his current single "Give Me Back My Hometown." After a slightly sharp start, he finds his groove in the song. Nice performance, lots of clapping along. For anybody expecting some revelation after his nearly 20-minute San Destino video, the payoff wasn't obvious. But the song sounds good live.
Back to ACM Fan Jam, where "New" Artist nominee Justin Moore performs a shorter version of his current single "Lettin' The Night Roll."
Luke says he was amazed that Shakira and Blake were doing a duet because of the language barrier – Shakira speaks 4 languages, and after a couple drinks, Blake has trouble with 1. Ha! Shakira wants to really get into this performance more than she is, but that would make Blake look more stiff than he already is. Vocally, they're more or less on point. Their best moment is probably when the performance is over and they laugh and hug.
Taylor Swift, whose outfit suggests midriffs may be a theme this year, is up to present the ACM's 1st televised award for the night, an hour into the show. It's for Vocal Duo Of The Year and it goes to the Florida-Georgia Line over at Fan Jam. There really wasn't much of another choice. By the way, "And the ACM for Vocal Duo is…." Um, Taylor? Anyway, the FGL boys say "Country music is alive & well." No thanks to you, Florida-Georgia Line, no thanks to you.
Luke and Blake riff on Ellen's Oscar selfie. They chicken out of asking George Strait, insult Jason Aldean as not big enough, say Tim McGraw is boring, notice that Miranda's not in her seat, and decide they're the biggest stars in the room. So much so that when they see Sheryl Crow in the back of their potential selfie, they turn around so it's just them. Cute idea with potential, but this went on too long. Luke and Blake introduce Lady Antebellum with Stevie Nicks.
Lady Antebellum and Stevie Nicks start with Lady A track "Golden" before moving into "Rhiannon." I hate to say this, but Hillary Scott is faring about as well as Taylor Swift did on the song at the 2010 Grammys.
Keith Urban is up to perform "Even The Stars Fall 4 U." What would Harry Connick Jr. say? He pushed his vocals at times but all things considered, a solid performance of a catchy power pop song.
The final New Artist finalist Kip Moore is performing not his most recent single, but his 1st #1 hit, "Something 'Bout A Truck." OK.
Blake is up to introduce his cohost, and says some people think he would get back at Luke for prior hijinks by screwing up his intro. Oh, this is another Oscar riff, isn't it? Predictably, he introduces Bluke Lyran. That was a joke worth telling, I guess. Luke Bryan plays "Play It Again," whose chorus actually goes "Oh. My. God. This is my song." Remember what I said about the effort level in current country hit singles?
Florida-Georgia Line presents the ACM for New Artist – talking about how these 3 men found their "yeses" and made the most of their opportunities after that. And surprise, surprise, it goes to Justin Moore, who isn't even eligible. The producers are meanieheads for having him stand next to the very tall Brett Eldredge, leading to Justin's quip about wondering if there was a height requirement for the award. Anyway, Justin's speech is sincere, and at the end emotional. But seriously, you weren't eligible for this, dude.
Luke introduces Jason Aldean, the "blind deer's best friend," with many cracks about his lack of hunting skills. A somewhat muffled and mostly flat Aldean performs his most recent #1 "When She Says Baby."
Luke and Blake come out in Daft Punk helmets – good sight gag, and then they rip the helmets off because they can't breathe. They present the ACM for Single Record Of The Year to Miranda Lambert for "Mama's Broken Heart." Yay, not "Cruise"! There goes Luke with the "ACM for Single Record is." So this is the writers's fault? Miranda makes sure to thank her producers and "Mama's Broken Heart" writers Kacey Musgraves, Brandy Clark, and Shane McAnally. Shaping up to be a big night for her, with the Female Vocalist award still to come.
Blake introduces Miranda Lambert to perform her current single "Automatic," a song about how the good ol' days were better. There's a good concept here in the song, but there's also some unintentional irony in the song. I mean, Miranda does know that if "staying married were the only way to work your problems out," she wouldn't be married to Blake, right? Her nostalgia for that just seems misplaced, is all. I guess the computer sounds in the song are there for deliberate irony. Pretty good performance, though Miranda's drowned out by the band at times.
Olivia Munn and Aaron Rodgers present the ACM for Song Of The Year to "I Drive Your Truck," songwriters Jessi Alexander, Connie Harrington and Jimmy Yeary, plus the performing artist Lee Brice. Lee Brice is all class, ceding his time on the stage to the songwriters and saying this award is theirs. Connie Harrington tearfully thanks the industry and her family, and also honors everybody who's lived the words of the song.
Tim McGraw blesses us by not performing his creepy and kind of predatory current single. Instead, he's performing a much superior song called "Meanwhile, Back At Mama's," cowritten by Tom Douglas, Jaren Johnston, and Jeffrey Steele. Unfortunately, he's sharp for most of this song, and only gets back on key when his wife Faith Hill comes in with harmonies.
Blake is over at Fan Jam to introduce Florida-Georgia Line and Luke Bryan to perform that gad-awful combination of awful singing and crappy rapping "This Is How We Roll." The backing track is doing most of the heavy lifting on the chorus, but considering the alternative is hearing more of Tyler Hubbard live, I'm OK with this.
A gorgeous Carrie Underwood comes up to presents Male Vocalist Of The Year to 1 of its "spac-tacular" (ha!) nominees. The winner, for the 2nd year running is Jason Aldean, which is a legit shocker. Not Luke? Not Blake? Especially after Jason's personal life scandal resurfaced during the final round of voting?
Toby Keith is up with his awful attempt at hip-hop country, "Shut Up & Hold On," which stiffed at country radio. I'm going to go ahead and say it's justice that he struggles with the jumps in notes.
George Strait and Jerry Jones announce an on-sale date for next year's ACM Awards festivities.
David Nail and Nancy O' Dell present the ACM for Vocal Group Of The Year to 1st time winners in this category The Band Perry. A sincere speech from them.
Jewel introduces Hunter Hayes to perform "Invisible" in connection with ConAgra's Child Hunger Ends Here campaign. A wobbly performance but heartfelt and better than his Grammy performance.
The divine Trisha Yearwood is up to present the ACM for Female Vocalist to Miranda Lambert. No surprise there. She acknowledges all of her fellow nominees except for Taylor. Oops! I'm sure it was not deliberate though. Nice words for Trisha Yearwood, Sheryl Crow (the "complete & utter rock star"), Kacey ("wrote the Single Of The Year this year"), and Carrie ("my buddy ya'll, and she's a phenomenon.").
Darius Rucker is up with Lady Antebellum to perform "Wagon Wheel." A likable performance that has the whole crowd singing along. Darius makes his presence even more welcome by presenting the ACM for Album Of The Year to KACEY MUSGRAVES!!!!!!! AHHHHHHHHHHHHHHH JUSTICE!!!!!!!!!!!!!!!!!!!! She goes up with co-producers Luke Laird and Shane McAnally, and thanks the musicians and songwriters who contributed to the record. She says she's proud to represent women in country music. Hell yeah! Songwriter Of The Year Shane McAnally thanks Mike Dungan of UMG Nashville, manager Jason Owen, and thanks everybody for getting the music heard. So yeah. Why isn't Kacey performing again?
Garth Brooks is up to honor Merle Haggard with the Crystal Milestone award on his 77th birthday, and he also introduces George Strait and Miranda Lambert to play "I'm A Lonesome Fugitive" and "Tonight The Bottle Let Me Down." Nothing spectacular, but well done enough. Garth leads the crowd in a rousing rendition of "Happy Birthday" to Merle Haggard! Merle says country music's always been good to him, and thanks everybody. Actually a little disappointed he didn't chastise the ACMs for the generally crap show country music's put on tonight.
Rascal Flatts is up to "perform" their single "Rewind." I put "perform" in air quotes because they just piped in the studio version of the song for this. I'm not even kidding. Wow.
Blake & Luke joke that this show is their audition to replace David Letterman. Good luck with that, boys. They introduce Dierks Bentley with Sheryl Crow on his personal "I Hold On." Enjoyed that performance and think it was one of the few very good ones of the night, even though it really didn't make sense to have Sheryl Crow sing on it. Yay for a XX chromosome though.
LL Cool J and Chris O'Donnell are up to mention they'll be cohosting the ACM's All Star Salute To The Troops airing on CBS on 5/20, and also to present the ACM for Entertainer Of The Year to George Strait. Heh. Actually the only nominee I'm OK with winning this, but that was the industry talking more than the fans. He thanks the fans anyway and everybody who works with him.
Luke and Blake say they're happy for their hero, and sign off for the night having both been shut out of the awards. And that's a wrap for a really weak show. There's just no justifying this lineup of performers. Why the hell was the ACM's Album Of The Year winner not performing? Or any solo country females other than Miranda (and Sheryl, in a supporting role)? Carrie Underwood chose to sit this one out, fine, but don't tell me Kacey Musgraves wouldn't have done a fine job on the Merle tribute, or even better singing her own current single. She would've at least sung live, unlike Rascal Flatts! Since the ACMs were inviting non-nominees to perform, why not bring Sara Evans, who has a current t20 hit and is a previous ACM winner to perform, or Martina McBride, also a previous ACM winner who is releasing a new album Tuesday?
As far as our hosts, meh. Better than last year and they had a few moments, but the monologue was not especially well written and they still struggle with delivery, and laughing at their own not terribly funny jokes They were shut out of the awards, which is the right outcome, though Luke probably had the strongest numerical case for Male Vocalist. Jason Aldean released by far the best song any of them have released recently in "Night Train" though, so I'm going to pretend the award was for that and not whatever backroom deals his team mustered (William Morris and Live Nation FTW?). All of Team Blake's campaigning was for naught, so there's a bright side!
The corporate sponsored awards like Entertainer and New Artist fit right into the general tackiness of the show and its avoidance of substance. One of the best songs performed tonight, Lee Brice's "I Drive Your Truck" was cut short, but there was plenty of time to pimp those corporate tie-ins. A lot of the other best songs (like "Wagon Wheel" and "I Hold On") were left for the last half hour. Miranda Lambert had a good night as a performer and as an awards winner, but again, it's really problematic that the ACMs acted like she's the only solo country female in town when several other exceptional country females could have been brought in to perform (and win awards – though at least Kacey snagged the Album award). Shakira and Blake Shelton probably made an impact with their duet performance and probably justified their performance slot by delivering vocally (mostly). But seriously, that wasn't a country song. At all.
There are probably a bunch of Merle Haggard GIFs from tonight that could sum up the show. Bottom line: the man did not appear to be impressed, and rightfully so.