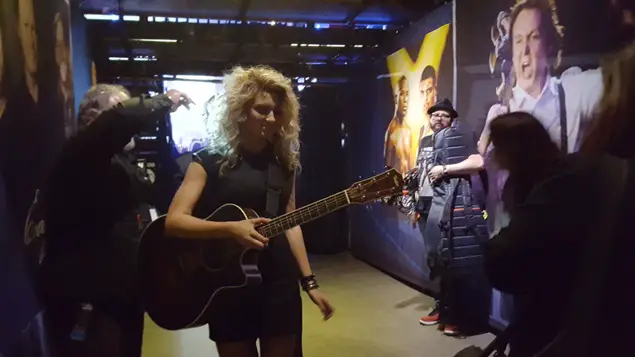 We're live blogging the 2015 Billboard Music Awards right here! Kelly Clarkson, Fifth Harmony, Tori Kelly, Jussie Smollett and Bryshere "Yazz" Gray from Empire, and MORE will perform. Taylor Swift will debut the new music video for "Bad Blood." Kelly sings her new single, "Invincible."
Ludacris and Chrissy Teigen and Broadcast LIVE from The MGM Grand Garden Arena
The broadcast begins with the world premiere of Taylor Swift's celebrity stuffed music video for "Bad Blood." Starring…Katy Perry! Kidding. The featured players are part of her "posse." or whatever. Unpopular opinion: I couldn't possibly care less about Taylor Swift. OVEREXPOSED. The promo for this new video has been off the hook. All day, fans and critics alike (sometimes the critics are the biggest stans, makes me feel second hand embarrassment. Not naming names…) Anyway. If you used the designated hashtag, a little bullet hole bandaid icon appeared on the tweet. I DID NOT ASK FOR THAT. Taylor and her super-famous girl pals are all superheroes, or something.
She takes the stage to make introductions, with some of her posse, and introduce the re-united VAN HALEN. The guys kick it off with "Panama." I'm hoping for a punch out right on stage. Like Eddie "accidentally" digging his guitar into Dave's nads. These guys hate each other so much. But when those dollars call, who cam resist. Having said that, Dave still looks pretty good! Eddie looks good too. He's survived drug addiction, alcoholism and cancer. Cut away to Jennifer Lopez rocking out! You'd think this was American Idol or something. Namechecking Nicki Minaj for some reason.
Hosts Chrissy Teigen and Ludacris are here. Chrissy is hilarious on that Spike lip sync show. She's also gorgeous. ONE DIRECTION IN THE HOUSE. Ludacris rattles off his own accomplishments. And then Chrissy: "And I bang a musician" she points to her husband John Legend. Ha. Luda claims he did "extensive" research before choosing her to co-host, as hot photos of her scroll in the back. That's not creepy! Chrissy can't believe she's being paid for such a fun gig. Luda is shocked. He's been paid in alcohol. Next, a clip of Luda's movie, Fast and Furious 7. And they try to start a drinking game, but I don't understand the rules.
One Direction win the Top Duo or Group award! All FOUR (SNIFF SNIFF SNIFF) take the stage to claim their award. Niall thanks the fans, etc etc etc. "There's one more person to share this with," adds Liam, "Our brother Zayn." Aw.
Next from Blackish, Tracee Ellis Ross  and Laverne Cox from Orange is the New Black. They present The Top 200 album to Ms. Surprise Face herself, Taylor Swift, for "Shake it Off."  Blah blah thank you fans Blah blah.
Chrissy introduces Fall Out Boy. She calls the song an ode to being in love with Uma Thurman. Cause the name of the song is "Uma Thurman." A stage full of Pulp Fiction style Uma's strutting around and dancing together (GIRL POWER. Who needs John Travolta anyway?) as the song samples the theme from "The Munsters."  Wiz Khalifa raps the bridge.  That was fun.
I'm just going to have to accept that tonight, there will be a million cut aways to Taylor Swift dancing and mugging for the camera.
Nick Jonas is up next, performing his mega hit "Jealous."  So, he escaped the boy band curse to become a bonafide star. There were always hints that he had more talent than his brothers.  "Jealous" is just a damn good song. He plays a few licks on his guitar before tossing it away. I'm surprised he's not playing his newer hit.
Chrissy Teigen introduces the next two artists. She's up for more awards, so she's going home with her. Heh.  Meghan Trainor and John Legend perform "I'm Going to Lose You." I hate her gimmicky novelty singles. She shouldn't waste her talent on lousy songs. She can sing! She and John are a great duet pair. "You guys had a lot of chemistry up there…I'm jealous!" Chrissy teases.
Idina Menzel is here. She introduces the legendary Mariah Carey, returning to the Billboard stage after 17 years. First, we see a celebratory video package. She's Las Vegas' new resident headliner.  She's going old school, performing "Vision of Love."  Is she singing in a lower key? Man. Her voice has really deteriorated over the years. I would not pay money to see her live. She segues into her new single, "Infinity." This isn't good. Her runs are no longer precise. She's purposely not hitting high notes. This is sad. Does she even have the self-awareness to know that her voice is shot? She ends with one of her trademark high notes and it's…sad. Just really sad.  When the camera cut to Taylor Swift and Jennifer Lopez after, they looked a little stunned.
Danica McKellar is on stage to present Top Rap Song. It was a dream of hers when she was playing "Little Winnie Cooper" on Wonder Years. OK. The Billboard Music Award goes to "Fancy" by Iggy Azalea and Charli XCX. Iggy gives Charli credit for making an ordinary song into a #1 hit.
Ludacris and Tyrese Gibson introduce Whiz Khalifa and Charlie Puth who sing "See You Again" as a tribute to the late Paul Walker. It's the Fast and Furious 7 theme.  Lindsey Stirling is playing violin. Such a beautiful song.
Celine Dion is next to present Top Male Artist to Sam Smith. Yay! He just had vocal surgery and couldn't be in Las Vegas to acccept. LOL. HIS THANK YOUR IS WRITTEN on CUE CARDS! He's lost some weight and looks really cute.  I'm going to have to post video of that. Hee.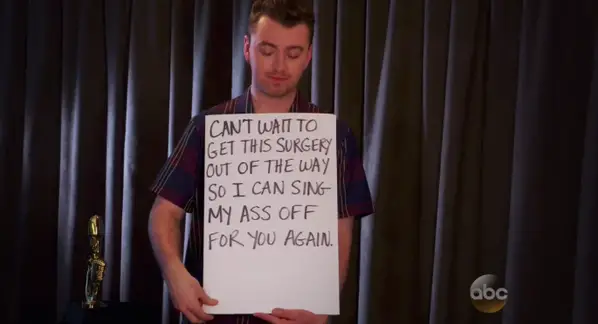 Chrissy lands in her husband's lap before she cuts to commercial. She's still a little jealous. He tells her that he loves both Treble and Bass. What an adorable couple!
COOKIE IS IN THE HOUSE! Taraji P. Henson is on stage to brag about the Empire album debuting at #1 on the BB200. She introduces her TV sons, Yaz and Jussie Smollett.  Jussie and Estelle are first, singing "Conqueror."  Yaz takes the stage next and begins "You're So Beautiful." Yaz adds "Taylor Swift" to his rap. WHYYYY?
Chrissy introduces Hozier from a backstage kitchen. Brought to you by Kraft? Here's a really serious song? Pretty jarring segue to "Take Me to Church."
One Direction are back on stage to present Top Radio Song to "All of Me" by John Legend.  He thanks the beautiful co-host and his wife. Chrissy Teigen, who inspired the song. He's glad they could win it together.
Before throwing to commercial, Ludacris honors legendary bluesman, B.B. King, who died earlier this week. A shot of a single electric guitar, center stage, fades to black.
Florida-Georgia Line are here. They introduce Little Big Town. They perform "Girl Crush" with Faith Hill.  Hi gals! We're the guys who are partly responsible for crowding chicks off of country radio! Faith sings lead on the second verse, but doesn't add very much. But I suppose it amps up the country star power. Obligatory shot of Taylor Swift jumping up and down.
Grey's Ellen Pompeo is next. The parade of the ABC stars! She presents Top Female Artist to Taylor Swift. Zzzzz. Oh. I just noticed her new boyfriend, Calvin Harris sitting with her posse. I can't wait for the diss track! Taylor talks about surrounding herself by incredible women. She also thanks her tumblr and twitter teens who teach her so much.
Miss America and Pete Wentz (!!!) present Top Touring Artist to One Direction! They love seeing their fans! Short and sweet.
Jennifer Lopez takes the stage, and she's nearly naked as usual! But beautiful. She introduces Pitbull (BLARG) and Chris Brown (UUUGHHH GET OFF MY TV) singing "Fun."  The two were just on the American Idol performing with a finalist.  These background dancers. If you added up all the plastic surgery bills for those enhancements…
Zendaya is here to introduce five time finalist, Ed Sheeran who sings…no looping! Looping and singing "Bloodstream."   It's amazing how a little red haired guy with a guitar can be so incredibly dynamic. Such a force.
50 Cent and Rita Ora are on stage to present Top Hot 100 Song to "All About that Bass" by Meghan Trainor. She thanks her mom and dad and her label. She just wants the song to help everyone to love themselves… "I'm glad it's working," she says.
Ludacris introduces Iggy Azalea and Britney Spears, premiering their new song, "Pretty Girls." Britney's looking fine. Lip Syncing is US!
Prince Royce presents the fan voted Billboard Chart Achievement award BROUGHT TO YOU BY SAMSUNG GALAXY. And it goes to….Taylor Swift. Shocking. I know. Taylor sez she's totally OBSESSED with her fans.  "THIS IS SUCH A GOOD NIGHT WHAT EVEN," she says.
Fifth Harmony are on stage to introduce Nicki Minaj and David Guetta. "The Night is Still Young," is the song.  STAGE SMOKE! All that crotch grabbing takes effort. No energy left to actually SING I guess! Harmonizers are furious. 5H was supposed to perform, and it turned out the appearance was just to present.
Next, it's Kia's One To Watch, Tori Kelly! She gets a little product placement video package. Her manager, Scooter Braun talks her up. Man, American Idol alum, who never made it out of Hollywood, is blowing up! She sings "Nobody Love" accompanying herself on acoustic guitar. Wow. This is sensational. So talented! WHAT A VOICE.
Molly Ringwald! Blast from the past. Thirty years ago, she was part of a club that made history.  She wants to be in Taylor's club. Nah. The Breakfast Club was way cooler. She introduces the ACTUAL SIMPLE MINDS LIKE OMG I HAVE NOT SEEN THEM IN AGES. The song reached #1 30 years ago this week. The lead singer, James Kerr, looks…really old.  His voice is shot, too.  Fun Fact: He was married to Chrissie Hynde of the Pretenders back in the day.  You know? Sometimes it's better not to look back.
Oh. Look. There's Molly out in the audience next to Taylor Swift and Ed Sheeran.  LOL. Look at Taylor grabbing Molly's digits.
Pentatonix take the stage (Kirstie Maldonado is absent) to introduce QUEEN KELLY CLARKSON performing "Invincible." They're opening for her tour this summer.  OMG She frigging SLAYED.  She sings, no back tracks, no lip syncing. She's amazing.
Hailee Steinfeld from Pitch Perfect 2 and Brett Eldredge  present Top Country Artist to Florida Georgia Line. Zzzzz.
John Legend is back on stage to introduce a Ben E. King tribute. Imagine Dragons sing "Stand By Me."  Generally, I find this band generic, but this performance is lovely. Very simply presented, as it should be.
The Jenner sisters are next. TIME FOR A BATHROOM BREAK.
The cast from Entourage present Top Artist to YOU'LL NEVER GUESS. Taylor Swift.
Kendall and Kylie Jenner introduce their "brother" Kanye West. WHOA THE BOOING. The girls soldier on. In Kanye's performance, the bleeps go on for seconds and seconds. This is silly. Why sing a song that's too hot for the network? What's the point of performing a song that will be bleeped into smithereens? There are also a ton of cut aways. What's he doing up there? Well. That sucked. More booing.
The end!
THE 2015 BILLBOARD MUSIC AWARDS Winners List:
Top Artist:
Ariana Grande
One Direction
Katy Perry
Sam Smith
Taylor Swift – WINNER
Top New Artist:
5 Seconds of Summer
Iggy Azalea
Hozier
Sam Smith – Winner
Meghan Trainor
Top Male Artist:
Drake
Pharrell Williams
Ed Sheeran
Sam Smith – WINNER
Justin Timberlake
Top Female Artist:
Iggy Azalea
Ariana Grande
Katy Perry
Taylor Swift – Winner
Meghan Trainor
Top Duo/Group:
5 Seconds of Summer
Florida Georgia Line
MAGIC!
Maroon 5
One Direction – WINNER
Top Billboard 200 Artist:
One Direction
Pentatonix
Ed Sheeran
Sam Smith
Taylor Swift – WINNER
Top Hot 100 Artist:
Iggy Azalea
Ariana Grande
Sam Smith
Taylor Swift – WINNER
Meghan Trainor
Top Digital Songs Artist:
Iggy Azalea
Ed Sheeran
Sam Smith
Taylor Swift – WINNER
Meghan Trainor
Top Radio Songs Artist:
John Legend
Maroon 5
Ed Sheeran
Sam Smith – WINNER
Taylor Swift
Top Touring Artist:
Lady Gaga
One Direction – WINNER
Katy Perry
The Rolling Stones
Justin Timberlake
Top Social Artist:
Justin Bieber – WINNER
Miley Cyrus
Selena Gomez
Ariana Grande
Taylor Swift
Top Streaming Artist:
Iggy Azalea – WINNER
Ariana Grande
Nicki Minaj
Taylor Swift
Meghan Trainor
Top R&B Artist:
Beyoncé
Chris Brown
John Legend
Trey Songz
Pharrell Williams – WINNER
Top Rap Artist:
Iggy Azalea – WINNER
J. Cole
Drake
Nicki Minaj
Rae Sremmurd
Top Country Artist:
Jason Aldean
Luke Bryan
Florida Georgia Line – WINNER
Brantley Gilbert
Blake Shelton
Top Rock Artist:
Bastille
Coldplay
Fall Out Boy
Hozier – WINNER
Lorde
Top Latin Artist:
J Balvin
Juan Gabriel
Enrique Iglesias
Prince Royce
Romeo Santos – WINNER
Top Dance/Electronic Artist:
Avicii
Clean Bandit
Disclosure
Calvin Harris – WINNER
Lindsey Stirling
Top Christian Artist:
Casting Crowns
Hillsong United – WINNER
Lecrae
MercyMe
Newsboys
ALBUM AWARDS
Top Billboard 200 Album:
Maroon 5 "V"
Pentatonix "That's Christmas to Me"
Ed Sheeran "x"
Sam Smith "In the Lonely Hour"
Taylor Swift "1989" – WINNER
Top Soundtrack:
"The Fault in Our Stars"
"Fifty Shades of Grey"
"Frozen" – WINNER
"Guardians of the Galaxy: Awesome Mix: Vol. 1"
"Into the Woods"
Top R&B Album:
Beyoncé "Beyoncé"
Chris Brown "X"
Michael Jackson "Xscape"
John Legend "Love in the Future"
Pharrell Williams "G I R L"- WINNER
Top Rap Album:
J. Cole "2014 Forest Hills Drive" – WINNER
Drake "If You're Reading This It's Too Late"
Nicki Minaj "The Pinkprint"
Iggy Azalea "The New Classic"
Eminem "The Marshall Mathers LP 2"
Top Country Album:
Jason Aldean "Old Boots, New Dirt" – WINNER
Garth Brooks "Man Against Machine"
Luke Bryan "Crash My Party"
Brantley Gilbert "Just As I Am"
Miranda Lambert "Platinum"
Top Rock Album:
AC/DC "Rock or Bust"
The Black Keys "Turn Blue"
Coldplay "Ghost Stories" – WINNER
Hozier "Hozier"
Lorde "Pure Heroine"
Top Latin Album:
Juan Gabriel "Los Dúo"
Enrique Iglesias "Sex and Love" – WINNER
Romeo Santos "Formula: Vol. 2"
Santana "Corazon"
Marc Anthony "3.0"
Top Dance/Electronic Album:
Avicii "True"
Disclosure "Settle"
Calvin Harris "Motion"
Skrillex "Recess"
Lindsey Stirling "Shatter Me" – WINNER
Top Christian Album:
Lecrae "Anomaly" – WINNER
Casting Crowns "Thrive"
MercyMe "Welcome to the New"
NEEDTOBREATHE "Rivers in the Wasteland"
Chris Tomlin "Love Ran Red"
SONG AWARDS
Top Hot 100 Song:
Iggy Azalea Feat. Charli XCX "Fancy"
John Legend "All of Me"
Sam Smith "Stay With Me"
Taylor Swift "Shake It Off"
Meghan Trainor "All About That Bass" – WINNER
Top Digital Song:
Mark Ronson Featuring Bruno Mars "Uptown Funk!"
Sam Smith "Stay With Me"
Taylor Swift "Shake It Off"
Meghan Trainor "All About That Bass" – WINNER
Pharrell Williams "Happy"
Top Radio Song:
John Legend "All of Me" – WINNER
MAGIC! "Rude"
Nico & Vinz "Am I Wrong"
Sam Smith "Stay With Me"
Pharrell Williams "Happy"
Top Streaming Song (Audio):
Iggy Azalea Feat. Charli XCX "Fancy"
Hozier "Take Me to Church"
John Legend "All of Me" – WINNER
Sam Smith "Stay With Me"
Tove Lo "Habits (Stay High)"
Top Streaming Song (Video):
Idina Menzel "Let It Go"
Bobby Shmurda "Hot Boy"
Taylor Swift "Blank Space"
Taylor Swift "Shake It Off" – WINNER
Meghan Trainor "All About That Bass"
Top R&B Song:
Chris Brown Featuring Lil Wayne, French Montana, Too $hort & Tyga "Loyal"
Jason Derulo Feat. 2 Chainz "Talk Dirty"
Jeremih Featuring YG "Don't Tell 'Em"
John Legend "All of Me"
Pharrell Williams "Happy" – WINNER
Top Rap Song:
Iggy Azalea Feat. Charli XCX "Fancy" – WINNER
Iggy Azalea Feat. Rita Ora "Black Widow"
Big Sean Featuring E-40 "I Don't F**k With You"
Nicki Minaj "Anaconda"
Bobby Shmurda "Hot Boy"
Top Country Song:
Jason Aldean "Burnin' It Down" – WINNER
Luke Bryan "Play It Again"
Sam Hunt "Leave the Night On"
Florida Georgia Line Featuring Luke Bryan "This Is How We Roll"
Florida Georgia Line "Dirt"
Top Rock Song:
Bastille "Pompeii"
Coldplay "A Sky Full of Stars"
Fall Out Boy "Centuries"
Hozier "Take Me to Church" – WINNER
Paramore "Ain't It Fun"
Top Latin Song:
J Balvin Featuring Farruko
Enrique Iglesias Featuring Descemer Bueno & Gente de Zona "Bailando" – WINNER
Romeo Santos "Eres Mía"
Romeo Santos Featuring Drake "Odio"
Romeo Santos "Propuesta Indecente"
Top Dance/Electronic Song:
Clean Bandit Featuring Jess Glynne "Rather Be"
Disclosure Featuring Sam Smith "Latch"
DJ Snake & Lil Jon "Turn Down For What" – WINNER
Ariana Grande Featuring Zedd "Break Free"
Calvin Harris "Summer"
Top Christian Song:
Francesca Battistelli "He Knows My Name"
Hillsong United "Oceans (Where Feet May Fail)"
MercyMe "Greater"
Newsboys "We Believe"
Carrie Underwood "Something In The Water" – WINNER
FAN VOTED AWARD
Billboard Chart Achievement Award presented by Samsung:
Iggy Azalea
Taylor Swift – WINNER
Meghan Trainor