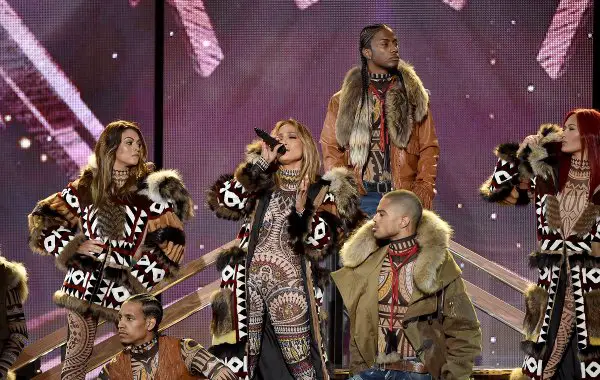 The 2015 American Music Awards aired on ABC November 22. Click to check out our live blog and winners list, with gifs and photos. Watch performances by Carrie Underwood, Pentatonix, One Direction, and Celine Dion's moving tribute to Paris.
Here are even more performances from the night.
Jennifer Lopez Opening
Jennifer Lopez hosted the show, and she also was the opening performance. She performed a dance number to a medley of songs from the nominated artists. She sang a bit of her own song, "Waiting for Tonight" before launching into a massive dance number, dressed in indigenous garb.
Gwen Stefani Use to Love Me
Gwen Stefani seemed to be flying solo at the AMAs, without her boo, Blake Shelton. She performed her breakup song, "Use to Love Me." The tune's "intimate" music video flashed on the screen behind her. I hope the kids weren't watching.
Alanis Morissette and Demi Lovato sing "You Oughta Know"
Alanis Morissette and Demi Lovato joined forces to sing "You Oughta Know" to celebrate the 20th anniversary of the release of Jagged Little Pill. Fittingly, this performance was a bit jagged. Or ragged.
Demi Lovato performs Confident
Click to Watch Demi stop the show with a performance of her single "Confident."
Justin Bieber Closes the American Music Awards
Jlo spent the entire broadcast promoting this "amazing" and "game changing" closing number from Justin Bieber. I can't quite figure out what's so unbelievable about this performance, except that he sings and dances as a rain machine goes full throttle? Hardly new, as Kelly Clarkson was epically drenched as she sang "Since U Been Gone" in 2005 on the MTV music awards. I dunno AMAs. You might want to dial back the hype machine.