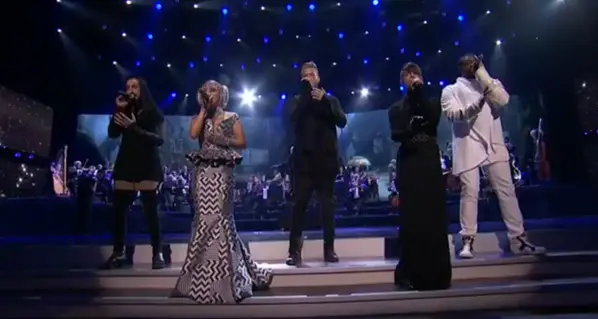 A cappella sensations, Pentatonix, performed a Star Wars Medley at the 2015 American Music Awards on November 22, backed by a full symphony orchestra!
A new scene from the Star Wars film series, The Force Awakens was featured on the AMAs. It's about 10 seconds long, but enough to drive fans crazy. Adding to the bedlam–Harrison Ford (Hans Solo) takes the stage to pay tribute to John Williams, who composed the Star Wars score, along with other iconic film scores.
Harrison introduces Pentatonix, who are dressed as the characters! Kristen Maldonado is an amazing Princess Leia. They kick off the performance singing a cappella, before the full orchestra. It is pretty epic, but to be honest, I would have preferred a completely a cappella performance.
In any case, here it is. Pentatonix sing the Star Wars Score