Join us as we live blog the 2015 American Music Awards! Full list of winners below. Plus, check out who is set to perform and present! Later, watch for videos of your favorite performances.
American Idol judge, Jennifer Lopez, is hosting.
Performances by: 5 Seconds of Summer, Justin Bieber, Leon Bridges, Coldplay, Selena Gomez, Ariana Grande, Nick Jonas, Jennifer Lopez, Demi Lovato, Macklemore & Ryan Lewis, Alanis Morissette, One Direction, Gwen Stefani, The Weeknd, Carrie Underwood, WALK THE MOON, duets from Meghan Trainor and Charlie Puth, Luke Bryan featuring Karen Fairchild of Little Big Town, Demi Lovato and Alanis Morrisette, and the legendary Star Wars score to be performed by pop super group Pentatonix and a full symphony orchestra. Celine Dion will perform a special rendition of Edith Piaf's "Hymne à L'Amour" in French as tribute to those affected by the recent attacks in Paris.
Presenters:  Five-time American MusicAward winner, Prince, has been announced. Paula Abdul, Kelsea Ballerini, Ashley Benson, Miss America 2016 Betty Cantrell, Ciara, Terry Crews, Hannah Davis, DNCE, Florida Georgia Line, Tyrese Gibson, Ellie Goulding, Gigi Hadid, Fifth Harmony, Julianne Hough, Kylie Jenner, Wiz Khalifa, Taylor Lautner, Little Big Town, Tove Lo, Jenny McCarthy, Shawn Mendes, Chloe Grace Moretz, Kevin O'Leary, Norman Reedus, Jeremy Renner, Nick Robinson, Alicia Silverstone, Jeremy Sisto, Hailee Steinfeld, Wilmer Valderrama, Donnie Wahlberg and Zendaya are also presenting.
***
Jennifer Lopez is host, but her performance is opening the show. She's wearing some indigenous looking fake fur thing, and her dancers are dressed accordingly. She performs her song "Waiting for Tonight," stops and calls out to the crowd. Ya'll ready?  She's finished singing. Some may find that a blessing, although, admittedly, her vocal was solid.  Jlo switches gears, dancing with her troupe to a medley of AMA nominated tunes. Nicki Minaj, The Weeknd, Taylor Swift and more. I think it's the first time a dance number opened the show.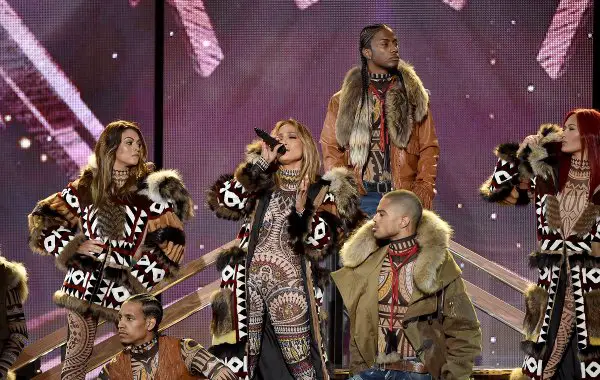 Prince is the first presenter–so he can exit the building immediately when he's finished, no doubt. Favorite Soul R&B Album goes to The Weeknd for  Beauty Behind the Madness. It's the singer's first AMA win. Prince is dressed in gold and wearing sunglasses with a 3rd eye. Love that guy!
After the break, Jlo comes out in a sparkly pink t-length dress. She tells a story about loving the show when she was a kid in the Bronx. "Does anybody remember Whitney? Madonna? Michael? Prince?" Let's get all nostalgic now! Hosting the AMAs is her DREAM COME TRUE! Maybe some little girl is out there who has the same dream! I am sure.
Hannah Davis and Wiz Khalifa are here to introduce 5 Seconds of Summer. The most under-the-radar boy band ever. You probably don't even know they're super popular. "Hey Everybody." Thank you, Shazam, for revealing the song titles. No lie, I had no idea how to use Shazam, or what the point of it was, until about a month ago.
Next, it's Selena Gomez singing her hit, "Same Old Love." It's a big break up song, which is probably moot at this point. Wasn't she photographed recently smooching her "ex" the Biebs? The BACKING TRACK IS STRONG ON THIS ONE. Guess she'd run out of breath walking down that giant staircase, otherwise.  A word in the chorus is bleeped each time. She couldn't re-write it a little? I guess it's Kanye-edgy to be bleeped.
Nicki Minaj "The reigning queen of hip hop" takes the stage next. She's presenting Favorite Pop Rock Duo or Group. The AMA goes to One Direction. Please. This is a voting show! Of course they won. Liam says it's incredible that they won the award "three years on the bounce."  Cute Irish accent for the win.
Jenny McCarthy is next to mostly pimp New Year's Rockin' Eve. She introduces the show's headliner, Carrie Underwood, who sings "Heartbeat," from the new album Storyteller. NO BACKING TRACK NEEDED NO MA'AM. Carrie is a vision in red. This song could cross over to adult contemporary so easily. Maybe it will. Aw. Such a sweet ode to long term romance, and her husband, Mike Fisher.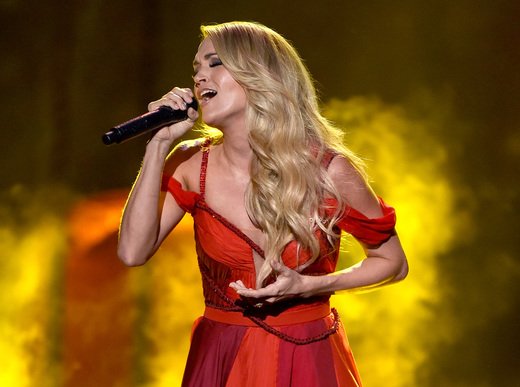 Next, it's Demi Lovato performing her single, "Confident." She looks like a 30's burlesque star with that black wave. "What's wrong with being confident?" she asks. Not one thing. The girls in the audience–especially Rebel Wilson–are rocking out. Demi staying on point and on key.
OMG. What is this parody of Adele's "Hello" with Miss Piggy and Kermit! This is amazing. The Muppet Show ratings are tanking, sadly.
Chloe Grace Moretz and Nick Robinson introduce Meghan Trainor who sings "Like I'm Going to Lose You." She and the dancers are dressed in silky raincoats. The Leslie Gore vibe is strong. A scrum lifts, and there is Charlie Puth, for a "Marvin Gaye" duet. It's like Bobby Vinton appeared, or something, this is so retro. NOT retro, the duo end the song with a sloppy face eating kiss. It lasts forever. Well, then. That's one way to enter the news cycle.
STILL NOT OVER THIS. ? #MeghanCharlieAMAs https://t.co/MQQSz58sLq

— AMAs (@TheAMAs) November 23, 2015
Kelsie Ballarini and Florida Georgia Line are super awkward reading a teleprompter. They present the Favorite Male Artist – Country to Luke Bryan.
Ariana Grande takes the stage. She's vamping it up in long white gloves, and a sparkly pink dress split up to here. She runs behind a curtain and emerges with half her dress gone. The song is "Focus" and it's full of brassy horns and a dancey break that allows her to show off the high notes. She's dancing and she's singing! Annoying brother, Frankie, is in the audience. Plz go away.
Tyrese (Aw. His adorable little girl is with him) and Wilmer Valderrama are next to present Top Soundtrack to Pitch Perfect 2. The stars of the film take the stage to accept and the speech from Anna Kendrick is hilarious.
Gigi Hadid and Kylie Jenner are next. Zzzzz.  They present Favorite Rap/Hip Hop album (no surprise there) to Nicki Minaj for PinkPrint. Fingers crossed she says something outrageous!  Naw. That was actually really heartfelt. She thanked her fans and encouraged them to dream.
Zendaya appears in pink feathers to introduce One Direction!  They sing "Perfect."  So, this is a pretty good performance.  The label finds 1D great pop songs.  It's their last hurrah until the band's "hiatus." I wonder if they'll bust up for good?
Alicia Silverstone and Jeremy Sisto are here to celebrate the 20 year reunion of Clueless.  Gwen Stefani was just a newbie when her song "Just a Girl" lead the soundtrack. They introduce Gwen, who sings her "new, personal" song, "Used to Love You."  The music video, where she looks like she's going to upchuck in every frame, runs in the background. Will we see Blake Shelton in the audience? There's Demi and Wilmer holding hands! I read Gwen and Blake were supposed to sit together, but I don't think he is even in the house.
The band, DNCE introduce a super-bald Nick Jonas who performs a slowed up rendition of his hit song "Chains," at the piano. That doesn't last long. He gets up from the keys to work the stage and sing his latest sing.e, "Levels." Carrie Underwood, in the audience, totally digging that! DRUM SOLO FROM NICK. This performance feels weirdly lacking in energy. Out of nowhere, a gospel choir joins him on "Jealous." Hm. A little odd.
Jennifer Lopez is back out in a sheer black outfit. She's presenting the Kohl's New Artist of the Year award to country singer, Sam Hunt. Interesting.  Those country fans love to vote!  Jlo stumbled over the script and apologized, saying she has a bunch of different jobs. Tell that to Ryan Seacrest. He'd laugh in your face.
It's a tough job, but who better to handle it other than @JLo! #JLoAMAs https://t.co/97nizt78Rv — AMAs (@TheAMAs) November 23, 2015
Hailee Steinfeld and Shawn Mendes introduce WALK THE MOON and the band's earworm, "Shut Up and Dance." There is singing along in the audience. The Grandes brought their grandma to the show. How cute. I wouldn't have minded if they left Frankie at home. Oh. There are the 1D boys looking kind of bored.
Paula Abdul, a 1990 AMA award winner, and the man who presented the award, Donnie Wahlberg are next. Thanks a bunch. EVERYONE feels old now. They present Favorite Pop Rock Artist – Female to Ariana Grande.
Fall Out Boy arrive to introduce Coldplay, who haven't performed at the AMAs in 7 years. This performance includes dancers dressed as gorillas. OK then. And there are pastel balloons bouncing around the audience. And confetti. That's special. That was worth the 7 year wait, wasn't it? /sarcasm.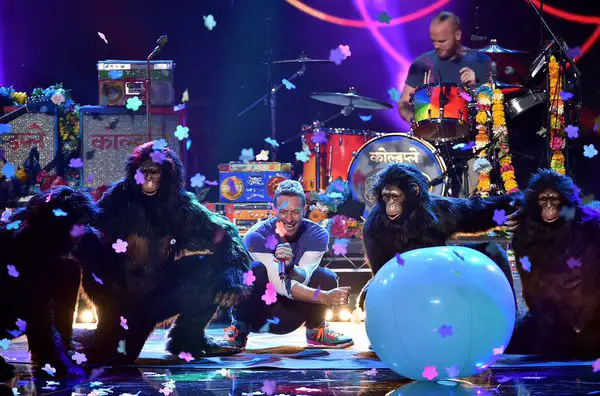 Norman Reedus presents Favorite Female Artist – Country to….Carrie Underwood! Because her fans know how the f*ck to vote! American Idol fans for the win. She thanks all the people, including her fans and family, she's blessed to have in her life. She doesn't forget God.
Ashley Benson and Tove Lo are next. They're here to introduce The Weeknd, who is having a very very good year. But maybe not tonight. Some pitchy notes on "The Hills." Maybe it's the smoke from the massive pyro behind him. Justin Bieber looks unimpressed. Meghan Trainor is taking over the role of "chick who dances enthusiastically to everything" from Taylor Swift.
Puff Daddy Diddy Combs or whatever he's calling himself is here. "Let's give it up for Jennifer Lopez one time!" he says regarding his ex-girlfriend. The music executive is on stage to present Favorite Collaboration of the Year, sponsored by T. Mobile. Skrillex, Diplo and Justin Bieber win it for "Where Are U Now." Biebs allows his collaborators to do most of the talking. Diplo is all "Peace in hard times, yo."
Little Big Town introduce their bandmate, Karen Fairchild who is duetting with Luke Bryan. They sing "Home Alone Tonight."  Pitch issues–Karen especially. Her voice is so soft and non-descript. Not really impressed.
Taylor Lautner and Terry Crews introduce Macklemore and Ryan Lewis who perform a powerful song that basically calls out Big Pharma for the deaths of addicts who get hooked on prescription drugs. Macklemore, an addict himself, recently admitted to relapsing.
Fifth Harmony hand out Favorite Alternative Rock Artist to Fall Out Boy. She wants to dance to Uma Thurman! Patrick Stump says they've been around for 15 years. It's their first AMA.
Anna Kendrick introduces Alanis Morisette and Demi Lovato, who take the stage to sing about blow jobs! Ha. It's "You Oughta Know."  Welp. This is a hot mess. Lack of rehearsal time? They criss cross the stage without looking at each other. Weird. Singing the radio edit. No blow jobs! They kinda get it together by the end of the song. By the way, it's 20 years since the release of the album, Jagged Little Pill.
Ellie Goulding and Julianne Hough are next. Random! They present  Favorite Rap/Hip Hop artist to Nicki Minaj. This is her 6th AMA. You don't want to mess with her fans. Just sayin. She thanks all the people she forgot last time. She shouts out Fetty Wap for being fantastic and her boo, Meek Mill.
Jared Leto comes out, looking a little bewildered. Oh. he's introducing Celine Dion, who will sing a tribute to Paris. He reminisces about playing the Bataclan–the club where 89 people were slaughtered by terrorists–with his band 30 Seconds to Mars. He knew people who were in the club, and somebody who died during the attack. He recites a statement from a man who refuses to hate the terrorists, despite losing the mother of his young son in the attacks. Jared mentions that Steve Jobs was the son of a Syrian immigrant, and that Barack Obama's father was Kenyan. He notes that many of us aren't that far off the boat. Immigrants are what made America great. He introduces Celine Dion, who performs a lovely tribute in French. OK. I'm crying now.
A new scene from the Star Wars Movie, The Force Awakens is next. It's about 10 seconds long. Harrison Ford comes out to talk about John Williams, who composed the Star Wars score. He introduces Pentatonix. He can barely pronounce the name. Heh. They are singing the score along with a symphony orchestra. They're dressed as the characters! AMAZING. They kick off singing a'capella. A full orchestra joins them. It's pretty epic. To be honest, it would have been even better totally a'cappella.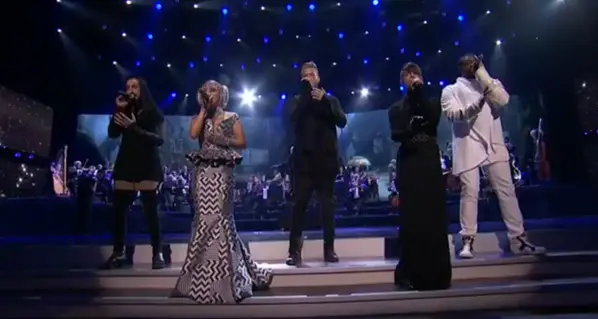 Miss America and Kevin O'Leary from Shark Tank (what a combo) present Favorite Artist – Soul R&B to The Weeknd. It's his second award tonight, and ever.
Jeremy Renner is next. "It's time to find out the most prestigious award of the evening." I swear he's snarking. The AMA goes to One Direction! Take THAT Justin Bieber! You weren't even nominated. They've won two years in a row. They mention going on "a little break." See you never!
Ciara introduces Justin Bieber, the comeback king, who will close the AMAs. All night, Jlo kept reminding viewers that this performance would blow our minds. He sings "What Do You Mean" with an acoustic guitar. OMG MY MIND IS BLOWN. Not. The audience is filled with purple glow sticks. He's wearing a hoodie and ripped jeans. Thanks for dressing up, Biebs. "Where are You" is next. This boy is full of questions. OK. He's dressed like shit, because the rain machine is out, and he's getting drenched as he performs "Sorry." Look at me, America! I'm getting drenched in the rain while I apologize. PLEASE LOVE ME AGAIN. The announcer calls the performance "game changing." Hm.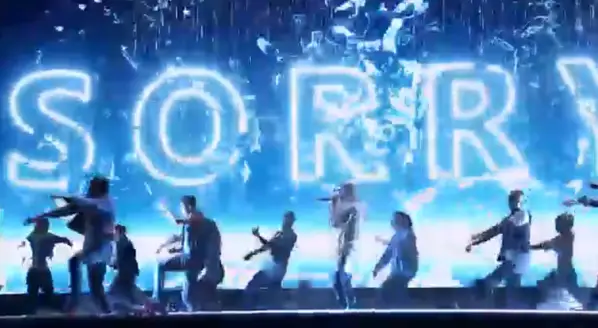 Jlo signs off in another wardrobe-malfunction-waiting-to-happen dress. And that's the end.
2015 American Music Awards Winners List
ARTIST OF THE YEAR
Luke Bryan
Ariana Grande
Nicki Minaj
Taylor Swift
One Direction – WINNER
NEW ARTIST OF THE YEAR
Fetty Wap
Sam Hunt – WINNER
Tove Lo
Walk The Moon
The Weeknd
SONG OF THE YEAR
Wiz Khalifa Featuring Charlie Puth "See You Again"
Mark Ronson Featuring Bruno Mars "Uptown Funk!"
Ed Sheeran "Thinking Out Loud"
Taylor Swift "Blank Space" – WINNER
The Weeknd "Can't Feel My Face"
COLLABORATION OF THE YEAR
Wiz Khalifa Featuring Charlie Puth "See You Again"
Rihanna & Kanye West Featuring Paul McCartney "FourFiveSeconds"
Mark Ronson Featuring Bruno Mars "Uptown Funk!"
Skrillex & Diplo Featuring Justin Bieber "Where Are Ü Now" – WINNER
Taylor Swift Featuring Kendrick Lamar "Bad Blood"
FAVORITE MALE ARTIST – POP/ROCK
Nick Jonas
Ed Sheeran – WINNER
Sam Smith
FAVORITE FEMALE ARTIST – POP/ROCK
Ariana Grande – WINNER
Taylor Swift
Meghan Trainor
FAVORITE DUO OR GROUP – POP/ROCK
Maroon 5
One Direction – WINNER
Walk The Moon
FAVORITE ALBUM – POP/ROCK
Ed Sheeran "x"
Sam Smith "In The Lonely Hour"
Taylor Swift "1989" – WINNER
FAVORITE MALE ARTIST – COUNTRY
Jason Aldean
Luke Bryan – WINNER
Sam Hunt
FAVORITE FEMALE ARTIST – COUNTRY
Kelsea Ballerini
Miranda Lambert
Carrie Underwood – WINNER
FAVORITE DUO OR GROUP – COUNTRY
Zac Brown Band
Florida Georgia Line – WINNER
Little Big Town
FAVORITE ALBUM – COUNTRY
Jason Aldean "Old Boots, New Dirt"
Florida Georgia Line "Anything Goes" – WINNER
Sam Hunt "Montevallo"
FAVORITE ARTIST – RAP/HIP-HOP
Drake
Fetty Wap
Nicki Minaj – WINNER
FAVORITE ALBUM – RAP/HIP-HOP
J. Cole "2014 Forest Hills Drive"
Drake "If You're Reading This It's Too Late"
Nicki Minaj "The Pinkprint" – WINNER
FAVORITE MALE ARTIST – SOUL/R&B
Chris Brown
Trey Songz
The Weeknd – Winner
FAVORITE FEMALE ARTIST – SOUL/R&B
Beyoncé
Mary J. Blige
Rihanna – WINNER
FAVORITE ALBUM – SOUL/R&B
Chris Brown "X"
D'Angelo and The Vanguard "Black Messiah"
The Weeknd "Beauty Behind the Madness" – WINNER
FAVORITE ARTIST – ALTERNATIVE ROCK
Fall Out Boy – WINNER
Hozier
Walk The Moon
FAVORITE ARTIST – ADULT CONTEMPORARY
Ed Sheeran
Taylor Swift – WINNER
Meghan Trainor
FAVORITE ARTIST – LATIN
Enrique Iglesias – WINNER
Ricky Martin
Romeo Santos
FAVORITE ARTIST – CONTEMPORARY INSPIRATIONAL
Casting Crowns – WINNER
Hillsong United
MercyMe
FAVORITE ARTIST – ELECTRONIC DANCE MUSIC (EDM)
Calvin Harris – WINNER
David Guetta
Zedd
TOP SOUNDTRACK
Fifty Shades of Grey
Empire: Original Soundtrack from Season 1
Pitch Perfect 2 – WINNER
Red Carpet Photos:
Carrie Underwood
Fifth Harmony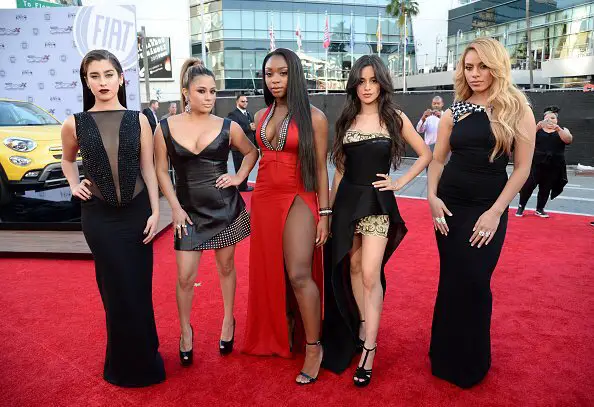 One Direction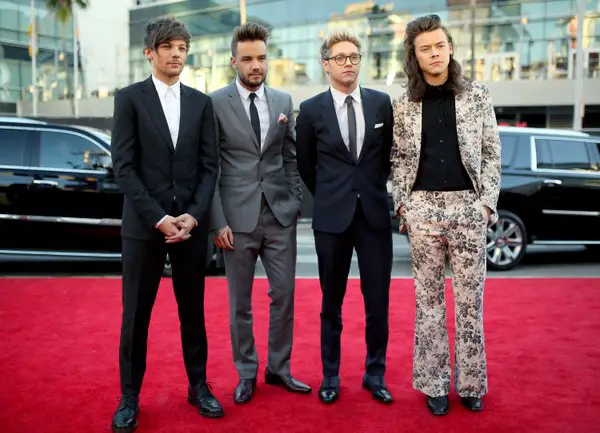 Gwen Stefani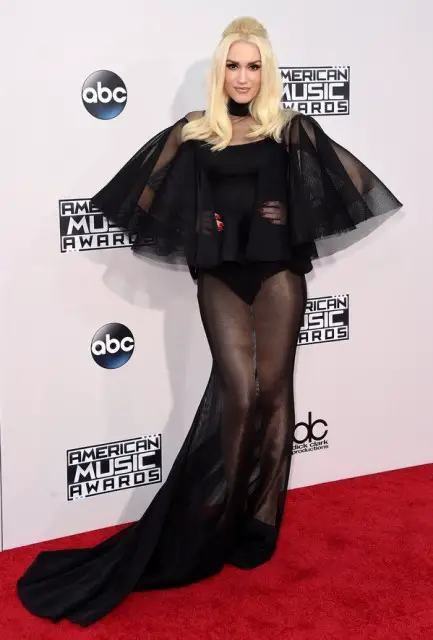 WHEN HARRY MET CARRIE!
When Harry met Carrie…In a garage stairwell at the #AMAs @Harry_Styles Congrats @onedirection on a big night! pic.twitter.com/aacePtYAut

— Carrie Underwood (@carrieunderwood) November 23, 2015