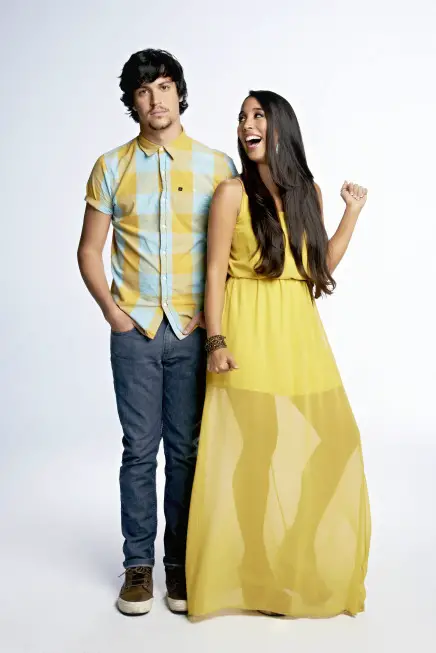 X Factor winners, Alex & Sierra, have announced an upcoming tour with Colbie Caillat and Train, that begins August 21 in Orlando FL.
The duo is out promoting their debut album, It's About Us, set to come out October 7.  However, you can pre-order the record now at iTunes and receive an instant download of their single "Scarecrow" and an additional song, "Little Do You Know." Additional tunes will be available bi-weekly.
Alex & Sierra reveal "It's About Us" Album Cover, Track List 
Alex & Sierra – "Scarecrow" – Official Music VIDEO
Alex & Sierra – "Scarecrow" Acoustic Music Video
Alex & Sierra worked with multiple producers on the album, including Toby Gad (Beyoncé), Sam Hollander (Neon Trees, Gym Class Heroes) and Julian Bunetta (One Direction), as well as John Legend.
Check out an acoustic version of "Scarecrow" from a local appearance in Columbus OH.
Good Day Columbus – Scarecrow
Behind the Scenes of the Scarecrow Video
Tour Schedule
Aug. 21 – Orlando, Fla., CFE Arena
Aug. 27 – Denver, Colo., Denver Botanic Gardens – York St.
Aug. 28 – North Kansas City, Mo., VooDoo Lounge / Harrah's North Kansas City
Aug. 29 – Glen Ellyn, Ill., McAninch Arts Center
Sept. 1 – Portsmouth, N.H., The Music Hall
Sept. 2 – Ridgefield, Conn.,Ridgefield Playhouse
Sept. 3 – Huntington, N.Y., The Paramount
Sept. 7 – Vienna, Va., Filene Center At Wolf Trap
Sept. 9 – Ashland, Ky., Paramount Arts Center
Sept. 17 – Los Angeles, Calif., Pantages Theatre
Sept. 19 – Reno, Nev., Grand Sierra Resort & Casino
Sept. 20 – Santa Rosa, Calif., Wells Fargo Center For The Arts
Sept. 21 – Modesto, Calif., Gallo Center For The Arts
Sept. 22 – San Francisco, Calif., Masonic Center
Sept. 23 – Arcata, Calif., John Van Duzer Theatre
Sept. 25 – New York, N.Y., Radio City Music Hall
Sept. 26 – Thousand Oaks, Calif., Fred Kavli Theatre
Sept. 28 – San Diego, Calif., Humphrey's Concerts By The Bay
Alex & Sierra appears with Karmin Aug. 21. The duo supports Colbie Caillat Aug. 27 through Sept. 9, as well as Sept. 19, 21, 23 and 26-28. Catch the act with Train Sept. 17, 22 and 25. Tickets are on sale now.
via Pollstar