It's time to face the music!
My, my, how time flies. It seems like only yesterday it was December 2012 when James Arthur won season 9 of X Factor UK.
But, it's the end of August 2013 and it's time for season 10 of X Factor UK.
Dermot O'Leary is back as a host. Judges Gary Barlow, Louis Walsh and Nicole Scherzinger are back. Tulisa was replaced by the original X Factor judge Sharon Osbourne. Yep, Mrs O is back – but for one season only. This might be Gary Barlow's last season too as he plans to release another album with Take That. Even the unsinkable Louis Walsh might leave after a decade on the X Factor.
This year, we will have to suffer through 2 rounds of auditions. Hopefuls will have to impress the judges in the intimate setting of small audition rooms first and then again in big arenas. And the bootcamp stage has a cool new twist too. 24 acts (6 per category) made it to the judges' houses stage. We have some spoilers HERE, so check them out if you want to spot the semifinalists during the auditions.
ITV usually uploads the most notable auditions on X Factor's official YouTube channel right after the end of the episode. I will post the videos and more here. The episode starts on at 8pm BST (3pm ET) on ITV1.
---
HOW TO WATCH X FACTOR UK LIVE ON THE INTERNET
Please post working live feeds as you find them in the comments. Some feeds are posted on TVPC (United Kingdom/ITV1).
ITV streams the show HERE, but you need to pretend you are in the UK. To do that, you have two options:
1) Use free UK VPN service. Make a VPN connection, use the server, username and password given on the site. Password changes every day, so bookmark the link for future use.
2) You can get VPN connection via HIDEMAN (5 hours/week free). TV Nutters has the instructions. Don't forget to disconnect from this service when you are done watching as you only get 5 free hours per week.
If the ITV Player asks you for your postcode, find some valid ones on the internet. EXAMPLE.
---
The X Factor [email protected] 5m
It all started here for @OneDirection. Who will be next? #XFactor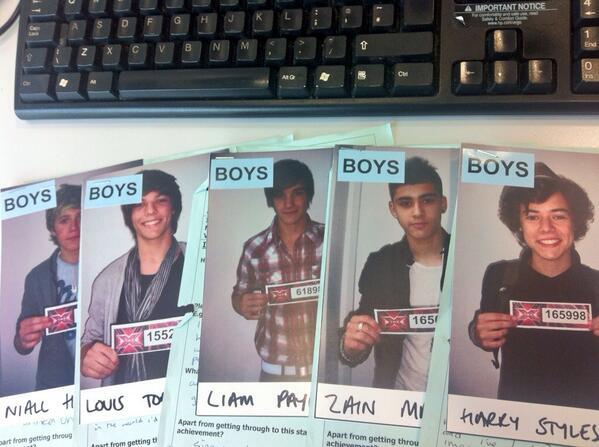 Luke Friend sings Stand By Me by Ben E. King

J Star Valentine sings Hallelujah by Alexandra Burke
http://youtu.be/Bzf6B4Yj_Bc
Tom Mann sings Let Her Go By Passenger

Fil Henley sings Let Me Entertain You by Robbie Williams

Fil Henley gets the Judges angry

Hannah Barrett sings Read All About It by Emeli Sande (homeless, 17)

Euphoria Girls sing I'm In The Mood For Dancing

Luke Britnell sings his own song Think Positive (Justin Bieber impersonator)

Sam Bailey sings Listen by Beyonce (prison officer, 36)

Female duo Silver Rock – End of Time (Beyonce)
Friends, decided to audition as a duo just because they can. Their names are Jerrie Bafundila and Tamera Foster. Judges don't like their singing, girls then audition as solo singers. Tamera is reportedly one of the TOP 6 girls.
Chen's audition – Auditions Week 1 — The Xtra Factor 2013

Would You Rather – Auditions Week 1 — The Xtra Factor 2013

If our spoilers are correct, we saw some TOP 24 contestants today.
Tomorrow, tonight's candidates audition again … in the arena.
---
Let the circus begin! The X Factor series ten kicks off… and the contestants are crazier than ever
The X Factor returns for a tenth series on Saturday evening, and as we've come to expect from previous shows the opening episode will be filled with the usual assortment of talented, talentless and frankly comical.
With the audition process reverting to its original accapella format, hopefuls will be performing in a more intimate, but no less intimidating environment for judges Louis Walsh, Gary Barlow, Nicole Scherzinger and the returning Sharon Osbourne.
This time round it's the prerequisite three yes's that see them through to a further audition in front of a live and often merciless audience.
Read more: Daily Mail
'I felt the pain within you, and it really touched me': Homeless teenager Hannah Barrett moves The X Factor judging panel to tears with her emotional performance
It's the show which has propelled the likes of One Direction, Little Mix and Leona Lewis to worldwide super-stardom.
And Saturday night's launch of The X Factor 2013 certainly didn't disappoint when it came to unearthing a wealth of incredible new talent.
One of the most emotional performances of the night came from 17-year-old student Hannah Barrett, who broke down in tears as she spoke to judges Gary Barlow, Nicole Scherzinger, Sharon Osbourne and Louis Walsh.
Read more: Daily Mail
'Everything goes away when I sing. I can be someone else': Prison officer Sam Bailey receives a standing ovation from X Factor judges after moving audition
She was a seemingly unassuming prison officer from Leicester, who seemed a little shy at the prospect of appearing on television in front of millions of people.
But The X Factor's judging panel – Nicole Scherzinger, Louis Walsh, Gary Barlow and Sharon Osbourne – were left virtually speechless when Sam Bailey, 35, dazzled them with a touching rendition of Beyonce's Listen on Saturday night's series launch show.
The timid mother-of-two admitted she saw her talent as a form of escapism, telling host Dermot O'Leary that singing allowed her to 'be someone else'.
Read more: Daily Mail
Despite a triumphant return by rock veteran Sharon Osbourne, it was a case of the song remains the same for series ten of The X Factor
I admit it.
To my mind, the fact that the big improvement to series ten of The X Factor was the return of Sharon Osbourne only seemed to prove just how desperate and dated Simon Cowell's ailing creation had become.
When she left the show six years ago, my view of her – and the rest of the Osbourne – could be summed up with Jane Austen's pithy appreciation: 'you have delighted us long enough.'
Tulisa may have been so mundane she made Cheryl Cole look like Marlene Dietrich.
But the notion that the panel of TV's most influential pop programme would now consist of Osbourne (60), Louis Walsh (61), Simon Cowell (53), Gary Barlow (42), and the positively youthful Nicole Scherzinger (35) struck me as tragically unimaginative and a damningly conservative.
So it's irritating to acknowledge that, judging by Saturday's debut, bringing Sharon Osbourne back looks like another Cowell masterstroke.
Read more: Daily Mail
'You sounded like a dolphin': Sharon Osbourne makes her mark with a series of witty one-liners as she returns to The X Factor judging panel
She was making a triumphant return to The X Factor judging panel after originally appearing on the talent show from 2004 to 2007.
And Sharon Osbourne ensured she well and truly made her mark as she delighted both her co-judges and contestants alike with a series of quick-witted comments.
Sitting alongside Nicole Scherzinger, Gary Barlow and Louis Walsh, the 60-year-old star proved she certainly hadn't lost her penchant for a hilarious one-liner as she went to town on some of the less talented contestants to grace the stage on Saturday night's launch show.
Read more: Daily Mail
Not exactly the new One Direction! X Factor judging panel left in hysterics after a series of hilarious performances on launch show
Although it's the show that has launched the careers of some of the world's biggest stars, the likes of One Direction won't be too nervous about being overshadowed by some of the less talented contestants on Saturday night's episode of The X Factor.
While judges Gary Barlow, Nicole Scherzinger, Sharon Osbourne and Louis Walsh were impressed by numerous aspiring stars on the series launch show, others didn't capture their attention for quite the same reasons.
Never exactly one to mince her words, Sharon told 19-year-old model J-Star Valentine told by Sharon that he sang like a 'ghost'.
Read more: Daily Mail
'The X Factor' Series 10 First Review: A hit-and-miss affair
The X Factor is back. Depending on where you stand, either clap your hands and do a gleeful jig or run for the hills. It's going to be on ITV on Saturdays (and Sundays) all the way through to Christmas, so you can either deal with it or lock yourself in a cupboard until New Year's.
This is the 10th year of X Factor and to celebrate ITV are expanding (or stretching thin – depending on your viewpoint) the audition shows across the weekend, a double header, an all-you-can-eat buffet of warbling, belting and Emeli Sandé covers.
Read more: Digital Spy