It's time to face the music.
Tonight's episode starts at 8pm BST, 9pm CEST, 3pm EDT, 12pm PDT.
If you missed the opening sequence of last night's show:

---
XF UK S11E02 Previews:
TELLYMIX: SONG LIST FOR TONIGHT
TELLYMIX: PICTURES OF TONIGHT'S HOPEFULS
TELLYMIX: SPOILERS FOR TONIGHT
---
HOW TO WATCH: LIVE, ONLINE, FROM ABROAD
You can watch X Factor live, online. ITV streams the show through ITV Player. However, ITV blocks viewers from outside of the UK. To get around that, you need to use VPN connection. If Google Chrome is your preferred browser, install ZenMate or Hola extensions and set them to UK server. There are also many free UK VPN services that allow you to make a connection on your own (Pick one and follow the instructions: 1, 2, 3, 4, 5, 6, 7, 8, 9, 10. For more Google "free UK VPN".). ITV might ask you to enter your UK zip code. Find valid UK zip code HERE. Don't let the browser send any information.
You can also try to find a working ITV stream on MyiPlayer.com, TVPC.com, VIPLeague.me, Stream2Watch.me or FilmON.com.
If you know any other working links, please post them in the comments below.
---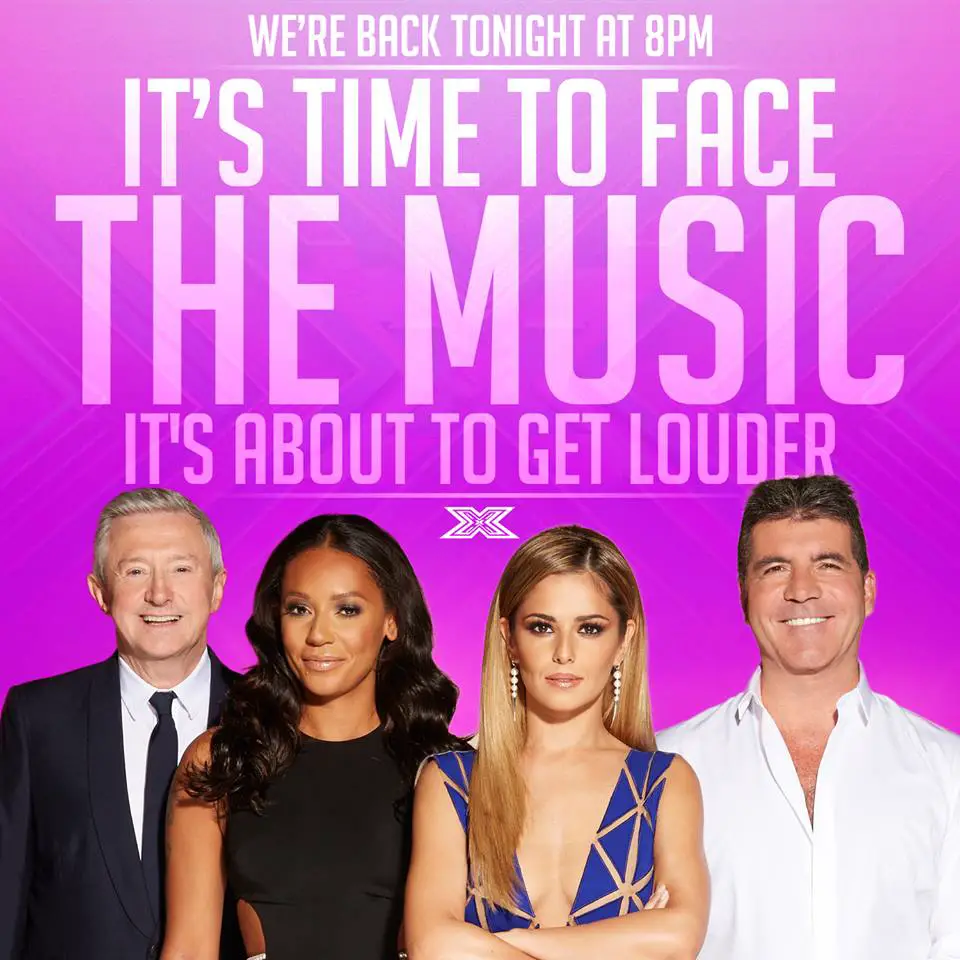 Get ready for groups and overs tonight!
GCB – Don't Judge Me (Chris Brown)

Acoustic cover. Simon says it was boring. More boring hopefuls.
Stevie Ritchie – Dance With Me Tonight (Olly Murs)

33, lives near Olly Murs. Works in a call center. False start … Average guy, a bit camp, singing a fun pop song, trying to entertain. Gets 4 YESes, but he has no potential for the live shows … Unless if they position him as this year's joke contestant in the Overs category.
Cheryl and Mel B know something about girlbands … If Cheryl was a Spice Girl she'd be Posh. And if Mel B was in Girls Aloud she'd be Kimberley Walsh.
Only The Young – Something About The Way You Look Tonight (Elton John)

Mixed group, acoustic cover. Mel B and Cheryl loved them, Simon and Louis too, 4 YESes.
Concept – Earthquake (Labrinth)

Another acoustic cover. 4 YESes
Arize – Little Me (Little Mix)

4 YESes
Overload – Pompeii (Bastille)

They've been together for 3 months. Some weak singers, but they get 4 YESes.
Kitten And The Hip – Shut Up And Dance (K.A.T.H)

He is 53 and she is 28. They have a baby together … Louis thought the guy is her father. AWKWARD.
Cheryl and Mel B think Scarlett is great, but her husband should step back … YES to Kitten, NO to Hip. According to The Sun, dude had a hit with Fatboy Slim in 1995.
Oceane Guyot – Emotions (Mariah Carey)

She is French. Brit won X Factor France a few years ago. She is a massive X Factor UK fan and wants to win.
Her singing is bizarre. The judges are speechless. 4 NOs.
Jimmy Cheung – O Sole Mio (Luciano Pavarotti)

He is from Hong Kong. Sounds terrible. 4 NOs
Jan Chichorz – Tough Lover (Christina Aguilera)

He is from Poland. Terrible. 4 NOs
Andrea Faustini – Who's Loving You (The Jackson 5)

He is from Rome, Italy; 20 years old. Great personality. He loves X Factor UK and pugs.
Guy can actually sing, has great soulful vocals. The judges are surprised. I don't think this is the best song choice for his voice, but he can sing. The judges love him. 4 YESes.
Chloe Thwala – Stand Up For Love (Destiny's Child)
Michelle Lawson – One And Only (Adele)
Helen Fulthorpe
Three Over 25s, good singers. All through.
Linzi Martin – I'll Be There (The Jackson 5)

14 years ago she was in Girl Thing, Simon's former girlband. She is now 33 and has two children. He recognizes her. She says the label invested a lot in them, but their second single bombed and they were dropped. She is nervous, Simon tells her to compose herself. YIKES. Terrible song choice. Louis says YES, because he feels sorry for her, Mel B also gives in. Cheryl says NO, but feels really bad about it. Simon decides to be honest and says NO.
---
'I thought you were father and daughter!': Kitten And The Hip shock X Factor judges… before wife, 28, ditches hubby, 53, to get through
The X Factor auditions returned on Sunday night, and it seemed to be one for the groups.
One duo in particular that stood out was Kitten And The Hip – a 53-year old husband and his 28-year old wife – who shocked the judges when they found out they were partners with a baby.
'I thought you were father and daughter!' Louis Walsh exclaimed.
Read more: Daily Mail
Heading in the same direction? Harry Styles' cousin Ben Selley and his band Concept set for success after impressing the judges at the X Factor auditions
Harry Styles and his band One Direction catapulted to worldwide fame back in 2010 thanks to their appearance on X Factor.
And it now looks as if the 1D heartthrob's cousin Ben Selley is tipped for success after wowing the judges in his audition on Sunday night's show.
The 20-year-old singer along with his Concept bandmates Karim Newton, Matt Goodenough, Nathan Gittens and Scott Dicks impressed the panel with their rendition of Labrinth's Earthquake.
Read more: Daily Mail
Break it to her gently… from Linzi Martin's last chance to Kitty needing a Hip replacement: Ten lessons we learned from Sunday's X Factor, by JIM SHELLEY
The second episode of The X Factor 2014 confirmed the view that when Simon Cowell's circus of cruelty a) stops telling us that averagely-talented, fresh-faced young kids are the future of pop music, b) quits laughing at contestants that are clearly not compos mentis and c) cuts out half the adverts and confines itself to an hour instead of ninety minutes it can still be brilliantly entertaining, unmissable, and even revealing television.
Here's what we learned from Sunday's episode.
Read more: Daily Mail