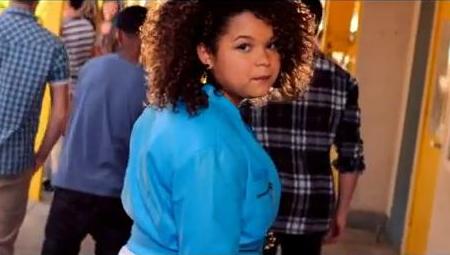 Watch the new "Mean Girls" music video from X Factor alum, Rachel Crow. The new tune was co-written by Rachel and Toby Gad (If I Were a Boy, Big Girls Don't Cry) and chronicles experiences the young singer had growing up in a small Colorado town.
"It was the looks and the being called 'weirdo' and 'freak.' Rachel explained in a recent interview with AOL Music, "Me and my one friend would stick together and just brush it off, but of course there were times when I would come home crying to my mom and saying, 'They called me this!' And she would just say, 'Oh they're just jealous!."
"But I was different in every possible way in school," Rachel added, "I was loud and outgoing and had curly hair and they were just kind of like, 'What is going on right now? What is this creature?' I was just being myself and my parents taught me to always be myself and never think you have to be different than who you are. That was what made me confident to try out for X Factor."
"Mean Girls" is the lead single off of  Rachel's new 5 song EP.
Watch the video below.