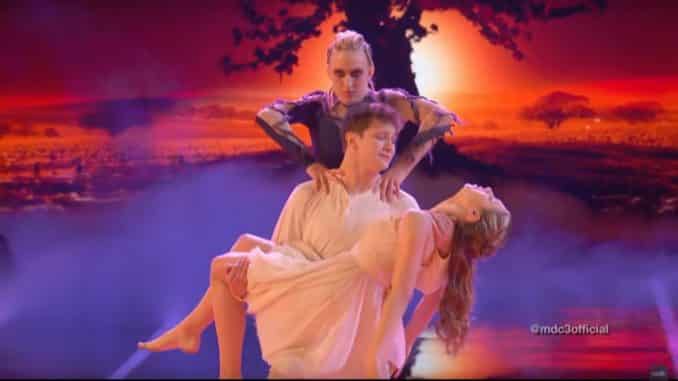 Watch contemporary dancers MDC 3 perform to "This Woman's Work" by Maxwell during the World of Dance Semi-Finals, coming up on NBC Tuesday (Aug 11).
The Junior category trio are one of six acts vying for two spots in Wednesday's (Aug 12) Grand Finale. The performance is presented without backstory or comments from judges Ne-Yo, Jennifer Lopez and Derek Hough. What story are the dancers telling here? Could it be a love triangle? Or is the menacing dancer a metaphor for illness or depression? Fans will have to wait until Tuesday when World of Dance Semi-Final part 2 airs on NBC at 10 pm ET/PT after America's Got Talent.
World of Dance 4 Recap Semi-Final 1 RESULTS (Live Blog and VIDEO)
So far, ballroom dancers  Jefferson & Adriana and contemporary group Geométrie Variable will compete in the World of Dance Grand finale for a shot at the win and the 1 million dollar prize. Tuesday's show will determine the additional two acts headed for the finale, which airs on Wednesday (Aug 12) at 9 pm after America's Got Talent live results show. 
Watch MDC 3's intriguing contemporary routine, below.