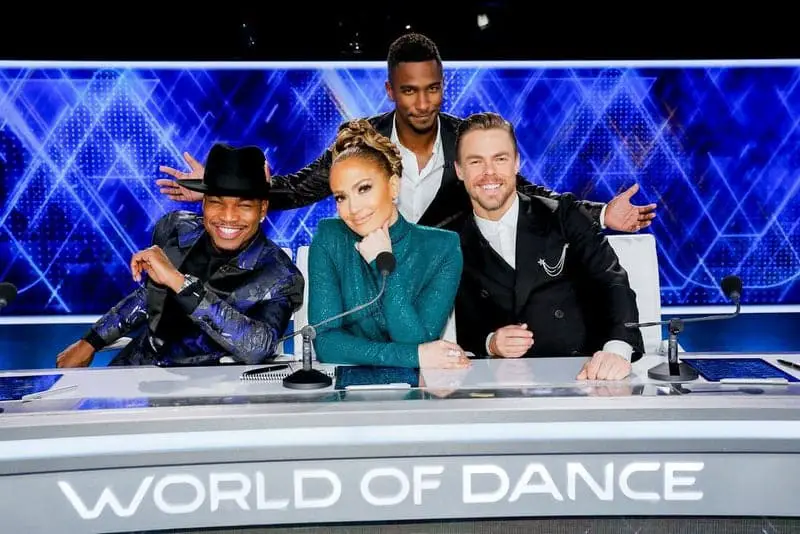 And the Semi-Finals have arrived! Welcome to another edition of World Of Dance. Twelve acts in total remain, all eager to compete and win that million dollar prize. Six of those acts will perform this evening.
Our panel of judges- Jennifer Lopez, Ne-Yo, and Derek Hough will score the acts (yes, scoring is finally back) and when all is said and done, the top two scorers will advance. That unfortunately means that four will go home tonight. It is going to be ruthless and with no redemption left, it is up to the dancers to bring it immediately and impress if they want their WOD dreams to continue.
Jennifer says the judges are looking for something they have never seen before and they want to see the audience go crazy. Ne-Yo notes that they have seen greatness before and will know it when they see it. Derek says preparation meets opportunity.
The Young Cast – Ne-Yo says they need to just figure out that last piece to become a winning group. They are only the group left that has been through every part of the competition including the redemption round. That was a really outstanding song choice. It gave this group a real opportunity to paint some very interesting pictures with their bodies. I saw some stuff in that we haven't seen before and everyone was on point. It was quite high energy and they kept up at that energy from start to finish.
Derek called it fantastic. Jennifer loved the song selection. Derek says they are a perfect example of perseverance. Jennifer didn't know where to look at times because so much was going on. Ne-Yo critiques that in some of the parts, musicality was lost. Scores- Ne-Yo- 89, Jennifer- 90, Derek- 93 = 90.7
Savannah Manzel – Jennifer calls her a prodigy. The story of this dance is to follow your dreams. OH. She's starting with a prop. Acrobatic aerial work! Savannah is a gifted kid, that much I gotta say. She has some great athletic ability and she tells a story through her movement. I don't think we saw anything in that tonight that was really new or exceptional and again, will it be her age and the fact that she can dance so well at her age that moves her forward over the actual routine? I don't know.
Jennifer calls her a marvel. She loves seeing Savannah putting a new spin on things. Ne-Yo is excited for the next generation of dancers thanks to Savannah. Scores- Ne-Yo-89, Jennifer- 91, Derek- 91 = 90.3
Jefferson & Adrianita – Derek notes they have amazing moves. Their son Derek will be watching. I have to admit that I am not used to seeing a bit of sloppiness from these two but they had some tonight. A surprising amount of moments where they were just not as perfect as before. Of course, they are still mind blowing in their talent and they had some incredible new moves and tricks in that Latin routine but they left some room for other contestants there.
Ne-Yo says you cannot deny the electricity. He says that he still has the issue that his eyes go more toward Adrianita. Jennifer disagrees. Derek says the men are supposed to frame the women. He loved the tricks. Judge Derek meets baby Derek. Scores- Ne-Yo- 92, Jennifer- 95, Derek- 96 = 94.3
With that score, Savannah Manzel has been eliminated.
GRVMNT – Jennifer says they work hard and have chemistry. The group says that they are on the verge of splitting up since two are leaving for University. Aww. They are crying thinking about it all coming to an end. That was pretty exciting. They just have The Young Cast a nice run for their money. Loved the war-like theme and hard hitting moves. A lot of cool isolations and formations in that. Some really good group work from start to finish.
Derek loved the concept. He says they stay in the v-formation for too long. Jennifer says the execution was great but the steps lack originality. Ne-Yo agrees. He didn't see a moment. Scores- Ne-Yo- 89, Jennifer- 89, Derek- 91 = 89.7
https://www.youtube.com/watch?v=mfR5y1ZOACQ
That is sadly not enough for them to move on and GRVMNT is eliminated.
Kurtis Sprung – He is thrilled to be on the big stage- it creates a lot of opportunity. Derek calls hin exceptional and says Kurtis just loves dancing. The piece is about how Kurtis and his dad didn't communicate well. Kurtis says the semi-finals are epic. Exceptionally well choreographed routine An emotional story danced beautifully. You could tell exactly what Kurtis was going for in that. Some really incredible moves but the emotions reign over everything else. I love when dance touches on a human level and this definitely did.
Derek says the lyrics in the song hit him. He loved the technique and how hard Kurtis was throwing himself around. Ne-Yo has a critique- he wanted to see one picture. He wanted the moves to stop a bit. Jennifer disagrees- she saw pictures and amazing moments. She says you don't always have to have big dancing moments. She found it interpretive- a real testament to his artistry. Score- Ne-Yo- 89, Derek- 90, Jennifer- 92 = 90.3
https://www.youtube.com/watch?v=-xOMWF7RNqA
Damn. That score puts Kurtis in third (tied) and it is not enough for him to move on. Kurtis Sprung is eliminated.
As usual, there's a definite advantage to dancing later in the show. The judges without question leave room for more points if you dance early. So dancing toward the end is a big help. It would be so interesting to see what kind of scores the earlier competing contestants would achieve if they danced later.
Geometrie Variable – They came to present their style and their universe. Ne-Yo says they are so unique. He is worried because they need to work very hard to keep that nuance fresh. That was hot. I'v always appreciated what these three do but this was the first time I actually saw one cohesive piece as opposed to just showing off their moves. This felt like a well thought out and put together routine and it had some really cool moments The use of the umbrella worked and it was so very sophisticated as well. Nice.
Derek could never walk out and be that cool. Jennifer calls them oddly satisfying. Ne-Yo calls it sexy math dancing. Jennifer is impressed that they brought something new. She says the innovation is exciting. Ne-Yo says they dance with one brain. Derek calls it surgical- the moves are intentional. Scores- Ne-Yo- 95, Jennifer- 94, Derek- 93 = 94
The Young Cast has been eliminated.
The top two moving on to the WORLD FINAL are Jefferson & Adrianita and Geometrie Variable.
Next week is a two-night season finale event. On Tuesday, the second set of six semi-finalists perform. And on Wednesday, it is the season finale where the top four compete for the title of champion and the million dollar cash prize. Thanks for watching with me tonight and I'll see you guys in a week!