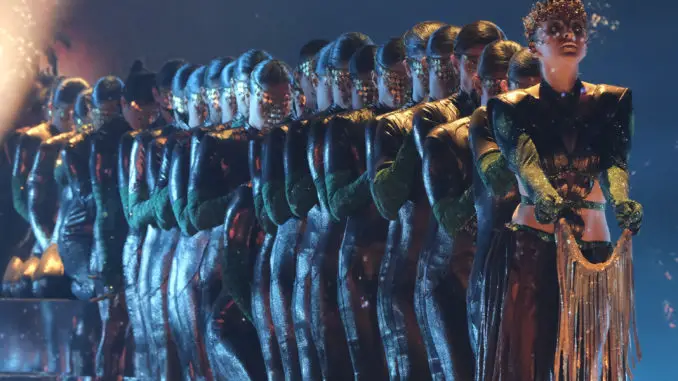 America's Got Talent: Lebanon Dance Troupe Mayyas Slither Their Way Through The SemiFinals
Finally, this week is the last week of the Qualifiers (Semifinal) rounds on America's Got Talent. (Read our Recap)
Tonight, may have been the most stacked Qualifiers round this season. It featured several entertaining variety acts, two really strong singers, and the highly anticipated Golden Buzzer dance troupe from Lebanon, the Mayyas. The group is AGT's first Arab dance troupe. In their video package, they shared how in Lebanon, dance isn't a career, especially not for women. The Mayyas serves as a safe space for women to dance. After their audition, judge Sofia Vergara felt empowered by the act and wanted to keep pushing them to go the distance and be great, so she gave them her Golden Buzzer.
This highly anticipated act returned to AGT, leaving it all out on stage. They lived up to the hype of being the last act of the semifinals. They could be crowned the winner next week, they're that good. While their initial audition at times felt out of sync with their footwork, this new routine was a huge step up. The performance was so mesmerizing, I felt like I was in the theater watching it live. The Mayyas took their shape-forming choreography to the next level. At one point, they were slithering around like a snake. The lead dancer in particular deserves a shoutout. She brought emotion and fierceness to the performance. The routine must have taken hours and hours to perfect, as not a movement was out of place.
All three judges stood for the group as the crowd applauded. Sofia proudly joined them on stage. Simon Cowell said, "everyone in this room will remember this moment," and added that the performance "will change the world." Sofia said if she could, she would give them another "golden buzzer." Heidi Klum called them "Vegas-ready." Howie Mandel described their act as a "powerful creature," going on to call it the "best moment in AGT history." While the Mayyas were great, Howie may be exaggerating. It seems like the judges are throwing around that statement, as Simon said the same thing about Metaphysic last week.
Overall, the Mayyas were one of the best acts of the Qualifiers, and will likely advance to the finals. Multimedia pole dancer Kristy Sellars–who put on a show and was arguably as good as the Mayyas–will probably join them. The entertaining acrobatic dance crew urbancrew will round out the Top 3. 
Rounding out the Top 5 will likely be singers Kristen Cruz and Aubrey Burchell. It was a strong night as Shu Takada, Blade2Blade, and Jordan Conley were all solid as well. If they had competed on another week, they'd be close to the top. But they fell short tonight compared to their competitors. 
America's Got Talent 2022: Mayyas perform an Amazing Dance routine