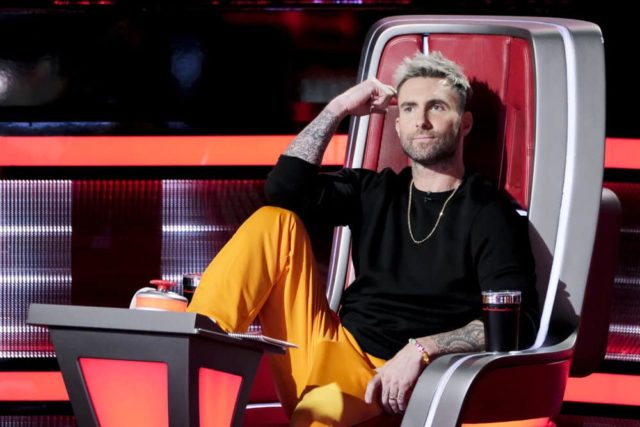 During a Q&A on his Instagram Stories, Adam Levine made it clear whether he'd be returning to The Voice or not. And he managed to get in some good natured ribbing of his frenemy, Blake Shelton.
The Maroon 5 singer abruptly quit The Voice at the end of Season 16 in the spring of 2019. He had even signed a new contract and was all set to go…until he wasn't. NBC scrambled to replace him, enlisting Blake Shelton's girlfriend and former coach Gwen Stefani to step in. She coached the show for season 17 and season 19. While Blake lost a bromance, he gained having his gal pal (now fiance) sitting on the panel with him.
The decision was SWIFT. So perhaps Adam has thought twice about leaving The Voice and is considering coming back to the show? As of right now? NOPE.
"Come back to The Voice?" a fan asked during the Q & A. Adam very simply replied, "No thank you?" Sorry fans! You'll have to make do with Nick Jonas, who coached for season 18 and will be rejoining the panel for  for his second go when season 20 premiers this winter.
While shutting down the possibility of a The Voice return, Adam also threw some shade Blake Shelton's way. He actually MIGHT miss ribbing his bro on the daily.
Adam responded, "Blake who?" when a fan asked "Did you miss Blake on The Voice last season?" Another fan asked, "Which of Blake's album is your favorite?" Adam answered, "Who is this Blake you speak of?"
The conversation also turned to People magazine. Both Adam and Blake were People's "Sexiest Man Alive." Adam was first.
A fan asked, "How did it feel to be the Sexiest Man Alive back in those days?" Adam answered, "Totally silly, but flattering." Another fan then asked, "Do you think Blake also being the Sexiest Man Alive was a People's downgrade." He responded with the "100? emoji.
Oh…hijinks! Check out the answers below.