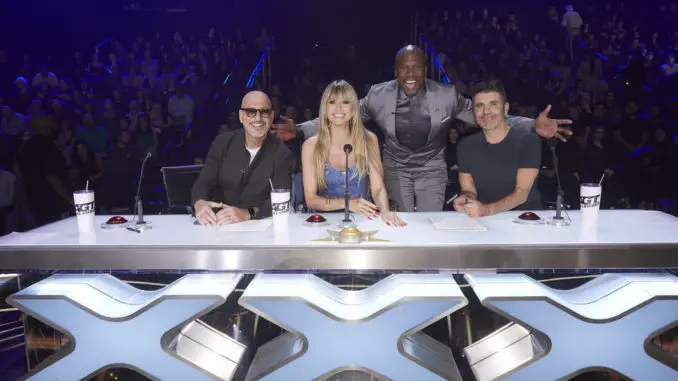 NBC dropped its 2023 mid-season winter schedule on Monday (Nov 7). America's Got Talent: All-Stars and The Voice season 23 both have premiere dates. 
AGT: All-Stars features Howie Mandel, Heidi Klum and Simon Cowell on the judges panel. Terry Crews hosts. The show premieres on Monday January 2 at 8 pm ET/PT. A new extension of the summer hit series, AGT, it will feature winners, finalists, fan favorites and viral sensations from previous seasons of America's Got Talent and "Got Talent" franchises around the world. The contestants will take the stage once again, but this time to compete for the ultimate All-Star title.
America's Got Talent: All Stars – See Photos and Videos from Set
The Voice season 23 premieres on March 6, featuring coaches Blake Shelton (He's leaving the show after this season, so tune in!) First time coaches Chance the Rapper and X Factor and One Direction alum Niall Horan. And Kelly Clarkson returns to the panel after sitting out season 22. John Legend won't be coaching on the upcoming season, but he promises he'll be back!
NBC MIDSEASON 2022-23 SCHEDULE 
(New programs in UPPER CASE; all times ET/PT)  
MONDAY, JAN. 2
8 p.m. — "AMERICA'S GOT TALENT: ALL-STARS" (Series premiere)
10 p.m. – "Quantum Leap" (Return from hiatus)
TUESDAY, JAN. 3
8 p.m. – "America's Got Talent: All-Stars" (Encore)
10 p.m. – "New Amsterdam" (Return from hiatus)
WEDNESDAY, JAN. 4
8 p.m. — "Chicago Med" (Return from hiatus)
9 p.m. — "Chicago Fire" (Return from hiatus)
10 p.m. — "Chicago P.D." (Return from hiatus)
THURSDAY, JAN. 5
8 p.m.  — "Law & Order" (Return from hiatus)
9 p.m.  — "Law & Order: SVU" (Return from hiatus)
10 p.m. — "Law & Order: Organized Crime" (Return from hiatus)
FRIDAY, JAN. 6
8 p.m. — "Lopez vs. Lopez" (Return from hiatus)
8:30 p.m. – "Young Rock" (Return from hiatus)
9 p.m. – "Dateline NBC" (Return from hiatus)
TUESDAY, JAN. 17
8 and 8:30 p.m. – "NIGHT COURT" (Series premiere; back-to-back episodes one night only)
9 p.m. – "New Amsterdam" (Two-hour series finale)
TUESDAY, JAN. 24
8:30 p.m. – "American Auto" (Season premiere)
TUESDAY, JAN. 31
9 and 10 p.m. – "La Brea" (Return from hiatus; back-to-back episodes one night only)
SUNDAY, FEB. 19
9 p.m. – "MAGNUM P.I." (Season premiere)
10 p.m. – "FOUND" (Series premiere)
SUNDAY, FEB. 26
8 p.m. – "The Blacklist" (Season premiere)
MONDAY, MARCH 6
8 p.m. – "The Voice (Season premiere)
TUESDAY, MARCH 7
9 p.m. – "The Voice"
10 p.m. – "That's My Jam" (Season premiere)