I first want to start off this live blog by remembering Aaron Carter, who tragically passed away over the weekend at the age of 34. It almost feels weirdly fitting to honor him on 90s night. Aaron competed on Season 9 of Dancing With The Stars, while his brother Nick Carter of the Backstreet Boys competed on Season 21.
With that, tonight is 90s night where the remaining eight couples will dance to 90s songs and later pair up to compete against each other in the relay dances, all before a double elimination ends the night.
Tonight's episode will also feature special guest performers Salt-N-Pepa, En Vogue, Vanilla Ice and Kid 'N Play.
Last week's spooky Halloween Night episode ended with Jordin and Brandon and Heidi and Artem as the bottom two, with Len choosing to eliminate Jordin and Brandon.
Vote at DisneyPlus.com or text the contestant's FIRST NAME to 21523. Voting begins at the top of the show.
The episode kicks off with Salt-N-Pepa and En Vogue performing "Whatta Man" while the pros dance.
Trevor and Emma – Salsa – "Barbie Girl"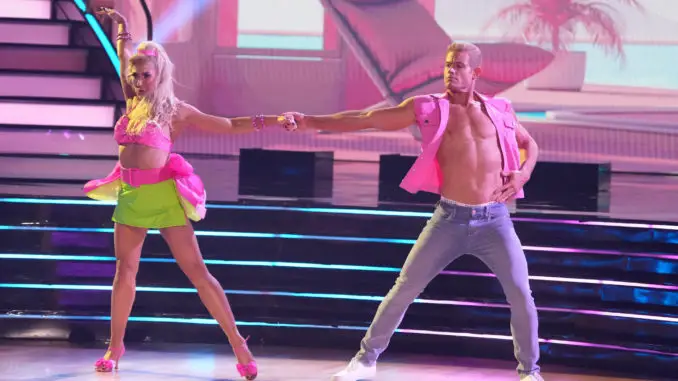 This dance was the absolute cutest. Emma nails choreo every time, and that opening where they perfected the doll movements was the best. It was a super fun Salsa, although I do think Trevor was a bit more stompy than he should have been. But they did nail that difficult lift!
Len tells Ken to listen to Len, and says it was so much fun and a great way to start the show. Derek says the intro was perfectly plastic and despite a few awkward moments, he could see his confidence. Bruno says it wasn't plastic fantastic, it was plastic fabulous, and it was like watching a sitcom set to music. Carrie Ann says they nailed the Barbie part but felt Trevor was skippy during the dance. 
Carrie Ann- 8, Len- 9, Derek- 8, Bruno- 9 = 34/40
Shangela and Gleb – Samba – "Spice Up Your Life"
I love this couple but that lacked some serious Samba. It just wasn't a well-choreographed routine. Samba is one of the hardest dances and it's easy to mess up the steps when you're focused on the other aspects of it, which seems like is what happened with Shangela.
Derek says the footwork was sloppy in places but still says it was an incredible, amazing Samba. Bruno says she erupts on stage but critiques her steps. Carrie Ann says it was lit. Len says she gives it everything every time and despite the footwork losing a tad control, he says "what a dance!"
Carrie Ann- 10, Len- 9, Derek- 9, Bruno- 9 = 37/40
Wayne and Witney – Salsa – "Motownphilly"
Something about Witney is that she always adds little hints of Hip Hop to every dance. That's not to take away from the clear Salsa steps and the way Wayne perfected them alongside Witney. Wayne's half-off overalls and glasses also shout 90s while Witney's white, bedazzled dress doesn't go with the theme.
Bruno says Wayne is unstoppable when he gets into the groove. Carrie Ann says this was Wayne's best dance. Len says he loved the arm-ography. Derek says it was a difficult routine and he nailed it. 
Carrie Ann- 10, Len- 10, Derek- 10, Bruno- 10 = 40/40
Daniel and Britt – Jazz – "Enjoy The Silence"
This was a dance that will never be forgotten. Aside from the fun Jazz routine Britt created, they stopped the music halfway through to show us what it's truly like for Daniel to dance. The two continued dancing this upbeat, fast-paced dance in total silence, giving us a chance to feel what Daniel feels while he's dancing, but also major props to Britt for not only doing this, but for perfecting the moves in silence, because that also isn't an easy thing to do for a hearing person.
Carrie Ann says this dance was educational, profound and so funky. Len says he never fails to amaze him. Derek says it was insanely powerful and made him realize how much he depends on the music, and what a great partner he is to Britt. Bruno says the world is proud of Daniel and everyone felt the sound of silence.
Carrie Ann- 10, Len- 9, Derek- 10, Len- 10 = 39/40
Heidi and Artem – Contemporary – "Ironic"
Really good song to do a Contemporary to, and good routine on Artem's part. It really looked like Heidi gave her all into this one, but Contemporary seems to just not suit her as well as ballroom dances.
Len says some dances suit her and some don't, and this dance didn't suit her personality. Derek says it was beautiful and he felt her emotion. Bruno says she danced it with all the passion she had despite moments where it could have been more fluid. Carrie Ann says there were moments of absolute beauty, and even her stumbling at times made her happy because it showed that Heidi let go. 
Carrie Ann- 9, Len- 8, Derek- 9, Bruno- 9 = 35/40
Gabby and Val – Samba – "Livin' La Vida Loca"
This dance was as hot as the song! Val is one of the best choreographers, and as always Gabby lived up to the dance next to him.
Derek says it was the best Samba ever. Bruno says he feels like he's been hit by a sex bomb. Carrie Ann says they've become a well-oiled machine out there. Len says it was a mix of flare and care.
Before they have a chance to get their scores, they learn that down in the ballroom, Derek and Bruno have begun taking off their shirts because Val and Artem did in their dances LOL
Carrie Ann- 10, Len- 10, Derek- 10, Bruno- 10 = 40/40
Vinny and Koko – Tango – "What Is Love"
Vinny does well in dances like Jazz, Salsa, etc, but not in a ballroom dance that needs to be as precise as Tango. Funky song for a Tango and decent choreo from Koko this time, but Vinny definitely struggles with dances in hold.
Bruno critiques his footwork. Carrie Ann says she thought Koko did fantastic on the choreo and she loved Vinny's personality in the dance. Len says love is seeing Vinny do a nice amount in hold. Derek says he's fun, playful and charismatic despite being steppy here and there. 
Carrie Ann- 8, Len- 7, Derek- 7, Bruno- 7 = 29/40
Charli and Mark – Tango – "Song 2"
Gorgeous dress, gorgeous suit, gorgeous dance. It looked like there was some pyro behind them and you don't see that often on DWTS. Charli impresses with every dance in hold and Mark never fails to create unique choreo.
Carrie Ann stands and claps for her. Len says she put the go in Tango. Derek says they ended strong and nailed that Tango. Bruno says it was like watching two prowling panthers and compliments the quality of movement. 
Before they get their scores, some pros hit the floor and dance to "Hammertime" and out of nowhere, Alfonso appears and starts dancing with them! Best moment of the whole season honestly!
Carrie Ann- 10, Len- 10, Derek- 10, Bruno- 10 = 40/40
It's now time for the relay dances! The couples will pair off into groups of two and compete against each other for five extra points.
Shangela and Gleb and Daniel and Britt will dance a Cha Cha as Vanilla Ice performs "Ice Ice Baby."
Shangela and Gleb start it off and looked awesome in the shades and backward cap, though it seemed like Shangela was lacking some of her usual energy. Daniel and Britt take the floor and as fun as Daniel is to watch, he had a stiffness to him during this.
Len awards the extra points to Shangela and Gleb.
Vinny and Koko and Trevor and Emma will dance a Samba as En Vogue performs "My Lovin' (You're Never Gonna Get It)."
Vinny and Koko are up first and went all in with a Samba roll right away, and while it was a cool Samba routine and Vinny had some decent bounce, there was still a lot he lacked for a Samba. Trevor and Emma come in and Trevor's got some serious bounce, possibly a little more than he needs, but he nailed the general Samba steps.
Carrie Ann awards the extra points to Trevor and Emma.
Heidi and Artem and Wayne and Witney will dance a Samba as Salt-N-Pepa perform "Shoop."
My synesthesia is loving these orange costumes on Heidi and Artem for this orangey dance of Samba, but Heidi just goes from being stiff one second to noodle limbs the next. Wayne and Witney hit the floor and while Wayne nails the legwork, he majorly lacks the bounce needed to perfect this dance.
Bruno awards the extra points to Wayne and Witney. 
Charli and Mark and Gabby and Val will dance a Salsa as Kid 'N Play perform "Ain't Gonna Hurt Nobody."
Charli and Mark lit up the whole floor with their Salsa routine that ended with Charli doing a split! Gabby and Val come out and Gabby seriously lacks the energy that's expected in the Salsa.
Derek awards the extra points to Charli and Mark.
Time for a double elimination!
The bottom three couples are… Trevor and Emma, Vinny and Koko and Heidi and Artem. 
The first couple going home is Heidi and Artem. 
The second couple going home is… Vinny and Koko.