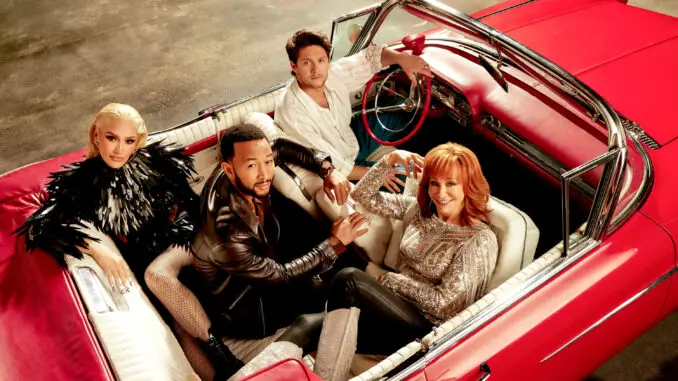 The Voice 24 LIVE SHOWS kick off on Monday Dec 4. Get your studio audience tickets now!
The Voice 24 LIVE shows begin on Monday December 4. Tickets to sit in the studio audience are available now at 1iota.com.
For season 24, the Live shows will air the last three weeks of the season.
Monday Dec. 4
Tuesday Dec. 5
Monday Dec. 11
Tuesday Dec. 12
Monday Dec. 18
Tuesday Dec. 19
The last week of shows, December 18 and 19, respectively, are the Final Performances and Grand Finale, when a winner will be crowned. Presumably, December 11 and 12 will be a semi-final of some sort. For Season 22 last Spring, NBC only aired 3 Live shows: A semi-final in which live voting determined the finalists, announced at the end of the episode, and the traditional two part finale.
The Knockouts begin Monday Nov 6, with a double format. The Battles end the first part of the show, and The Knockouts begin sometime during the episode. The round will air in at least 4 parts (Nov 14). The artists who survive the Knockouts will move on to The Playoffs, which have already been taped. Country legend Wynonna Judd will serve as the round Mega Mentor.
The Voice Season 24 Full Schedule CONFIRMED
Fans can reserve tickets at 1iota.com.
The Voice 24 features coaches John Legend, returning after taking season 23 off, Niall Horan, the reigning champ, returning for a second season, veteran coach Gwen Stefani and newbie, Reba McEntire. For the first time in the show's history, country star Blake Shelton is not on the panel. He retired his button, for good he says.
The Voice has finished taping season 25!
The Voice returns in the Spring for season 25. Incredibly, NBC has finished filming the entire season. All that's left to go for season 25 are the live shows. Reba McEntire returns for a second season, John Legend is back, Season 23 coach Chance the Rapper returns for a second season. And, for the first time ever, The Voice will feature a "double chair." Country duo Dan + Shay join the panel as ONE team, building a roster of artists.