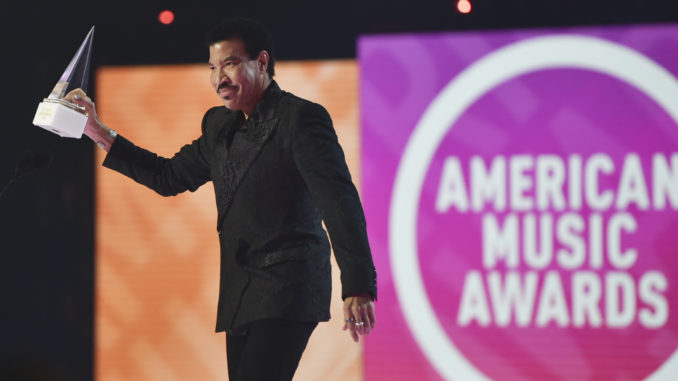 During Sunday night's (Nov 20) American Music Awards presentation, Lionel Richie received the award show's Icon Award for a career in music that spans over 5 decades.
Motown legend Smokey Robinson introduced the American Idol judge, Smokey explained that he hosted the first American Music Awards telecast 50 years ago. "I knew him as the guy with the biggest afro in the Commodores," Smokey joked about first meeting Lionel. He described Lionel as "a legend whose music is played everywhere from Australia to Argentina and all around the world."
Smokey continued, "There have been few careers that have had as much diversity as Lionel Richie." Over the decades Lionel has won over 17 American Music Awards, Then, Smokey revealed. jokingly that the two get mistaken for each other. "I call him Smokey, he calls me Lionel."
"God has given you a light"
"Do you have 40 years to tell me how I got here?" Lionel said during his acceptance speech. "I started out here at the AMAs…my AMA family started with Dick Clark." After thanking his kids, and the mothers of his kids, and the staff who helped him along the way.
"God has given you a light," Lionel directed at the "young superstars," He continued, "That light has only been given to a few. When you hear the word hip, it means today. When you hear the word inspiring, it means forever."
"If you get a chance to have that light on you, understand what God has in store. He's not trying to tell you that your car looks great, your clothes look great. He's trying–he/she, mother–God is trying to tell you that you are chosen to inspire. Take this opportunity. That light is on you. Inspire. God bless you all."
The AMA's closed out with celebrities on stage performing his iconic 1983 charity single "We Are the World," a song he penned with Michael Jackson.
"I survived it"
On the Red Carpet before the ceremony, Lionel told Extra that receiving the Icon Award meant "I survived it." He explained, "This is not just given… There are a lot of people who become famous, there are a lot of people who don't survive famous. We're talking about four generations around here now of 'American Idol'… And still going in my right mind, that's impossible at this stage in life."
"You got older and wiser… I know a lot of stuff… You want to know about the tour, you want to know about writing, you want to know about survival, talk to me… Been there, done that, like being the parent… That's who I am right now, that's what 'icon' means," Lionel added.
Lionel described his recent induction into the Rock and Roll Hall as "a whole other ballgame, That's your peers."