The Knockout Rounds Begin Monday October 27. Pop superstar, Taylor Swift will join coaches Adam Levine, Blake Shelton, Gwen Stefani and Pharrell Williams to Prepare Teams for the next phase of the competition.
In the Knockout Rounds, coaches will pair up their team members. Each singer will perform a song of their choosing. The respective coaches along with special guest adviser, Taylor Swift will rehearse with team members, preparing them for battle. After each contestant sings, the team coach will eliminate one. Each coach gets ONE steal, giving eliminated contestants the opportunity for a reprieve!
Click for a FULL LIST of the Top 32 organized by Teams with Photos and Videos!
TV Line has the SCOOP on next week's pairings! Check out what the contestants will be singing and which of their fellow team members they face off against below.
TEAM ADAM LEVINE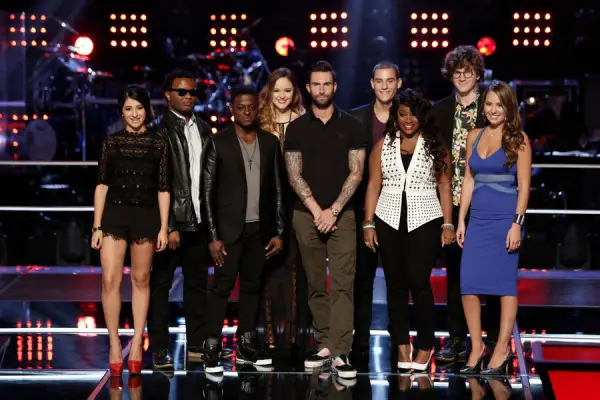 THE VOICE — "Knockout Rounds" — Pictured: (l-r) Mia Pfirrman, Blessing Offor, Damien Lawson, Rebekah Samarin, Adam Levine, Chris Jamison, Toia Jones, Matt McAndrew, Alessandra Castronovo — (Photo by: Tyler Golden/NBC)
Alessandro Castronova – "Next to Me" by Emile Sande Vs. Mia Pfirrman – "Human" by Christina Perri
Chris Jamison –"[Sittin on] the Dock of the Bay" by Otis Redding  Vs. Blessing Offor – "Your Body Is a Wonderland" by John Mayer
Damien – "How Do I Live" by LeAnn  Rimes Vs. Toia Jones – "Crazy in Love" by Beyoncé
Matt McAndrew – "Drops of Jupiter" by Train Vs. Rebekah Samarin – "You Give Me Something" by James Morrison
TEAM BLAKE SHELTON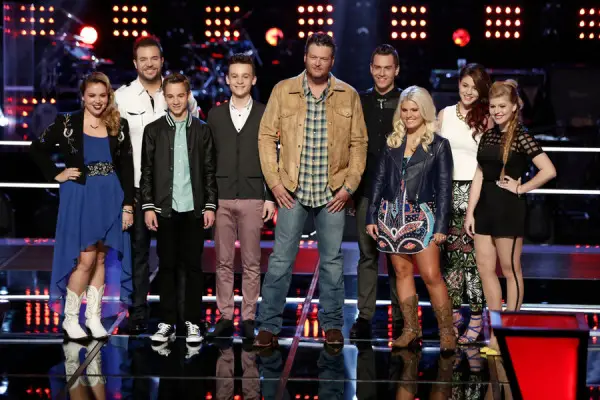 THE VOICE — "Knockout Rounds" — Pictured: (l-r) Taylor Brashears, James David Carter, Tanner Linford, Grant Ganzer, Blake Shelton, Daniel Griffin, Allison Bray, Reagan James, Jessie Pitts — (Photo by: Tyler Golden/NBC)
Allison Bray – "Sin Wagon" by Dixie Chicks Vs. Taylor Brashears – "Landslide" by Fleetwood Mac
Grant Ganzer  – "Apologize" by One Republic Vs. Reagan James  – "Hit 'Em Up Style" by Blu Cantrell
James David Carter -"You've Got a Friend" by James Taylor Vs. Griffin – "As Long as You Love Me" by Justin Bieber
Jessie Pitts – "Your Song" by Elton John Vs. Tanner Linford – "Calling All Angels" by Train)
TEAM GWEN STEFANI
THE VOICE — "Knockout Rounds" — Pictured: (l-r) Bryana Salaz, Troy Ritchie, Anita Antoinette, Taylor John Williams, Gwen Stefani, Craig Wayne Boyd, Beth Spangler, Ryan Sill, Sugar Joans — (Photo by: Tyler Golden/NBC)
Anita Antoinette ("Rude" by Magic) Vs. Craig Wayne Boyd ("Can't You See" by Marshall Tucker Band)
Bryana Salaz ("Heart Attack" by Demi Lovato) Vs. Sugar Jones ("Love on Top" by Beyoncé)
Ryan Sill ("Miss Independent" by Ne-Yo) Vs. Beth Spangler ("Too Little Too Late" by JoJo)
Taylor John Williams ("Mad World" by Tears for Fears) Vs. Troy Ritchie ("Hey Ya!" by OutKast)
TEAM PHARRELL WILLIAMS
THE VOICE — "Knockout Rounds" — Pictured: (l-r) DaNica Shirey, Luke Wade, Taylor Phelan, Jean Kelley, Pharrell Williams, Elyjuh Rene, Katriz Trinidad, Menlik Zergabachew, Ricky Manning — (Photo by: Tyler Golden/NBC)
DaNica Shirey – "Saving All My Love For You" by Whitney Houston Vs. Katriz Trinidad – "Superwoman" by Alicia Keys
Elyjuh Rene – "With You" by Chris Brown) Vs. Ricky Manning – "Wrecking Ball" by Miley Cyrus
Jean Kelley – "Chandelier" by Sia) Vs. Menlik Zergabachew – "Could You be Loved" by Bob Marley
Luke Wade – "Rich Girl" by Hall & Oates) Vs. Taylor Phelan – "Rather Be" by Clean Bandit