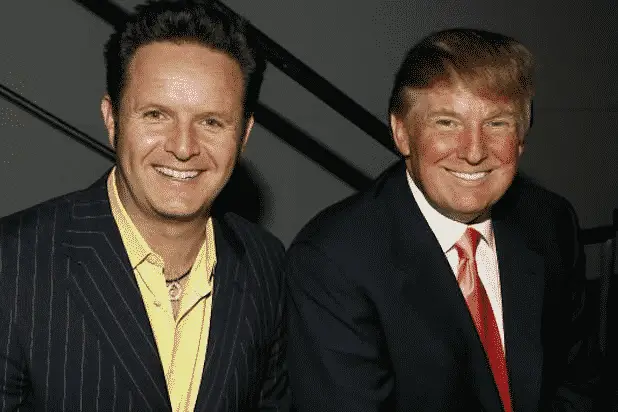 Here are a couple of Donald Trump items. They both involve Mark Burnett. The producer of The Voice, Survivor and Celebrity Apprentice has met with the president elect to help plan his inauguration ceremony in January. From The Hollywood Reporter:
The President-elect, in the midst of his transition to the White House and six weeks away from his big Washington D.C. celebration, has met with prolific producer Mark Burnett to plot ideas for the inauguration, according to the New York Times.

The paper wrote that the producer's ideas included "a parade up Fifth Avenue, a helicopter ride to Washington from New York that could hold the attention of millions of people expected to watch from around the world."
"The inauguration is going to be huge," Omarosa Manigault, a member of Trump's transition team and former Apprentice contestant told THR while at the Women in Entertainment breakfast on Wednesday. "Of course Mr. Trump wants it blinged out and fabulous and glamorous."
You may remember Burnett disavowing Trump in reaction to the release of the crude Access Hollywood video, and rumors regarding Trump's racist and misogynist behavior on the Apprentice set.
"Given all of the false media reports, I feel compelled to clarify a few points," Burnett wrote in a Oct 12. statement. "I am not now and have never been a supporter of Donald Trump's candidacy. I am NOT 'Pro-Trump.' Further, my wife and I reject the hatred, division and misogyny that has been a very unfortunate part of his campaign."
Additionally…surprise surprise. Donald Trump no longer hosts Celebrity Apprentice, but he WILL still profit from it. From the Hollywood Reporter:
Donald Trump's days in the Apprentice boardroom may long gone, but the former host still has ties to the series. The president elect has retained his executive producer credit on the reality competition, one that will see him paid as a profit participant in the franchise.

Trump's camp confirmed the news on Thursday, with a following statement coming from transition spokeswoman Hope Hicks: "Mr. Trump has a big stake in the show and conceived of it with Mark Burnett. Additional details regarding his business interests will be shared December 15th."

NBC will not be the one paying Trump his per-episode fee, the sum of which is not yet known, that will come from MGM Television — which now counts Apprentice creator Mark Burnett as its president.
In short–Trump will be paid by MGM studios while serving as President of the United States. Isn't he supposed to be divesting himself from potential conflicts of interest?