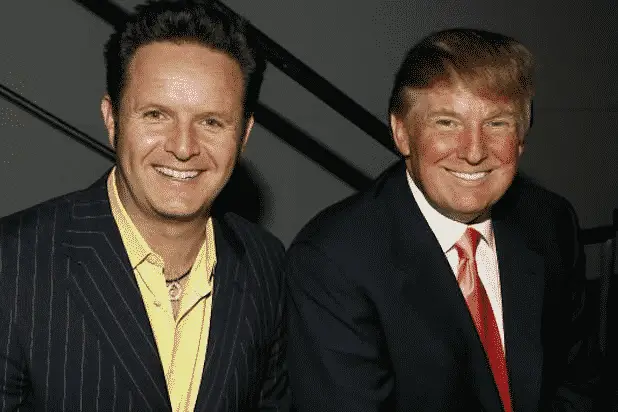 So. The buck does not stop here! At least not with Mark Burnett, who has finally released a statement regarding release of The Apprentice footage.
Rumors abound that even WORSE footage exists of Donald Trump behaving badly, specifically buried in the video vaults of NBC's The Apprentice. Donald presided over the reality show for 14 seasons, and producers are hinting that there is footage even worse than the Access Hollywood stuff. For instance, Trump reportedly used the N word on a hot mic.
NBC told reporters eager to get their hands on footage–particularly after last week's Associated Press report that included on the record claims from crew members about Trump's crude behavior on set–that producer Mark Burnett owns the footage, and only he can release it. There were rumors that Burnett is a Trump fanboy and has threatened Apprentice employees with heavy fines if they leak anything.
But Mark, like NBC, claims he's not the go-to-guy for Apprentice footage. Here is his statement:
"MGM owns Mark Burnett's production company and The Apprentice is one of its properties. Despite reports to the contrary, Mark Burnett does not have the ability nor the right to release footage or other material from The Apprentice. Various contractual and legal requirements also restrict MGM's ability to release such material. The recent claims that Mark Burnett has threatened anyone with litigation if they were to leak such material are completely and unequivocally false. To be clear, as previously reported in the press, which Mark Burnett has confirmed, he has consistently supported Democratic campaigns."

— MGM and Mark Burnett
Mind you, Burnett has been avoiding reporter's phone calls for over a week now. If he does not control the footage, why didn't he set reporters straight right away? MGM owns the footage, but they can't release it either. Right. The reality is–footage of Trump being sexist and racist on set would bring up the obvious question–why did executive producer Burnett allow Trump to behave like a pig on set? NBC, the network that aired the show, would have some questions to answer too. That footage will NEVER see the light of day, unless someone leaks it illegally, and then would a publication be willing to take on the legal liability? Apparently, that's a reason why the Washington Post scooped NBC on the Access stuff. The network was vetting the material with lawyers when the video was leaked to the WP.
In the meantime, more Apprentice material has leaked to the media, this time in the form of a transcript of unaired material uncovered by the Huffington Post. Remember country singer Emily West who was the America's Got Talent runner up a few years ago? She was a guest on Celebrity Apprentice in 2010, along with Luke Bryan. The two teams were charged with a PR makeover of both singers. Donald didn't like Emily's skin.
During the boardroom session that decided which team did the better job transforming its artist, Trump turned the conversation sharply ? and at times, uncomfortably ? to West's physical appearance, specifically her skin.

"I assume you're gonna leave this off, don't put this shit on the show, you know. But her skin, her skin sucks, okay?" he says, according to the transcript. "I mean her skin, she needs some serious fuckin' dermatology."

Cyndi Lauper, who headed the team that managed West, interjected to explain that they used "dry stuff" ? presumably, makeup ? and said Trump was objecting to something that was "not her skin." But he remained unimpressed.

"Fuck," he proclaimed. "That's Emily, that's what I'm hearing about? Let me see the other one. I assume you're not putting this on the show. 'Cause I don't wanna destroy the kid's career."

At one point, Trump briefly brought the conversation back to the actual work. But he returned again to West's physical appearance. The back-and-forth continued for roughly three minutes.

"Personally, I am, as you probably heard, not a gay man, but I think he's better looking that [sic] Emily okay?" Trump said of Bryan at one point.

Trump also asked Trace Adkins, the country music star who served as a guest judge on the show, what he thought about brochures that each team produced.

"Well I um, I, I think the one they did for Emily is a little more polished looking," Adkins said.

"You're obviously not a skin man," Trump said. He later reiterated the point, pounded the table and said, "which is okay." He added, "I wish I wasn't."
Ew. Emily never met Trump during her stint on the show, she told HuffPo. Cyndi Lauper confirms the transcript and had a few choice opinions about Trump, unsurprisingly.
And here's Trump firing Maria Kanellis on season 3 for "locker room talk." Oh, the irony. Kanellis called out fellow contestant Curtis Stone for using the girls locker room. I guess so called "locker room talk" is only allowed if it's amongst men.
Donald Trump in 2010: "This is my boardroom. It's not a locker room. Maria, you're fired." ¯\_(?)_/¯ pic.twitter.com/UlsP9Xjg7F

— The Daily Show (@TheDailyShow) October 10, 2016
UPDATE: The Hollywood Reporter talked to Apprentice crew members who validate the AP report:
Trump's behavior extended to his original female advisor on the show, Trump executive Carolyn Kepcher, formerly the executive vp and chief operating officer for Trump's golf properties. "He was always more dismissive of Carolyn," says the source, adding that the attitude also extended to female crew members. "We would not necessarily send the girl camera crews to do the close-up stuff just because it was always weird. I know one of our camera operators would get uncomfortable. I found out from her after the fact that he was saying things to her."

A camera person on the show classifies Trump's interactions with a blond female camera operator as "borderline sexual misconduct."