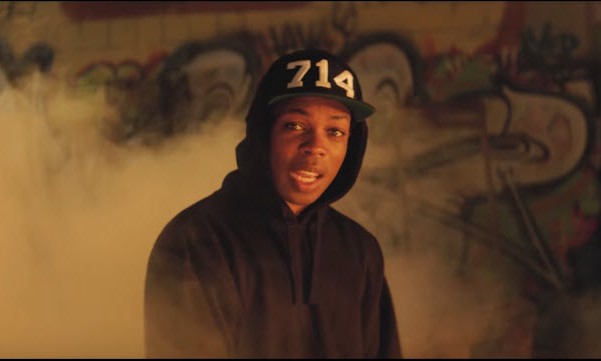 In a new interview with Billboard Magazine, Youtube star, Todrick Hall intimates that during his time as a Top 24 contestant on American Idol 9 back in 2010, producers encouraged him to stay in the closet. In so many words.
When did you decide that you would be openly gay?

After I was eliminated from American Idol. I remember being on there and Ryan Seacrest would ask me questions. I would stiffly wave and try to deepen my voice so that people wouldn't be like, "Oh, he's gay" even though some people knew. A lot of the little girls who were voting for me didn't and I was also encouraged by the Idol producers [to do so]. They were like, "Make sure you do things that appeal to middle America" and so the undertone of that was like, "Don't be 100 percent yourself because if you come off too gay, then it's not gonna work out in your favor." Adam Lambert did that same thing — he was very himself, auditioned in a hoodie and then on the last episode, he had rhinestones all over. In the past four or five years, the world has changed so much. People are a lot more accepting of going on television and being who they are but after I got eliminated from the show, I promised myself I would never be on another show and not be myself because I felt like I got kicked off for being someone else. I don't know if America would've liked me or not because they never really got to know me and I never allowed them to. I just decided I would rather be slightly less famous or slightly less successful and be me, be a role model or hopefully someone to pave the way for some young black kid looking at me, because there were no black gay role models on television my whole life growing up.
When Todrick was eliminated at the Top 16, it was somewhat of a surprise, but not totally. He had a tendency to show off his arranging skills. For instance, he re-arranged "Since U Been Gone" to a degree that rendered it unrecognizable. Maybe if he had stopped showing off and just sang his face off, he would have gone farther.
In any case, appealing to Middle America doesn't necessarily mean ramping up the butch attitude. His mention of Adam Lambert is confusing, because he was always himself. Letting it all hang out might have cost Adam the win, but nevertheless he advanced all the way to second place and the exposure allowed him to launch a successful career.
I remember after Idol, Todrick was lobbying to appear on Glee and said he wouldn't want to play a gay character because he wouldn't want to be stereotyped afterward. That caused some backlash. Todrick can blame Idol, but really it seems to me, his dilemma was internalized. Good for him that he's now comfortable in his own skin.
Todrick is currently promoting his Youtube visual album, Straight Outta Oz. One song, "Water Guns" features American Idol 6 winner Jordin Sparks. Although the performer wrote the song before the tragic killing of The Voice star, Christina Grimmie, he dedicated the song to her afterward.
You also pay tribute to Christina Grimmie and Trayvon Martin in "Water Guns." How have current events hit close to home for you?

Christina was a part of the YouTube community so me and my friends knew her. I'd never worked with her, but I met her a couple of times, and she was just an amazing person. I sang at Pulse Nightclub and performed there probably three or four times in the past two years. I'm there all the time, I know all the staff, they give me free Sprites because that's all I drink when I go to the Pulse bar. Every time I'm on tour, it's immediately where I go after I get off stage. That was like a second home to me. My first job after living in Texas was working at Disneyworld. I lived in Orlando for a year and frequented Pulse and what happened recently completely broke my heart.

I actually wrote "Water Guns" before [the shootings happened]. The day Christina Grimmie was shot, then we performed it the next day 'cause we were shooting so fast. Then that night, the Pulse situation happened, so I went back in and did shots of me doing graffiti to dedicate these songs that were already written but so timely. I just think this project is like a God-given gift. I feel like He gave me something special that He wanted me to share with the world. I feel like this [show] has the potential to be more than just a YouTube video. This could be the next Tony Award-winning Broadway show or something.