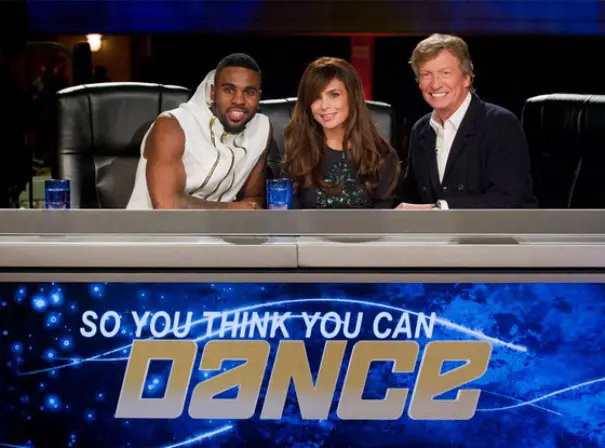 Here's your first look at the So You Think You Can Dance season 12 judges panel!  Pop singer (and Jordin Sparks ex) Jason Derulo, and American Idol vet, Paula Abdul,  have joined producer, Nigel Lythgoe on the panel. The sublime, Cat Deeley returns as host.
SYTYCD is coming back with a NEW twist: Stage Dancers vs Street Dancers. Will contemporary or hip-hop prevail?  Hopefuls from both sides of that divide arrived in New York City over the weekend to strut their stuff in front of Paula, Jason and Nigel, vying to receive that coveted ticket to Las Vegas, and the next round of competition.
The trio will head to four more cities, including Dallas, Detroit, Memphis and Los Angeles.
So You Think You Can Dance season 12 premieres on Fox in May.
Via EOnline
Read More:
Mary Murphy Exits So You Think You Can Dance
So You Think You Can Dance 2015 Audition Cities Announced
Paula Abdul, Jason Derulo Join SYTYCD Judges Panel
Jordin Sparks Drops a Jason Derulo Diss Track "How About Now" (AUDIO)