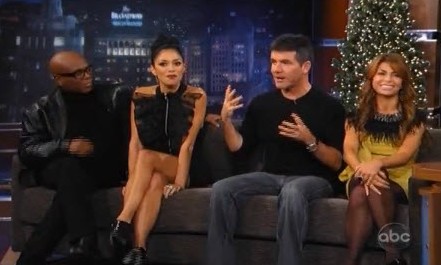 X Factor judges, Simon Cowell, L.A. Reid, Paula Abdul and Nicole Scherzinger were all in the hot seat last night on Jimmy Kimmel Live.
Jimmy, who has obviously been watching the show, didn't let anyone off the hook.
"You destroyed a 13 yearl old girl for your own gain!" Jimmy yelled at LA, referring to the surprise elimination of Rachel Crow. Needless to say, Jimmy was not very happy with what went down last week.
Explaining her decision to send the vote to deadlock, allowing America to send Rachel home, Nicole said, "In the moment and under pressure…it's not as easy to be like …hey I'm sending you home. I own the decision I made right then."  Nicole says Rachel has a deal with Disney.
Jimmy also wondered if Nicole's inability to make a decision was because she'd been scarred for life by Dancing with The Stars.  And when Jimmy said both of Paula's groups deserved to be sent home, she got up and walked off the stage.  She's not forever Jimmy's girl. (She came back).
L.A Reid received the most ribbing from Jimmy.  The second segment opened with a pretty funny video bit called "LA Reid's Chair Dancing."  That dude is so GIFable.
Also lulzworthy–Nicole describing how she had a Paula Abdul trapper keeper–in grade school. Ouch.
http://youtu.be/yue0qfjSJGI