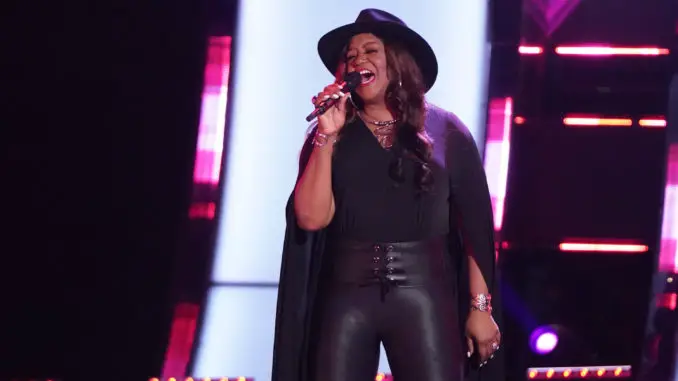 Ten months after a fall on The Voice stage, Wendy Moten is still recovering from her injuries.
"I've never been broken before," The Voice 21 runner-up told People magazine in a recent interview. "And so, it's a new experience, but I remind myself that there are people dealing with far more serious things. I'll be OK. I'll just keep working at it."
The injuries were worse than they seemed at first. The Blake Shelton team member suffered a broken right elbow after falling on the November 23 live episode. She also broke a little piece of bone on her left hand while also fracturing her left wrist.
"I couldn't use my arms at all," said. "It was a unique situation."
"I'm hoping everything gets back to normal soon."
The singer had three weeks of competition remaining, and she stuck it out, finishing second behind the sibling vocal group, Girl Named Tom. But, the day after the competition ended on December 16, Wendy ended up in surgery.
"They put a titanium piece in my elbow to keep my arm together," explained Wendy, who currently goes to physical therapy three times a week. "Right now, my elbow is still crooked, and my fingers are crooked, but with the occupational therapy and the physical therapy I'm currently undergoing, I'm hoping everything gets back to normal soon."
Currently, Wendy is out on tour with one of her mentors, Vince Gill until the end of August. "I only met him in 2016," added Wendy. "The chance to be on the stage with him just a gift."
Wendy believes that most of Gill's audience have no idea who she is, but they are responding enthusiastically in any case.
"I would say 90% never heard of me before and the other 10% saw me on The Voice," observed Wendy. "Nevertheless, I've been blessed to get these standing ovations every show. So, obviously they are listening, and I am just so moved that they stay on their feet. I'm making that connection with them. That's always been the dream … to move people and do something to their spirit and keep them listening."
This weekend, Wendy opens a four night stint (Aug 4-7) for Gill at the Ryman Auditorium in Nashville. And next for Wendy: She is currently working on a new project with producer Paul Worley.