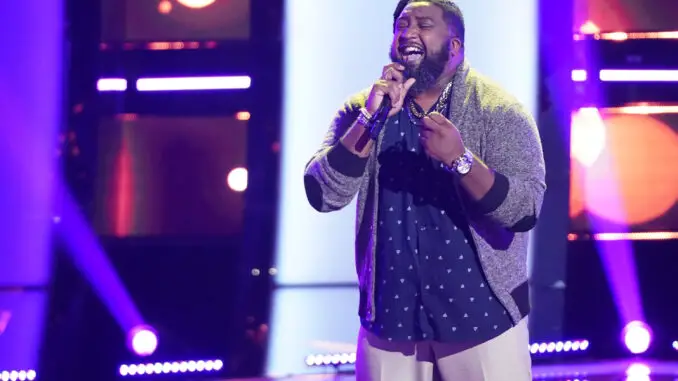 Paris Winningham opened up to First Coast News in his native Jacksonville, Florida about almost losing his life to suicide a year ago.
The Navy veteran finished The Voice season 21 last year in 3rd place behind runner-up Wendy Moten and winners Girl Name Tom by delivering consistently soulful and dynamic performances as a member of Team John Legend, and then Team Blake Shelton, week after week.
Paris began singing in church when he was just seven years old and he hasn't stopped. "It's been a part of me ever since I was young. My dad always said, you always been reaching for a microphone.
Girl Named Tom Keep Concert Dates After Father's Death, As He Wanted
The Voice's Wendy Moten Checks in After Elbow Surgery (Photo)
The singer auditioned for The Voice twice, and never got a call back. He almost didn't audition a third time, but his dad convinced him to give it another go. "I flicked on my phone and…I auditioned," Paris said. "I did one take and I was getting ready to re-record…but I just heard this voice was like, nope. That's it."
While Paris finished The Voice season in triumph as a finalist, his life, just one year ago, was very different.
"I look at my life a year ago. I attempted suicide a year before I even started, really honestly digging in and taking this voice thing serious," said Paris
"I had my gun up to my chin and I was going to pull the trigger"
"I had my gun up to my chin and I was going to pull the trigger," Paris revealed. He's opening up about his mental health battles to let others who are struggling know they're not alone."
"I used to say…I'll never get that dark place. I'll never be that dark. I'll never be that deep in depression it'll take me there," said Paris adding, "Never say never because you never know what life is going to bring."
Paris' goal now is to spread hope, "I'm a living testimony that you can be in a dark place, but just because you're there does not define who you are."
Grounded in faith and family, Paris shared that experiencing the deepest lows gives him strength now. "There's always hope. In a weird way, it gives me strength now, because I can look back and say I was there." He added, "And the beautiful thing is, I don't look like what I've been through."
Paris has a message for anyone contemplating suicide: "It takes more of a man to open his mouth and say I need help, than to sit there and just drown yourself in your sorrows and your pain. Man, get up and talk to somebody."
"I can be a testimony and I can be a help and I can be an encouragement to those people that have been in dark places and have been in hard times," he adds, "That why I take this so seriously."
If you or someone you know is struggling, there are resources out there. You can always call the National Suicide Prevention Hotline anytime. That phone number is 1-800-273-8255.
Watch Paris Winningham's interview with First Coast News below.
The interview features clips of a few of his best performances, including Stevie Wonder's "Superstition," and Chris Stapleton's "Tennessee Whiskey."