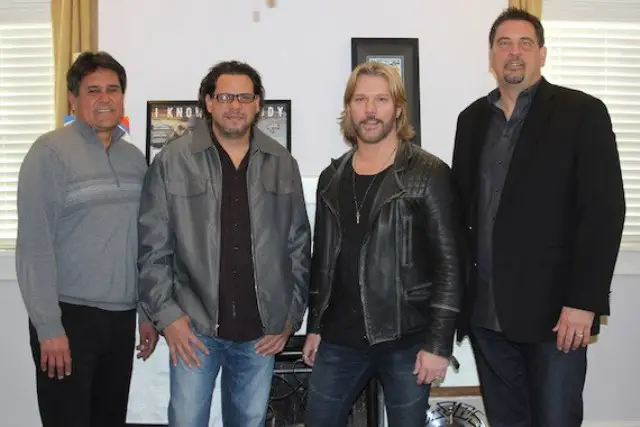 Pictured (L-R): Gator Michaels, Will Edwards, Craig Wayne Boyd, Rusty Harmon
Craig Wayne Boyd has signed a couple of deals for radio promotion and distribution of his first album since winning The Voice season 7. Read the official announcement below:
Reviver Entertainment Group is excited to work with Craig Wayne Boyd, who recently signed with Copperline Music Group (CMG) to release new music this summer.
CMG has enlisted Reviver Entertainment Group for radio promotion and BDG/RED for distribution (a division of Sony Music LLC). CMG is led by industry veterans Rusty Harmon and Grammy award-winning producer Will Edwards.
"Craig Wayne Boyd is an artist that his fan base is very passionate about, and I believe the music he is working on will excite them very much – in addition to adding many more fans to the fold," said David Ross, President/CEO of Reviver Entertainment Group, which encompasses Reviver Records, Reviver Label Services, Reviver Publishing, Reviver Productions and 1608 Promotion.
A native of Mesquite, Texas, Craig Wayne Boyd came to the attention of America as the winner of Season 7 of the NBC hit The Voice. During his run on the show, Craig hit the charts with his versions of such classics as "Old Rugged Cross," "I Walk The Line," "You Look So Good In Love," and the Merle Haggard classic "Workin' Man Blues." His post-Voice career kicked off with a bang with the release of "My Baby's Got A Smile On Her Face," which topped the Billboard Hot Country Songs chart. As a songwriter, Craig spent three years as a staff writer for EMI Publishing.
"Will and I are both excited and fortunate to be working with Craig and his world-class fan base. With the addition of Reviver, we are preparing to release Craig's first LP since since winning The Voice," Harmon said.
Best known for his work with Hootie and the Blowfish, Harmon runs HARMON Music Management and co-founded Copperline Music Group with Will Edwards. Edwards is an award-winning composer and producer, whose resume includes more than 50 gold and platinum albums.