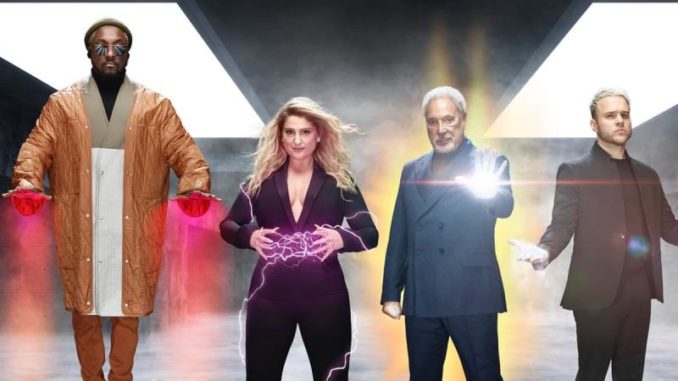 The Voice UK continues for a sixth week of Blind Auditions on Saturday (Feb 8) on ITV. Olly Murs, Will.i.am, and Sir Tom Jones are all back for another season in the big red chairs. Pop singer Meghan Trainor is the new kid on the block.
During the Blind Auditions, each coach will choose 10 acts before moving on to the Battle Rounds. So far, Tom and Meghan both have 8 team members, while Will and Olly have 7 acts each.  Look for a bunch of no turn and one turn singers tonight. We're getting close to the end. Next week will be the last of the Blinds.
Bleu Woodward – You Shook Me All Night Long by AC/DC – 32 year old singer and gym receptionist from Leeds.  Her parents are cruise ship singers. She has a strong voice, but unfortunately has absorbed that "cruise ship" vibe from her parents. The old fashioned song pick gives her away. When nobody turns, the vocal gets shouty. But at the very end, Olly hits his button. Meghan calls her "amazing." But only has two spaces left. Fun Fact: Tom Jones last name is "Woodward" also. 
Only Olly turned
Mollie Scott – Work It Out by Beyoncé – 21 year old hairdresser worships Beyoncé. Her voice is a strong and soulful, but a little corny. Good tone and range, though. We're at the point of the competition where the coaches are being picky. Nobody turns. She was better than that Bleu chick, though. Meghan wonders if she's overthinking. 
No Turns
Vivienne Isebor – The Weekend by Calvin Harris, SZA – 26 year old mental health worker. She's got a soulful jazzy voice. Beautiful tone and effortless phrasing. Finally, Tom hit his button. I'm glad somebody turned! She's a good singer. "It's so tricky what you did!" says Tom. "I thought it was wonderful."  For a minute, Vivienne didn't think she got a turn and started to walk off stage. The band had to turn her around. Also, she sings barefoot because she doesn't like shoes.
Only Tom Turns
Alfie Osbourne – On The Loose by Niall Horan – 19 year old infantry soldier in the British army.  He plays bugle in the changing of the guard at Buckingham Palace.  He looks more like an army guy than a pop star.  He's actually got a solid pop voice. But, Alfie could use a makeover. The coaches will never know, however. Nobody turns. Olly thinks he needs more experience. Meghan says, "I heard mostly nerves."
No Turns
Sally Barratt – What You're Made Of by Lucie Silvas – She's a 44 year old school lunch lady from Leicester. But once upon a time Sally had a major label deal! But then she got dropped, and she lost her confidence. But now, after starting a family (of 3), she's back. Hm. She's having some pitch problems and is a little nasally. But her tone is interesting. Her voice opens up on the chorus. She's got a good range. Oh dang. No turns. I was kind of rooting for her. Meghan and Will think she started off too slow. They have a point. 
No Turns
Dean John-Wilson – Always Remember Us This Way by Lady Gaga – 30 year old actor/singer from Middlesbrough. He played Disney's Aladdin on the West End, but is unemployed now. He hits a big note on the chorus that moves both Tom and Meghan to hit their buttons. Meghan calls his tone beautiful, "You nailed it." She adds, "I know exactly what I would do with you." She realizes that didn't sound so good! Will noted that he was a little pitchy at the start. He was. He was surprisingly nervous at first, and then recovered. Tom compliments his pitch and control.
Meghan and Tom turn, Dean picks Team Meghan
Dean picks Meghan, because she sang with his idol, John Legend. That prompts her to sing the song, "Like I'm Gonna Lose You," solo. 
Andre Sanchez – When I Was Your Man – Bruno Mars – Warehouse worker. The performance is instantly montaged, a clue that he'll get no turns. And he doesn't. The little bit we hear is actually pretty good.  The coaches feel he was nervous and not consistent.
No turns
Rozzandi – Alex and James (duo) – Señorita by Shawn Mendes & Camila Cabello – Whoa. Horribly off key. How did they even get a slot? Embarrassing. They are in tears afterward. They realize that they messed up. "They didn't come together," says Tom. It's a kind way of putting it.
No Turns
Alia Lara – How Do You Sleep? by Sam Smith – 19 year old busker from Enfield London. She gets a super quick turn from Will. She does have a beautiful, soulful voice. Her lower tones are gorgeous, yet she can sing the big upper notes too. She would have got more turns if she had performed earlier in the season. Will loved her from the beginning. He was worried others would turn. Will promises to help her with nerves. Alia reveals that her family bonded over Black Eyes Peas growing up, so she would have picked him in any case, probably. Olly didn't think it was a perfect audition, but thinks Will is the guy to help her. 
Only Will turned
Beryl McCormack – Turning Tables by Adele – 22 year old part-time makeup artist from South London. Meghan and Will hit their buttons immediately. She's a little pitchy though, due to nerves, probably. She has a nice, rich tone and big range. But despite the nerves, she winds up with 4 turns, as Olly and Tom hit their buttons at the last minute. Will calls her "awesome." Olly was waiting for the big note at the end that he knew she would hit. Meghan promises to help her stay who she is. Olly reminds her that he's been where she's at. SURPRISINGLY Beryl picks Ollie. Wow. "I didn't expect that," he says. Beryl likes that he got his break on a talent show (X Factor) and then made something of it.  
4 chair turn Beryl picks Team Olly