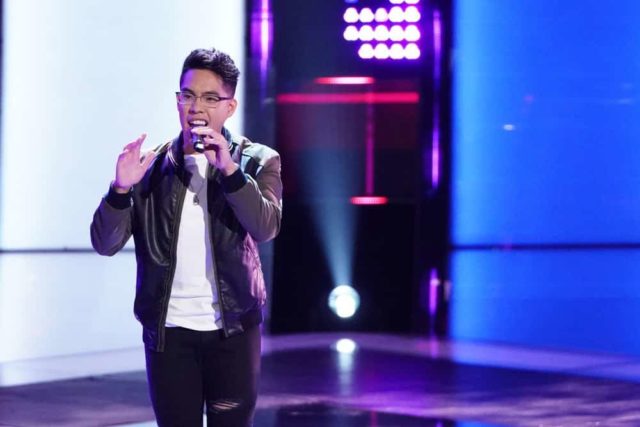 The Voice season 16 Blind Auditions continue tonight with veteran coaches Adam Levine, Blake Shelton, Kelly Clarkson, and new kid on the block, John Legend. Carson Daly returns as host. We're live blogging all the performances here. Watch as the coaches build their teams.
FYI: Like last season, there are no studio recording for the Blind Auditions. Apple music does provide links to the original versions of the contestant's song choices. Additionally, The Comeback Stage digital series returns with coach Bebe Rexha. Click for more details. And the block is back. Each coach has one opportunity to "block" a coach from picking a contestant.
Last week John Legend became the most blocked coach in Voice history!  Tonight all the blocks are gone, so coaches will have to take advantage of every opportunity.  Game On!
Jacob Maxwell, Coeur d'Alene, ID "Delicate" by Taylor Swift
The first artist takes the stage and Kelly says she's excited?  The first artist John and Kelly turn pretty quickly, Kelly is mouthing is that a guy?  He has a smooth voice, the demo will eat this guy up.  He stands at the microphone and plays the guitar.  He has more power at the end then I was expecting since he started soft and smooth.  After his audition they show some clips of his hometown.  Jacob started playing guitar when he was 12 years old, and then he started playing shows after High School.  He has a feeling in his heart that he isn't supposed to stay in Idaho.  Kelly tells him her daughter will love him.  She says she loved that he took a chick song and made it into a dude song, and he moved her.  Adam says he was stupid.  Blake says Adam and him were both waiting for more of what they heard at the end.  John says he's glad Jacob has a Biblical name because his voice is heavenly.  He sounds like Jeff Buckley.  Tells him he is a pure beautiful singer who looks like Leonardo DiCaprio.  Jacob picks Team John!  
John says his voice has a beautiful otherworldly song and the girls will vote for him.
https://youtu.be/VKNjdnk-hck
Kelly says in season 16 men are against her, because she can't get a dude to come to her team.
Karly Moreno, 23, Mission Dale, CA  "Starving" by Hailee Steinfeld & Grey 
The next artist is freaking out that the judges are just sitting out there.  She spends a lot of time at the skate park with her two older brothers.  She can skate the pool better than her brothers.  She has the same amount of commitment that she does to skating.  She's been singing as long as she can remember.  A cute clip of her as a 5 year old.  She's been writing songs but she's ready for the next step.  She has a unique sounding voice, but this is a little boring.  I don't think anyone is going to turn for this, the song isn't really going anywhere.  She hits a little run towards the end and Adam turns.  Adam says he listened to her very carefully, she reminds him of Regina Spektor, a raw tone.  She could have a song on the radio right now.  He thinks she will be underestimated moving forward.  John says she sounded wonderful, beautiful tone.  John said he questioned her range and dynamic.  Kelly loved the purity of her voice, peaceful vibe will make her stand out.  Blake says she's on the voice.  Karley is Team Adam!  Karley has been listening to Adam her whole life.  Adam said she sounded pure and simple.
https://youtu.be/2jyMCsfR6kw
Luna Searles, 37, Atlanta, GA "Nutbush City Limits" by Ike & Tina Turner
The next artist is so excited.  She auditioned back in Season 2, and she didn't get a chair.  She has a learned a lot since then, started singing around Atlanta.  Says it's difficult to be a black girl  trying to sing rock music.  Her Mom says her voice is stronger and she's glad she didn't give up.  Luna says she's more focused and discipline then she was when she first came out here.  She feels better about getting up there and performing.  She's here to share her gift and what makes her happy.  She has a big, soulful voice and she's singing a song we've heard before but in a more rock style.  She's very comfortable up there, but she is saying some of the words instead of singing.  No one is turning.  She hits a big run "ooooo" at the end.  Still a no chair turn.  Her Mom is crying.  Adam tells her she's a great singer.  Adam says there was something else she needed to hear, the last note came too late.  John said they just didn't hear it but they believe she can do it.  No chair turn.
https://www.youtube.com/watch?v=OYUKqv1X8-4
Carson is chatting with the coaches.  John says he felt welcome even though they all blocked him.  John says he loves his team.  Kelly says she feels personally threatened because no guy has picked her.  Kelly thinks John for coming.
Carter Lloyd Horne, 19, Marietta, GA "Drinkin Problem" by Midland
His Mom told him to picture people in his underwear.  In 2008 his family lost their home in the market crash and they became homeless.  For a year and a half they lived in his motel.  His Grandma got him a cheap guitar, and learning it gave him something to focus on.  He started gigging around Marietta, he plays at bars and restaurants but he's ready for something more.  His parents worked hard and things are better now.  The Voice is his chance to make something out of himself, and to help his parents like they help him.  He's teary when he says that.  He's got a gritty, yet pretty country voice.  He's wearing white and playing guitar standing at the microphone.  His parents look so sad as it looks like he isn't going to get a chair, and right on the last note Kelly and Blake both turn.  The audience erupts.  Adam tells him he's not even allowed to have a drinking problem, and that he just sang a wildly inappropriate song for his age.  Blake says if you like inappropriate and he points to himself.  Adam is endorsing Blake on this one, saying Blake might be the perfect fit for him.  Kelly says he has an old school vibe, and he stands out, haven't heard anyone like him.  Adam says he's Blake Jr.  Blake says he knows what's he doing and he admires that, there was some pitch problems.  He recovered it at the end, and he would be proud to have him on his team.  Carter picks….  Team Blake!  Blake loves Carter's voice, has an edge to it.  Carter said he felt a connection with Blake.
https://youtu.be/pJMNBfIS0rU
Kelly says her Achilles heel is still men won't pick her.   Points to herself and says women love this!
Talon Cardon, 18, Odem, UT "Say you won't let go" by James Arthur
He works at a Chinese restaurant.  He gets asked questions about Chinese food.  He bought his first guitar at 12, by 14 he had written 2 songs.  He now travels Utah performing.  He grew up with his Mom but spent more time with his Dad.  When he was 16 his Dad, his police officer was in a bad car accident.  Talon says he scared him to death and he couldn't imagine his life without his Dad.  He chose the song for the emotion in it.  He's wearing a yellow jacket and he's very nervous at first.  The audience really likes it.  He has a charm about him while he's singing.  He sounds like he's forcing it a bit as no one turns.  And once again a last second chair turn at the bell by John.  Adam tells him he's talented, and that John can help him with the little things he heard.  Kelly says he couldn't be with a better coach.  John says welcome to Team Legend, he's happy to have him.  Says he started off a little slow and he delivered at the end.  Talon is Team John!  John says Talon has a special voice, cool tone, great range.
https://youtu.be/aF1AVxvheFQ
Bebe Rexha tells us there will be new Lay's potato chip flavors to go along with the Comeback Stage.
A Voice first!! Patrick & Ruby McAloon Barrington, RI
They are father and daughter and they are auditioning together but not together.  Dad says he's been working at this for 25 years and been touring the country as a side man for Pat McGee.  Ruby says she grew up surrounded by her Dad.  She had her first show at 13.  She sings a song she wrote as a kid.  It's cool that she's as passionate about music as he is her Dad tells us.  Patrick says he has spent so many years being a side man, he's ready to share all his years of passion and artistry.
Patrick McAloon, 40, Barrington, RI "RunAway Train" by Soul Asylum
Dad's up first.  He's got a cool hat on, and he's got a gritty voice.  He reminds me a bit of Josh Kaufman, but not as smooth.   You can tell he's a seasoned performer.  Blake and Adam both turn.  He really gets into after the chair turns, big note at the end and John also turns.  Patrick says he's a freak about Sting and Peter Gabriel.  John tells him he sounded incredible, big powerful and also tender notes, with skill, charm and presence.  Adam says he's excited to work with him.  Adam says every once in a while he finds someone who does different things with songs, he has a gritty, high range and he loves everything about him.  Blake says he likes Sting and Peter Gabriel, but he loves Patrick.  Blake would be honored to have him on his team.  Patrick chooses Team Adam!  Adam says his song choice spoke to him, and John tells us they were made for each other.
https://youtu.be/UwK7Icgk6nE
Ruby McAloon 16, Barrington, RI "Back To You" by Selena Gomez
Ruby is motivated by her Dad getting 3 chair turns.  She's ready to go and sing her heart out.  Her voice is really unique, she is having some pitch issues.  You can tell she's really nervous.  Kelly says she's cute.  No chair turn.  She tells them her Dad just auditioned.  Adam tells her he loves her voice, to take this moment as a great moment.  He tells her to be inspired by her Dad's years of hard work.  John says she has wonderful voice with range, she needs some more seasoning.  Kelly remembers that she was 19 when she was auditioning, she wanted to hear more range.  No chair turn.  She handled it so gracefully.
https://youtu.be/K451turDisw
Alena D'Amico, 26, Detroit, MI "In My Blood" by Shawn Mendes
She grew up in a big Italian family, you have to speak louder then the other person.  She had stage fright so she stopped music after High School and went to cosmetology school.  She's engaged to an Italian man and they talk about how they met.  She hid singing from him for years until one day he heard in the car.  He encouraged her to go for it.  She wants to make her family proud.  After the break she sings….
Her poor Mom is so nervous.  She has a powerful voice but some enunciation issues it's hard to tell what she's singing.  She has a big, powerful voice and hits some big notes.  Kelly and Blake both turn.  Blake is on his feet.  Alena tells Adam he's really cute. Adam says don't pick Blake pick Kelly, and Kelly would be a great coach for a strong and female powerful female singer.  Blake says he's been out witted and out cuted and he doesn't have women power, but he has 16 seasons of being the most winning coach on this show.  He cares about seeing her with The Voice trophy and that's what he specializes in and there's nobody like her on his team.  Kelly says she loves the passion, but she needs to reign it in with tiny areas and she turned because they can get past that.  Alena picks Team Kelly!  Kelly loves her passion and she's excited, even though she still has not men on her team.
https://youtu.be/dbVFzeih_8U
Kanard Thomas, 28, Jacksonville, FL "Riding with the King" by BB King and Eric Clapton
His son is his everything and he wants his son to look up to him.  He grew up without his Mother and Father he was raised by his Aunt in a household of 8+ children.  His Aunt instilled in him to not be a product of his environment and to not give up.  He had his son at 19, and he had to become an adult.  He works in a band on a Holland American cruise ship, to do what it takes to support his family.  He is singing with flashing lights behind him, good voice, but nothing exciting really so far, kind of boring.  Smooth voice with a few falsetto notes.  No chair turn again, a lot of those tonight.  I'm not surprised it wasn't anything exciting.  Blake says he's a good singer he was looking for more edge/desperation in the performance, too laid back.  Kelly tells him it was too controlled.  John says he wanted some flair, something transcendent.  Adam says he needed some urgency.  No chairs.  The good news for Kanard is that he is  the third comeback artist chosen by Bebe Rexha! He sounds much better in this clip then he did in his audition.
https://youtu.be/Uuok-HiLH3o
Dexter Roberts, 27 Fayette, AL "Like a Cowboy" by Randy Houser
He likes to hunt, fish, being outdoors.  True Alabama country boy.  He got a guitar as a boy and he kept singing Sweet Home Alabama until his Mom told him to stop it.  About 3 years ago he got real sick, couldn't play music anymore, went all over the country to see doctors.  He was so sick, and finally Doctors figured out that he had Rocky Mountain Spotted Fever.  His dream is to be out playing gigs and hearing his song on the radio.  This guy is really good, great country singer with a smooth, rich tone.  WGWG will be popular with the country loving demo.  All three judges but Adam turn pretty quickly.  He has a really big voice Kelly, Blake on their feet.  And once again a last second turn, Adam turns making him get all 4 chairs.  Crowd is on fire!  John says everything is perfect, he doesn't know country but he knows a great voice.  Adam tells him anyone of us knows when something is transcendent enough, and that's why he pushed.  He said don't pick me because that would be too daring.  Blake told him to ask the other coaches who sang the song he auditioned with.  John says Blake wants to limit him and the rest of there are to expand his horizon.  Kelly says she almost didn't turn because males don't pick her, and secondly, we all know that you are probably going to Uncle Blake.  Kelly says think about the strategy of who is going to have more country singers on their team.  Blake says let me pull myself out from under this bus, country artists know who they are and who they come from.  And no surprise Dexter picks Team Blake!  
https://youtu.be/KdxoTTHbNnE
Kelly says she's not turning around for anymore boys.
Jej Vincent, 22, Philippines  "Passion Fruit" by Drake
Music is a huge part of his life  He discovered Beyonce, Destiny's Child, which is so different then Filipino music.  He moved to the US when he was 15 so they could have a better life.  His parents left everything behind to move to the US.  Jej started out as a dishwasher, then a bed maker, nursing assistant he wanted to go to med school.  Seeing his parents struggle was hard for him.  He moved to California to pursue a career in music and thanks his parents for their support.  Jej says he connects to John Legend because of the music he writes.  He has a really nice ton though a little over run for me personally.  Blake turns right away.  He has a good baritone that goes effortlessly into falsetto.  4 chair turn, Blake and Kelly on their feet as he ends with a string of runs.  Kelly comes up to shake his hand.  Adam tells him he's a better singer than all of us.  John says he was worried that he would stay in the zone, but then he went into the runs with precision and beauty.  Adam tells him not to be too perfect, and he would want to get him to a place where people can feel him as well as they can hear him, connect people to his heart.  Blake says they all think they are looking at the winner of The Voice this season.  Blake tells him not to stay in a box, uses the other coaches arguments against them.  Blake says he wins the show a lot.  Kelly says she can win the show with you, you're incredible.  She says his run has finesse.   Jej chooses Team  Kelly!  Shocking everyone!!  Kelly says she's hopes that he's on the radio someday.
https://youtu.be/7y3OcSTEh-Y
In memory of Janice Freeman 1985-2019  flashes on the screen at the end of the show.  RIP Janice you were a force.
Overall a guy heavy night a few people with some potential to go deep into the season.
We are out of time folks!  Thanks for hanging with me I will be here all season!  See you tomorrow!
Quick Recap of team selections:
Team Adam:
Karly Moreno
Patrick McAloon
Team Blake:
Carter Lloyd Horne
Dexter Roberts
Team Kelly:
Alena D'Amico
Jej Vincent
Team John:
Jacob Maxwell
Talon Cardon
ComeBack Stage:
Kanard Thomas