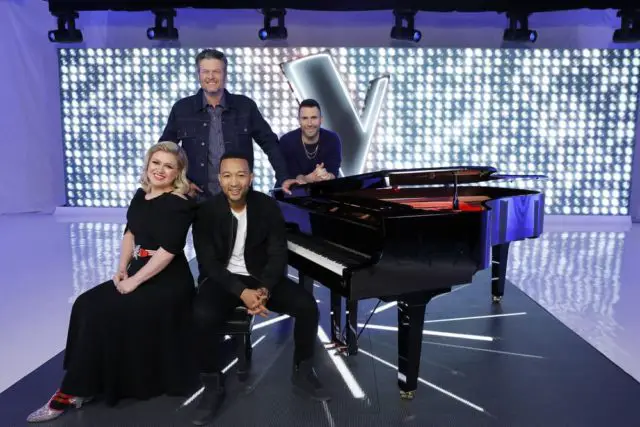 NBC released The Voice live shows schedule on Thursday (April 11) and it reveals MASSIVE eliminations once the Cross Battles conclude:
Monday April 15 – Cross Battles part 1
Tuesday April 16 – Cross Battles part 1 results
Monday April 22 – Cross Battles part 2
Tuesday April 23 – Cross Battles part 2 results
Monday April 29 – Top 24 voting
Tuesday April 30 – Comeback Stage and Instant Save results
Monday May 6 – Top 13 Performances Voting (Fan Week)
Tuesday May 7 – Top 13 Results
Monday May 13 – Top 8 Performances Voting (Duets)
Tuesday May 14 – Top 8 Results
Monday May 20 – Finale Performances Voting
Tuesday May 21 – Winner Crowned
Until I actually took a look at the full schedule, I did not realize how the new live show format would affect eliminations so drastically. After 32 singers perform over the course of the two week Cross Battles, 24 singers will be cut to 13, followed by cuts down to 8 and then similar steep cuts down to four. I enjoy the high stakes of the Top 8 semifinals However, those steep cuts are balanced out by 3 previous weeks of more gradual eliminations. The finals should be no shorter than 5 weeks. This new setup does not help foster contestant fan investment. But when it comes the The Voice, the game always comes first.
Also notable: The Top 13 will once again feature fan-chosen songs. And once again, the Top 8 will pair up for duets. 
The Voice Promotes a Slew of Alums in New Toyota Ad (VIDEO)
The Voice Pre-Cross Battles Polls – Vote for Your Favorites
The Voice 16 Live Cross Battles Twist – NBC Reveals ALL the Details
In case you need a primer on the new The Voice twist: The Live Cross Battles round will begin with 32 artists remaining in the competition. Over the course of two weeks, eight pairs of 16 artists will perform each Monday. The Voice will unveil a brand new Cross Battles set design, in which the artists will be seated by team on dramatically lit benches around each side of the stage. In every Cross Battle, two coaches will go head-to-head in a "live schoolyard pick," each selecting one artist from their team to go up against another team's artist. Each artist will perform an individual song, and their fate is in America's hands to decide the winner. On the Tuesday results shows, host Carson Daly will reveal the winner of each Cross Battle, and 16 artists will advance to the next round through America's vote.  Adam Levine, Blake Shelton, Kelly Clarkson and John Legend are your coaches.
Y'all ready for lives? ?

It all starts with Live Cross Battles MONDAY and Results TUESDAY 8/7c on @NBC. ?? pic.twitter.com/FPV9GmRhSv

— The Voice (@NBCTheVoice) April 11, 2019