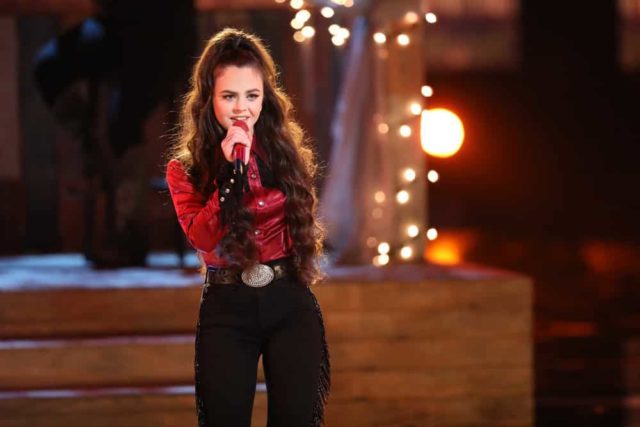 The Voice season 15 LIVE Finals continue tonight. The Top 10 will perform for your votes. The Top EIGHT will be revealed on Tuesday's results show. Tonight, coaches Adam Levine, Kelly Clarkson, Jennifer Hudson, and Blake Shelton are on hand as their respective team members perform. As always, Carson Daly serves as host.
The Voice Season 15 Top 10 Song Spoilers 
The Voice Season 15 Power List – Ranking the Top 10
Vote for your favorites via NBC.com/The-Voice and The Voice App. Or listen to streams on iTunes HERE. For more click The Voice Rules. Voting is OPEN beginning at 8 pm ET. 
NOTE: The online Vote Window closes at 7 am ET. ONLY Apple streams count as votes. 30 seconds streaming a song on iTunes counts as a FULL STREAM.  And instead of the Top 10 chart bonus, this season the MOST STREAMED ARTIST OF THE NIGHT will have their stream totals multiplied by 5.
Blake Shelton is performing tonight. 
Kennedy Holmes – Team Jennifer Hudson – Me Too by Meghan Trainor – Jennifer picked the song for Kennedy to show her youthful side and ability to perform. The young singer is a dancer and performs musical theater back home. Jennifer wants her to throw her poise "right out of the window" this week. Jhud gives her "permission" to have fun. This performance may not go over as well as a big old fashioned ballad. But I for one am glad the young singer is acting her age for once. This right here is real world stuff–NOT dressing up in ball gowns singing 20 year old songs. She does know how to move on and work the stage. OH HEY. She throws in a few Janet Jackson moves. AND NOW SHE'S MOONWALKING OK. Good on her. Kelly says it's awesome to see her doing something her age. "I sucked at being 13!" says Adam. "You can move!" Jennifer says, "You never disappoint. You are everything! I'm so proud of you." she added, "You ready for the game!"
https://www.youtube.com/watch?v=PqmF70dORVg
Reagan Strange – Team Adam Levine – Cry by Faith Hill – The young singer has been the top Apple streamer two weeks in a row. Her mom and dad got divorced when she was five. Adam notes her limitless upper register, but suggests that she work on her lower notes. He thinks the the song choice is perfect for her. We see her little brother, who looks up to her. Hmm….pitch problems here. Can she hear herself? The high notes are problematic. She's also still having breathing problems.  She's actually better in her midrange, to be honest. Unlike her teen counterparts, Reagan really sounds her age. She hits a real long note, and it is not without effort. This young one needs more time to marinate. Blake is still mad she didn't pick him as a coach. "That's a tough song," he says, "You did a great job on it." Kelly agrees. She loves the way she expresses emotion. Adam says she raised the key a half step. Adam is impressed. But it's probably because she struggled with the lower notes. Adam thinks she commands the attention of everyone in the room when she sings. He thinks she should be rewarded for THAT (forget those wonky vocals!)
https://www.youtube.com/watch?v=UHYWf3-v9cY
Hm. Just saw a commercial for La Voz on my TV. It's premiering on Telemundo in January. 
Next, coach Blake Shelton performs "She's Turnin Me" which is for sure all about his gal pal Gwen Stefani. Having said that–the lyrics are so trite they're cringeworthy. Dumb song. 
https://www.youtube.com/watch?v=3IACkfhSACA
Sarah Grace – Team Kelly Clarkson – Amazing Grace (Traditional Hymn) – Sarah plays the trumpet at blues jams. Or, at least she tries. Oh, she's going to play trumpet tonight as she sings "Amazing Grace" using elements of "House of the Rising Sun" melody. And it's all her idea! That's why Sarah is fast becoming my favorite. I love her creativity. She's unafraid to go out on a limb. This is pretty cool. FIRST TRUMPET PLAYER ON THE VOICE EVER. And I'm all for it. This bluesing up of "Amazing Grace" is so unexpected. I hope Voice viewers appreciate it. Jennifer loves her confidence. Kelly loves her voice, "You are really really an intelligent musician..I look up to you," she says. "It's my favorite version of Amazing Grace that I've ever heard!"
https://www.youtube.com/watch?v=6s-NRCChB9A
Kymberli Joye – Team Kelly Clarkson – Oceans (Where My Feet May Fail) by Hillsong United – Kymberli picked the song. There was a time in her life when she struggled with depression, and faith brought her out of it. "At this point, no artist can play safe," says Kelly. That's why she's a good coach. Beautiful vocal from Kymberli, with a slow build to a crescendo that washes up like a wave. Very nice. She doesn't let loose until the bridge and last chorus. If Kymberli stuck to R&B, she might be gone already. She's found her lane in Gospel music. And it's a genre that Voice viewers LOVE. I'll be shocked if she doesn't make it to next week's bloodbath.  Blake calls it her most powerful performance so far. "You were able to reign in and give a controlled tasteful performance." This is correct. "There is nothing you cannot sing…I felt the anointing through it all," says Jennifer. Kelly loves that they waited until last week and this week to narrow her lane. "It's about moving somewhere, touching someone." 
https://www.youtube.com/watch?v=zI56vKSELCg
Chris Kroeze – Team Blake Shelton – Callin' Baton Rouge by Garth Brooks – Blake took his team to the Pickwick Bowl for some bonding. Chis is a bad bowler. He plays this song back home on the bar circuit. People love it! He relates, being away from his family while he tours. He stays in touch with his kids during those times via Facetime. "America is falling in love with Chris," says Blake, claiming he's become a serious threat to the other contestants. Oh right. Not. Well. This is a fun cover. His musicianship is impressive–at one point he and the other musicians do an impromptu jam session on stage. I like his raspy tone, and effortless delivery. BUT. It still feels like he's bringing his bar act onto The Voice. He's playing it safe. "I love him!" gushes Kelly. She wants to be friends with him because he's "super sweet." Blake is so proud of him as a coach and fellow musician and country singer. "You brought country music to America right now." Uhm. There are like a bazillion country award shows on television for anyone craving country music…
https://www.youtube.com/watch?v=q4n4sirbfDk
Dave Fenley – Team Blake Shelton – When You Say Nothing At All by Keith Whitley – Dave is taking on a "personal" song tonight, says Carson. At the bowling alley, Blake gifts his team with brand new acoustic guitars. Blake thought the beatboxing "threw people for a loop last week." Now, it's time to get back to country. Yeah. Last week was a flop. Blake advises Dave to work on his breath control. Dave looks like he's about to fart when he sings. He makes singing look really really hard–he sounds like he's being strangled on that last note. This vocal is the opposite of effortless. Having said that, singing a popular country love song was the right choice for this week.  Jennifer says she doesn't know country, but she knows a voice when she hears one. "I look forward to hearing you sing every week." She's being nice. Kelly loves his "ache" and she's happy he went for the big note at the end. Blake says he never does the same thing twice. "Everything he's singing comes straight from the heart. That's why you're still here." Blake constantly talks about Dave like he's about to be eliminated. Hm. 
https://www.youtube.com/watch?v=MuDTkC9n0Dk
DeAndre Nico – Team Adam Levine – That's What I Like – DeAndre was INSTANTLY SAVED last week. So, he's gotta go hard this week. He sang Bruno for his 4 chair turn in the Blinds. Now, he's going back to that well. The song has never been performed on The Voice before, because it's hard! Says Adam! Coach is also suggesting some extra styling. I gotta say, he was pretty good last week. What could top that? I think Voice viewers are just not buying what he's selling and there is little that can be done about it. This old fashioned Luther routine isn't going over. I mean, his tone is like butter! But while he's vocally handling the song, he lacks Bruno's charisma. Jennifer, "You sang that song down, honey." She's glad he showed his performance side this week. Kelly loved the way he ended leaving them wanting more. Adam could feel the energy shifting in the room. He hopes that came across on TV. 
https://www.youtube.com/watch?v=ahYcEb0qxYo
Chevel Shepherd – Team Kelly Clarkson – You're Looking at Country by Loretta Lynn – Aw she and Sarah Grace are BFFs. They have a special handshake! Chevel would love to make an old school country record like Loretta Lynn. Oh. Kelly can yodel! Ha. Kelly calls Chevel a "country tinkerbell." That's apt. Chevel grew up with 8 horses and did barrel races. Chevel practices all the time! "It's like looking at me as a child," Kelly says, "You're going to be tired some day!" Chevel's got the 70's pony top hair do. Perfect. Her voice is strong, with delicate edges. Like lace! She's wearing this song like a well-worn pair of boots. Good stuff. She and Kirk are the best country singers on this season. She ends with an exuberant Whowwww! She's adorable. Blake says she has found a way to make a Loretta Lynn song even more country than the original. Jennifer thinks she's adorable and loves every single thing she does. "I love you!" shouts Kelly. Adam butts in "You're so cute and talented." Kelly compares her to Loretta Lynn, Patsy Cline, and Leann Rimes.  
https://www.youtube.com/watch?v=FydZfX9GW0c
Kirk Jay – Team Blake Shelton – Tomorrow by Chris Young – Blake says after the fans chose the decidedly bro country "Body Like a Back Road" last week, they're going back to Kirk's "happy place." The singer loves "making people cry!" and the deep, real storylines country brings. This week's song is the kind of song he wants to release. Blake feels the it really pushes him as a vocalist. They slow the tempo down for Kirk. He wants to feel it! Starting off at the piano is grounding and allows him to really dig into the lyrics. He stays at the keys, and that's smart. He's really pouring himself into this performance. Sorry. Not drinking the haterade kiddies. I am totally buying this lovely, heartfelt performance. He sings the end of the last verse a cappella, and throws in a particularly gorgeous ad lib. Jennifer  feels like his co-coach. She begs people to vote for him. She says Blake almost had to pick her up off the floor when he sat at the piano. Adam says there are so many unique elements to his voice. "It's important to country music to have you in it." Blake calls it "far and away your most important and pivotal performance of the competition." Blake says he knows how to draw the audience close, it's what makes him a great country singer. 
https://www.youtube.com/watch?v=vFmfrJjNZa0
MaKenzie Thomas – Team Jennifer Hudson – Because You Loved Me by Celine Dion – This song means "a whole lot" to MaKenzie. She's sung Mariah, Whitney, and now Celine. Hm. She's going to run out of Divas soon. Inspired by Celine. "Because You Loved Me" was the first secular song MaKenzie performed outside of church. Jennifer says the first time her family heard her sing secular music was when "I was on a show like this." coughamericanidolcough coughtheshowthatdarenotspeakitsnamecough. "You're continually topping yourself every week," Jennifer gushes. "This is what you're supposed to do at this point of the competition." Jennifer helps her gospel the song up. Well….this is nice? MaKenzie has a beautiful instrument. But she's all tasteful runs and adlibs. It leaves me a little cold. Oh look. The gospel choir showed up. Right on cue! I know I'm supposed to be losing my mind right about now. But. I've got nothing. Jennifer compares MaKenzie to all the great diva names–Mariah, Whitney and Celine–and then tosses herself into the mix! Chutzpah! She mentions Kelly as well, for good measure. 
https://www.youtube.com/watch?v=ekCOJctMi2s