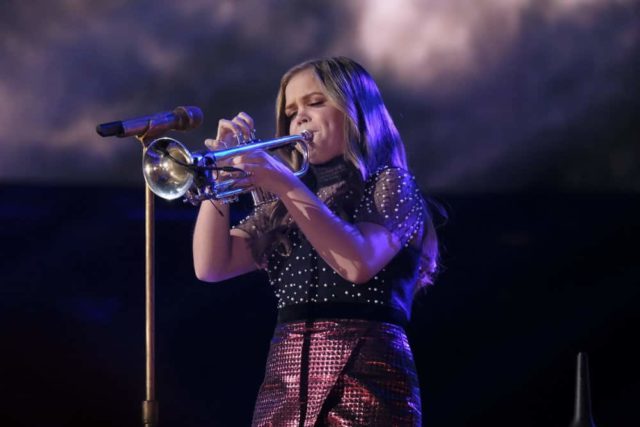 The Voice season 15 Live Finals continued on Monday night (Dec 3). TEN finalists took the stage for YOUR votes. Which ones were your favorites? It's time to vote in the POLLS!
The Voice Season 15 Recap – Top 10 Performances – Live Blog and Videos
iTunes charts don't mean much anymore, but they are still interesting to look at. For instance, when Kennedy Holmes switched up to an upbeat contemporary tune, her standings on the chart fell precipitously. Which is probably why she'll be back to ballgowns and big diva numbers next week (Me Too is a dumb song, but still closer to what a 13 aspiring pop star would sing than old Whitney tunes). Seeing Sarah Grace leading the pack this week makes me pretty happy. Poor DeAndre Nico is dead last. Dead man walking. 
While there were some poor performances tonight (Reagan Strange, Dave Fenley) I didn't aggressively hate the show like I'm reading in comments. I wonder if, after 7 years and 15 seasons, The Voice is finally past it's peak and no current contestant will ever seem as good as singers from the "golden days" of the show. Oh well. Let the hate watching begin! Heh.
iTunes Charts at 6 am
3. Sarah Grace – Amazing Grace
4. Kirk Jay – Tomorrow
15. MaKenzie Thomas – Because You Loved Me
23. Chevel Shepherd – You're Looking at Country
25. Kymberli Joye –  Oceans (Where Feet May Fail)
42. Kennedy Holmes –  Me Too
43. Dave Fenley – When You Say Nothing At All
59. Chris Kroeze – Callin' Baton Rouge
104. Reagan Strange – Cry
174. DeAndre Nico – That's What I Like
Prior Weeks
72. Kirk Jay – I'm Already There
96. Kymberli Joye – Break Every Chain
182. Kirk Jay – Body Like a Back Road
VOTE VOTE VOTE
Favorite Top 10 Performance
Choose the TWO Contestants Who Will Be Eliminated.