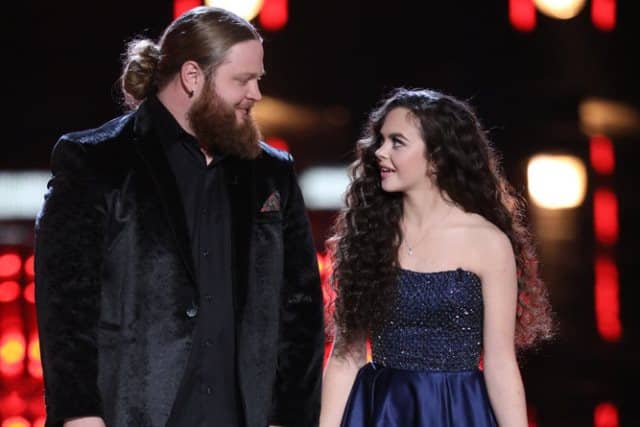 Join us as we live blog The Voice season 15 Finale. Tonight, one of either Chris Kroeze and Kirk Jay from Team Blake Shelton, Kennedy Holmes from Team Jennifer Hudson or Chevel Shepherd from Team Kelly Clarkson will take the $100K prize and deal with Republic Records.
The Voice 15 Finale Celebrity Duets Include Rascal Flatts, Kelly Rowland and More
The Voice 15 Finale: All the Details Including Special Guest Stars
The Voice Season 15 Recap – Final 4 Performances – Live Blog and Videos
The Voice Predictions: Who Will Win Season 15? Poll Predictions
The show kicks off with Kelly Rowland and Kennedy Holmes performing "When Love Takes Over." Kelly gives a shout out to Kennedy for making it so far. Confetti is streaming! It's an upbeat and energetic performance. Kennedy is very comfortable on stage with Kelly. 
https://www.youtube.com/watch?v=kIeaZHnUd7k
Time to say hi to the coaches. Blah blah time wasters. Adam noted that Kennedy's "Confidence" cover was like a finale performance. He thinks all four artists are pretty even.  Blake goes on about how his team members have been around the music business for awhile but still have the drive to succeed. They remind him of himself in his 20s. Jennifer would be proud if Kennedy won, calling her a "born star." Kelly pledges to be a sister for life to her team member Chevel. Adam notes that Kelly and Jennifer prove good things can happen to singing show contestants "either way." (Win or lose, obvs). 
Next, it's a fun clip of Kelly cutting up at the Harry Potter Experience. She's a big fan, apparently. Or maybe she volunteered to pimp the Universal attraction. 
Next Marshmello and Bastille perform their single "Happier." Are there any photos of the Marshmello dude out of his silly outfit? His real name is Christopher Comstock, confirmed in late 2017 says Wiki.  Oh. Cut to the coaches who are all wearing Marshmello heads. YUK YUK YUK. 
Next, it's a little clip that's all about Kirk. "Blake can definitely make things weird," he says. Do tell. Blake is inspired by how far Kirk has come, from poverty to The Voice. That is an introduction to Kirk and Rascal Flatts singing the trio's "Back to Life." I'm not a huge fan of Gary LeVox's nasally tenor.  This performance is just a'ight for me. 
https://www.youtube.com/watch?v=OUITLCbA_Cg
Next, it's a clip featuring Kennedy and her coach Jennifer who reveals that Kennedy is mature, but often acts her age. Kennedy admits that she's goofy and silly. Jennifer sees a lot of herself in her team member. 
Deandre Nico, Kymberli Joye, Patrique Fortson and MaKenzie Thomas join forces to perform a soulful cover of "This is It" by Kenny Loggins. Bringing contestants back to perform hasn't been done on The Voice finale in a minute.  Good job all around. 
https://www.youtube.com/watch?v=06os3A2aVXc
And now, Blake and Chris chat about their partnership. Blake loves to kiss his bros. Apparently, the photos have become memes. Blake notes that Chris has "a very dry sense of humor. "My wife is definitely a better kisser than Blake," he cracks.
Now, Chris joins the Doobie Brothers (or what's left of them) to sing their 70's classic "Long Train Running."  The lead singer dude can still sing. These guys still have their chops. I can't tell which is which, but Tom Johnston's daughter. Lara, auditioned for American Idol in 2011.  #FunFact.
https://www.youtube.com/watch?v=_2kjAA4zKng
Now, the current The Voice winner, Brynn Cartelli introduces her new song "Last Night's Mascara," co-written by Brynn. Kelly says she is so proud of her. The song is a strummy, poppy thing. Brynn accompanies herself on acoustic guitar. The lyrics sound a little mature for a 16 year old, though. Lines about waking up in his bed? OK then. She's also got this yip in her voice. Did she always have that? Decent song, though.  Brynn mentions that she just signed with Kelly's label Atlantic.
https://www.youtube.com/watch?v=0Lhjl35h9cc
Next, it's Brendon Urie and Panic at the Disco singing a medley of "High Hopes" and "Hey Look Ma, I Made It," two hits off of their latest #1 album, "Pray for the Wicked." His voice is INSANE. Glow sticks and confetti!
https://www.youtube.com/watch?v=3kOmtqU26nk
Next, it's a video all about Jennifer. She's intense! She yells! She asks people to sing, while they are still singing! "When JHud tells you to do something, you better just do it," says Kelly. 
And now, Abby Cates, Sara Grace and Reagan Strange join forces on a piano driven acoustic rendition Lady Gaga's Million Reasons. They sing in harmony. Sarah's voice really cuts through here. 
https://www.youtube.com/watch?v=gBTUKs6_dME
Now, it's EGOT winner and Season 16 The Voice coach John Legend performing "Have Yourself a Merry Little Christmas" with Esperanza Spalding. I'm getting total Nat King Cole vibes here. Nice. 
https://www.youtube.com/watch?v=Uo5OpGkadcw
In this next clip, Kelly is an elf while Blake plays a totally clueless and terrible Santa Clause. 
And now the QUEENS Jennifer Hudson and Kelly Clarkson perform a powerful rendition of O Holy Night. Kelly is having a static electricity emergency. Heh. Still, a lovely performance from these two American Idol alums. 
https://www.youtube.com/watch?v=sM7rdrkM5ac
So, there's an exclusive look at DISNEY'S Mary Poppins. Didn't expect to see non-Universal pimpage during The Voice. Money talks though.
Next, a clip featuring Chevel and her coach Kelly. "She's really awesome," Chevel says about Kelly.  In turn, she calls Chevel "sweet" and a "country tinkerbell." She adds, "Everything you'd want in a daughter." 
That's an intro to Chevel joining Dan + Shay on stage to perform their single "Speechless."
https://www.youtube.com/watch?v=qkbFqUI5H8s
Next clip features a face off between Blake and Adam on Ellen Degeneres' upcoming  "Game of Games." The NBC game show will actually air on some Tuesdays that would have gone to The Voice. This game has something to do with lip reading? Or something. Blake lost, so he has to call Adam "Daddy." Blake says glumly, "You're my daddy."
And now, it's country star Dierks Bentley singing "Burning Man."  Zzzz.
Next, the Final Four sing the Target jingle. Yay! Fake snow! 
https://www.youtube.com/watch?v=rZ_bDA3RcqU
Fourteen minutes until results! But first, it's Halsey performing "Without Me." She's covered in paint and performing with a female dancer. It's the no 1 selling single on the Billboard digital charts, as well as the singer's biggest hit so far.
TIME FOR RESULTS OMG FINALLY.
The four finalists take the stage! Now, it's time for DUMB DUMB QUESTIONS. Can't have results without the dumb questions. Blah blah blah. I can't even right now. AND the artist in FOURTH PLACE is…Kennedy Holmes! And the finalist in THIRD place is…Kirk Jay. Oohhhhhhhhh. I keep saying that people underestimate Chris Kroeze. If he wins I'M NEVER WATCHING THIS SHOW AGAIN! Until next season. Heh. No really. Chevel. Better. Win.
Back from break. Chevel and Chris are both shocked to still be in it. THE WINNER OF THE VOICE IS CHEVEL SHEPHERD OH HELlZ YES! Kelly Clarkson back to back wins. She's the new Blake Shelton. HA HA.
I am not entirely surprised by these results. I thought it was possible for Chris to take second place, but I believed it would be at Chevel's expense. I felt certain that Kirk had first or second place all wrapped up. Carson never revealed who got the streaming bonus. I bet it was Chris again. 
Chris seems like a nice guy, but honestly he didn't have to try very hard for how far he made it in the competition. He never took chances, or seemed to go beyond the repertoire he plays on the road. He could relax in the knowledge that The Voice demo would vote for him. 
Kirk, as a black country singer had to work harder to prove himself. He didn't venture too far outside of his country ballad box, but it never felt like he was resting on his laurels. The dude seemed hungry at all times. 
As far as Kennedy is concerned, I believe singing two upbeat songs on the finale hurt her. Dancey pop is not a thing that gets singing show fans to vote. I have to give her and coach Jennifer credit though. Singing pop music was SMART. Kennedy would probably NOT have won in any case. Better to show America who you really are, rather than pander. Kennedy is a very talented young lady. I wish she had waited a couple years before auditioning. In a few years she is going to be unstoppable. 
Not mad that Chevel won. She's a gifted vocalist. A bit under baked at this point, in her young life, but she not only has beautiful tone, but a real knack for tricky phrasing. And she made it all look easy. Her quirky old school style is irresistible. After winning, Chevel was down right relaxed. I have never seen anyone win one of these shows without breaking a sweat!
Watch the reveal below. A couple of fun things to note: Jennifer trying very very hard not to look bitchy when Kennedy is announced in 4th place. And the look on Kelly Clarkson's face when Carson declares Kirk in 3rd place. I really want a thought bubble! Heh. 
The Voice winners don't get singouts, but we at least got a minute with Chevel as she celebrated with her family and Kelly. 
https://vimeo.com/307196803
WINNER! Chevel Shepherd
Second Place – Chris Kroeze
Third Place – Kirk Jay
Fourth Place – Kennedy Holmes