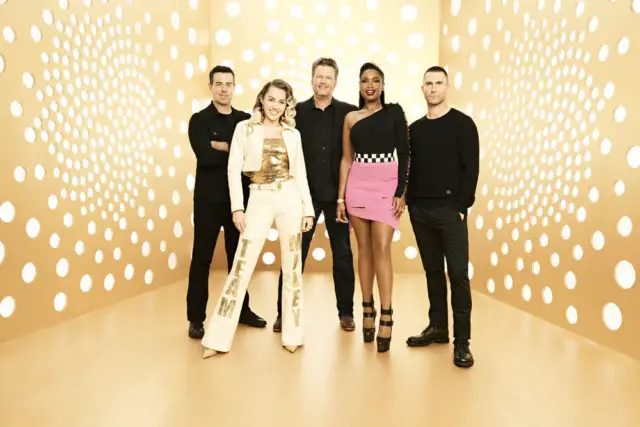 The Voice season 13 LIVE FINALS continue tonight on NBC at 8 pm ET/PT when the artists will be performing for your votes. It's up to you whether the singer stays or goes. One contestant will be eliminated at the end of Tuesday's results show.
The Voice Season 13 Ranking the Top 11 (Power List)
iTunes downloads an Apple music streams counts as votes! Consequently, we'll see the iTunes rankings rise for sure tonight. Like last season, if a singer enters the iTunes Top 10 by the close of voting on Tuesday, the receive the 5x voting bonus. On Apple Music up to 10 streams count as votes. Note:30 seconds of a song counts as a stream. Check out The Voice voting rules HERE. Fun Fact: Do you Xfinity Cable? You can now use your remote and set top box to vote.
Tonight the Top 11 perform songs chosen by fans via twitter and The Voice App.  Let's see if ya'll (and the coaches and contestants!) chose wisely.
Addison Agen – Team Adam – A Case of You by Joni Mitchell  – Download at iTunes 
Adam Cunningham – Team Adam – American Girl by Tom Petty – Download at iTunes
Red Marlow – Team Blake – The Dance by Garth Brooks – Download at iTunes 
Chloe Kohanski – Team Blake – Total Eclipse of the Heart  by Bonnie Tyler – Download at iTunes 
Keisha Renee – Team Blake – It Matters to Me by Faith Hill – Download at iTunes 
Janice Freeman – Team Miley – Shine by Collective Soul  – Download at iTunes 
Brooke Simpson – Team Miley – What About Us by Pink  – Download at iTunes
Ashland Craft – Team Miley – Chicken Fried by Zac Brown Band – Download at iTunes 
Shi'Ann Jones – Team Jennifer – Listen by Beyonce (DreamGirls) – Download at iTunes 
Noah Mac – Team Jennifer – Electric Love by Børns – Download at iTunes 
Davon Fleming – Team Jennifer – I Have Nothing by Whitney Houston   – Download at iTunes