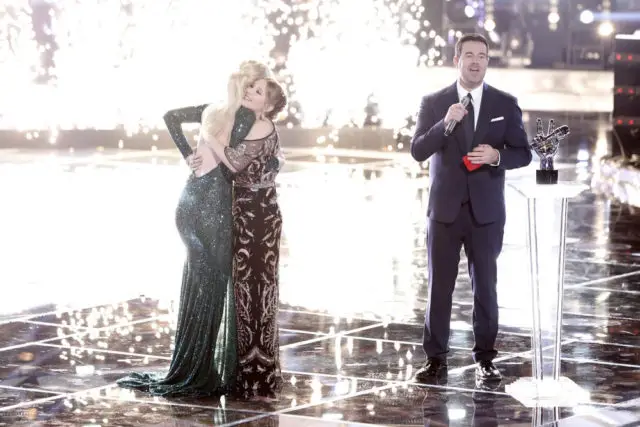 Tonight on The Voice the Season 13 WINNER will be revealed amid superstar performances.
The Voice Season 13 Finale Predictions, Poll Results, iTunes Charts
The Voice Season 13 Recap: Top 4 Finale Live Blog (VIDEO)
The Voice Season 13 Finale Guest Stars and Collaborations Revealed
Superstar recording artists Kelly Clarkson, Demi Lovato, N.E.R.D., Charlie Puth, Sia and season 12 winner Chris Blue are set to perform on tonight's live finale. 
One of the four finalists — Addison Agen from Team Adam Levine, Chloe Kohanski and Red Marlow from Team Blake Shelton and Brooke Simpson from Team Miley Cyrus — will be crowned the winner of The Voice. Team Jennifer Hudson is sitting this one out.
Here we go…
The show opens with a video bit featuring Blake Shelton. It's a back to the future takeoff. Blake meets his mullet wearing self. And baby Miley. Back in the studio, he's got "sexiest man alive" emblazoned across the back of his jacket. Everybody in the Top 8 get a superstar collab!
We'd go back to the future just to see @blakeshelton's mullet. #VoiceFinale pic.twitter.com/ZwRgeDnrSS

— The Voice (@NBCTheVoice) December 20, 2017
.@blakeshelton is reppin' what he knows best tonight! ? #VoiceResults pic.twitter.com/wREIyRyIUj

— The Voice (@NBCTheVoice) December 20, 2017
First it's Bebe Rexha with Adam Cunningham and Keisha Renee singing "Meant to Be." This the song Bebe collabed with Florida Georgia Line. That matchup was pretty awkward. Adam looks a little out of place alongside the fake fur wearing Bebe.
https://www.youtube.com/watch?v=Hw0P-EEoacE
The next clip is all about Chloe and Blake. "There's no doubt about it…Chloe gets her style from me." Hardeeharhar. 
Charlie Puth takes the stage next to sing his new single "How Long." Dude needs to work on that wonky falsetto. Oh. LOOK. That's Adam Levine on guitar. At the end, they both collapse to the floor.
Next, Addison Agen and Norah Jones duet on her big hit, "Don't Know Why." Their tones and phrasing are very similar. I'm embarrassed to admit I'm only catching on to that now.
https://www.youtube.com/watch?v=CA2Tz1YNZKE
What's a The Voice finale without a Shevine clip. He sits on the coach with Dr. Drew. Adam complains about how Blake bullies him. Because you know, there's nothing funnier than the trauma that comes along with bullying. Plus: I hate Dr. Drew.
Oh yeah. Here's Noah Mac and Bastille performing the band's hit "World Gone Mad." Yes. I'm still bitter about Noah missing the final four. This is a perfect matchup. This finale just kicked up a notch. 
https://www.youtube.com/watch?v=R25zN995CrI
Kelly Clarkson waiting in the wings to perform. YAY. And after the break she's on stage performing her next single "Medicine." ALL BOW DOWN TO QUEEN KELLY. She rules. Always. 
https://www.youtube.com/watch?v=J2AvqK1ZpMY
Now, it's time for the reigning winner of The Voice, Chris Blue.  He's just about to debut his new song "Blue Blood Blues." Before he sings, he's featured in yet another video package along with his manager and producer, coach Alicia. And she's in the house live to introduce her guy. "He's absolutely the real deal," says Alicia.
We are so proud of last season's winner, @Chrisbluelive! Welcome back home to The Voice stage! #VoiceResults pic.twitter.com/pbmcdafQD1

— The Voice (@NBCTheVoice) December 20, 2017
The Prince-like song gives the singer an opportunity to show off his incredible chops. There's a reason why he won this show. Oh. DANCE MOVES. Now, will Republic be working this song to radio? Hm. 
Next, it's a clip featuring Addison Agen and her coach Adam Levine. "We just have fun. We bond over music," says Adam. "I'm in for a lifetime of friendship."
After, Brooke Simpson and Sia join forces to sing her massive hit "Titanium." Also. MASSIVE PIPES. Its another full-throated performance from Brooke. NOT LIVE. Taped last weekend.
https://www.youtube.com/watch?v=lwzfPL-rJqA
Chris Weaver the worship leader by day, drag queen by night has returned to perform his act! He brings a trio of queens with him. Hoo boy. They sing "Bang Bang."  His friends are good singers too. Jessie J. joins them on stage.  And here come the shoes! JHud is losing her mind.
https://www.youtube.com/watch?v=NXsHpRH-w84
The next video clip has Blake challenging Miley to a country showdown. It's High Noon y'all. "Well butter my butt call me a biscuit," says Miley.  She can yodel. 
And up next, it's Chloe Kohanski with the LEGENDARY Billy Idol singing "White Wedding."  Billy is not as energetic as I remember him. Billy is going on tour next year. The performance ends with a big hug.  NOT LIVE. Taped a few weeks ago.
https://www.youtube.com/watch?v=7ghv9MJHlfs
Now, a clip featuring the final four talking about their lives at home an their respective journeys on The Voice. What would winning the show ean to them?
Ooooh. The Top four are on stage with host Carson Daly. The coaches join the on stage to hand out some prezzies. What are in the boxes? What keys to a BRAND NEW CAR! Hooray. Does Addison even have her drivers licence? Nope "Not even a permit!" Well, get on that girl. 
In the next clip, Red Marlow and his coach Blake cut up for a few minutes. 
Then, it's Demi Lovato singing "Tell Me You Love Me." She sounds really good tonight. Her live performances can be hit and miss.
Jessie J is back on stage with Davon Fleming performing her single "Not My Ex." This is a good matchup. 
https://www.youtube.com/watch?v=luG5j6aO6-o
Oh. Look a cutaway before the break to Red and Vince Gill, as if they're in the studio live. THEY AREN'T. This performance was taped the same weekend as Billy and Chloe.
And after the break, it's Red Marlow and Vince Gill singing the country legend's big hit "When I Call Your Name." And a mournful pedal steel wails in the background. Oh. Vince is actually in the house tonight, says Adam. So why didn't he sing live?
https://www.youtube.com/watch?v=zXMoGLCGv0E
And now, it's a clip featuring Brooke Simpson and her coach Miley Cyrus.
And it's the triumphant return of former coach, Pharrell Williams and his band N.E.R.D. performing "Lemon."  FUNKY. Plus: Cool dancer chick.
https://www.youtube.com/watch?v=1L6ywbHgqGw
LESS THAN 20 MINUTES FROM REVEALING THE VOICE. 
But before the results, Sia returns to spread some holiday cheer with "Snowman" a song from her Christmas album. Hm. I don't know if "spreading cheer" is the operative phrase here.  Her wig is red and green, topped with a great big green bow. FESTIVE. 
Next, we get another clip, featuring tour of the world renowned JHud Productions. The singer cracks the whip behind the scenes. Show throwing clinic included. 
OHHHH IT'S TIME. Carson mentions an "Epic" night of voting and how the Top 4 dominated the iTunes charts last night. Time for some dumb questions first. BLAH BLAH BLAH. Thanking their coaches BLAH BLAH BLAH. Red chokes up a little. Addison becomes teary too.
First, Carson reads the artist in fourth place: The finalist in fourth place is…Red Marlow! The finalist in third place is…Brooke Simpson! The winner will be revealed after the break.
OK. Here we go… The winner of The Voice is…Chloe Kohanski!
https://youtu.be/ccgIXa7TIkc
My prediction was almost on point. I had Red in 3rd place and Brooke in 4th, but the rest was correct. For a minute, it looked like season 13 results could end in an upset. But…nah. Blake Shelton earns his 6th win out of 13 seasons. And life goes on.
A couple of things. So weird that Adam didn't push for his singer, Addison Agen to win. It's like he hoped she'd lose. Sure, I get that the record deal is a joke. But is that really up to him? Hopefully the two had a heart to heart, with Addison expressing the desire to lose. But still. I hate the idea of singers competing in singing competitions not wanting to win.
Also, in years past there was a $100,000 prize along with the record contract. Little talked about, but definitely a thing. However, I don't recall that being mentioned this season? If the prize money is off the table, that's a shame. It makes winning worth it, despite the crummy record deal.
So, Chloe will go on to join The Voice Neon Dreams show in Los Vegas beginning in June. Come to think of it. That would have been problematic for Addison considering her age. Once fall began, she would have needed to fit school into her schedule, somehow. She'll be OK as runner-up. Hopefully, Adam follows through with his promise and stays involved with her career. That girl is a very special talent.
A few notes about the finale: I miss the "bring back" performances when finalists put invite fellow contestants to perform. On the other hand, the entire Top 8 got to sing with a superstar. And hooray for inviting Team JHud's Chris Weaver to perform his drag act! That was hella entertaining.
1. Chloe Kohanski
2. Addison Agen
3. Brooke Simpson
4. Red Marlow