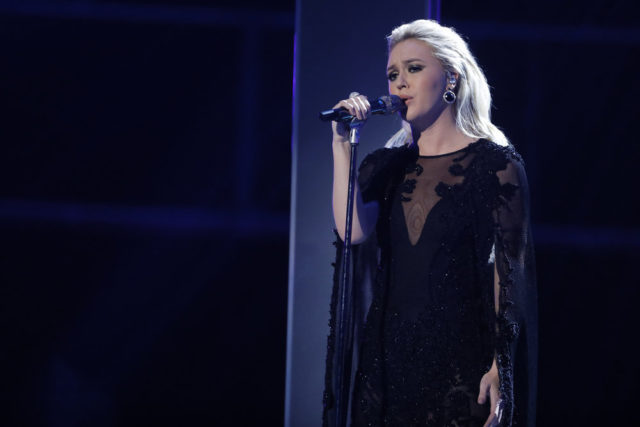 It's here! The Voice Season 13 Finale week. Tonight, the Final Four singers–Chloe Kohanski and Red Marlow from Team Blake Shelton, Addison Agen from Team Adam Levine and Brooke Simpson from Team Miley Cyrus will perform for YOUR VOTES. Team Jennifer Hudson will be sitting out the finale.
Check out The Voice voting rules at this link. Fans can vote for their favs at NBC.com/the voice, via Facebook and smartphone app. Also by downloading and/or streaming songs at iTunes. Any iTunes download that enters the Top 10 before vote close (12 pm ET Tuesday) earns a 5x bonus. NEW THIS YEAR: XFinity cable customers can vote via their set top box and remote.
Tonight the Top 4 sing three songs. A new cover, an original song, and a duet with their respective coaches. 
The Voice Season 13 Song Spoilers – Top 4 Finals – What Will the Contestants Sing?
Tomorrow night (Dec 19) at 9 pm, the winner of The Voice season 13 will be crowned!
Addison Agen – Team Adam – Humble and Kind by Lori McKenna – The video package offers a recap of the singers' performances and experiences over the course of the competition. Addison's grandfather suggested the song to her. He's a country fan! The performance needs to be "super simple and super classy" says Adam. Addison reminds us that she's a junior in high school. She is that rare teen singer who knows who she is with a  mature sound that is fully realized. At this point she's my favorite. Her tone is so unique. Great song choice for her. The song's simple message and lovely melody fits her vibe. She's so emotionally invested in the song that she loses it at the end. She stops singing, she's so overcome. Jennifer feels Addison has embodied the meaning of that song all season. Adam felt the moment when she lost it was beautiful. He admires her humanity. "You amaze me…you make me proud and blow me away," she says. – Download at iTunes
https://www.youtube.com/watch?v=sqt_Wa5nhAo
Chloe Kohanski – Team Blake – Wish I Didn't Love You by Chloe Kohanski (Audra Mae Butts, Mike Daly & Jonas Jeberg) – We see Chloe and Blake working together in the studio as she records her original song. Blake thanks Miley for Chloe–and then laughs. This isn't a great song. And it doesn't help that Chloe's voice is shot. Man, she sounds rough tonight. Honestly though, I don't think it matters. She's got people, and regardless, her star power and personality shines through. In the end, that's all that matters. Blake is on his feet. He reminds America that his girl is a superstar. He says her voice "cracks and pops and falls apart perfectly." No need to make excuses for her Blake. It wasn't a perfect performance, but she still delivered..  Download at iTunes
https://www.youtube.com/watch?v=sID9vWVqvIM
https://www.youtube.com/watch?v=sgT2Ozn17_c
Red Marlow and Blake Shelton – I'm Gonna Miss Her by Brad Paisley – Red says hanging out with Blake is just like hanging out with his brother. Yee haw. This song just plods along. I'm suprised these two didn't perform an upbeat tune. That could have been fun. There are enough ballads tonight as it is.  – Download at iTunes
https://www.youtube.com/watch?v=yLTGBySEc0o
Next, Chris Blue performs a song "Humanity" which is a winter Olympics tie in. He sings against the backdrop of triumphant athletes. Good for Chris getting tons of promo from the show. What winner has been pimped this much after their win?
https://www.youtube.com/watch?v=tRZfZBbRle4
Brooke Simpson – Team Miley – What is Beautiful by Brooke Simpson (Chelsea Lena Silon, Robert John Richardson & Bianca Atterberry) – The song was written just for Brooke. Miley says she worked on the song with two female writers. Miley says it's just the beginning of them working together in life. Hm. Will Brooke get the pimp spot tonight? Brooke is the best technical singer remaining. She's not plagued with vocal issues and she's delivering a pro performance of a song that's obviously a very personal statement. She's belting out all the big notes–the crowd is going crazy. Adam is so happy that Brooke has found who she is in the competition. Miley calls her a "necessary artist." She adds, "This girl is The Voice." – Download at iTunes
https://www.youtube.com/watch?v=y5Tc_B1dBew
https://www.youtube.com/watch?v=Uieji9R3yAQ
Addison Agen and Adam Levine – Falling Slowly by Glen Hansard, Markéta Irglová – Both singers love this song. Watch out for an emotional performance, they warn. Adam is so lucky to be paired up with a wonderful singer. His vocal is weak and thin (and kinda pitchy, dawg) by comparison.  –  Download at iTunes
https://www.youtube.com/watch?v=UZw54GHDXJQ
Brooke Simpson and Miley Cyrus – Wrecking Ball – Hey Miley. Thought you hated this song? Brooke wants to swing on a ball like Miley did in her music video. That would be something. Ugh. Miley is sucking all the oxygen in this performance. Brooke might as well be a background singer. Her dress is nice? Coach needed to step back and let her girl shine. – Download at iTunes
https://www.youtube.com/watch?v=KdBGLKvISJQ
Red Marlow – Team Blake – I Pray by Red Marlow (Red Marlow & Larry McCoy) – Red is the only finalist with an original song he co-wrote. He and a buddy wrote the song after his friend's father died. Red though–pulling out the God card. AGAIN! The tune is fairly generic. But the thing about Red–he knows his strengths and has stuck to them. Not a risk taker, but his fans don't seem to mind. Jennifer commends him for his faith. "You don't have to try to be country," she says. Blake compliments his relatability and ability to tell a story. He calls him a "country star."  – Download at iTunes
https://www.youtube.com/watch?v=4AWUwmMjxmc
https://www.youtube.com/watch?v=ZYDMJUhMuD8
Chloe Kohanski and Blake Shelton – You Got It by Roy Orbison – A song with an 80's country rock vibe. It's a compromise between these two very different singers that results in a rather lackluster performance.  Chloe's huskey lower range isn't cutting it here. – Download at iTunes
https://www.youtube.com/watch?v=ETKSl__RqIM
Red Marlow – Team Blake – To Make You Feel my Love by Bob Dylan – Red literally calls himself a "one trick pony." At least he knows himself. Blake and Red attribute the song to Garth Brooks who recorded a cover. Red gets choked up talking about his journey. Oh. Red does namecheck Dylan. Good. Red accompanies himself on an acoustic guitar. It's a very simple, sweet performance. His best of the night. "You blow me away," says Blake. "You've spent your entire life preparing for this." – Download at iTunes
https://www.youtube.com/watch?v=wepHPWLoR-k
Before the break, it's a Toyota video package featuring the finalists dishing about their original songs.
https://www.youtube.com/watch?v=e9CeKlbm-lo
Brooke Simpson – Team Miley – O Holy Night – "Amazing Grace" worked out so well for Brooke–she hit No 2 on iTunes. So, like Red, she's pulling the God card again. She uses her head voice here more than she usually does. She's waiting to break out those big powerful notes. You know the production is serious when they drag out the gospel choir. And finally, the powerful chest voice comes out on the final chorus. Man, her voice is strong. THE LUNGS ON THIS WOMAN.  It's one of Jhud's favorite holiday songs. She considers her performance a gift. Miley begs folks at home to vote.     –  Download at iTunes
https://www.youtube.com/watch?v=3emwd8tPsyM
Addison Agen – Team Adam – Tennessee Rain by Addison Agen (Angelo Petraglia & Larry Gottlieb) – Addison loves her original song's melody line. "Bonnie Raitt is what I think of," says Adam. Listening to the studio recording, I thought of Bonnie as well. And oddly enough, the arrangement brought The Beatles to mind.  Adam compares her to Jordan Smith, in terms of her artistry. "You're one of my favorite singers," he says.  I agree with Addison, the melody is so pretty. She's holding it together better on this song. Her delivery is so real, so honest. And mature! Her maturity and intelligent phrasing is so impressive. In a few years, Addison is going to be a powerhouse.  Born to be a star, observes Jennifer. Adam felt they always chose songs that reflected her artistry. He calls her a great example to girls everywhere. "What happens tomorrow does not reflect what you deserve….but you should win." What? It's like he's admitting she has no chance to win. I don't understand why he isn't fighting for her. – Download at iTunes
https://www.youtube.com/watch?v=okR1Yy-eOdY&t=6s
https://www.youtube.com/watch?v=6ww_rAk4yJo
Chloe Kohanski – Team Blake – Bette Davis Eyes by Kim Carnes – Maybe Chloe had a lozenge before she came out? Her voice sounds better. Or maybe the roughness is working here. It's an odd song to end the night with. Maybe I'm biased, but Addison's original would have ended the night beautifully. I mean…Chloe is channeling Kim Carnes so heavily, the performance verges on karaoke. Blake calls Chloe a "superstar." He begs America to put her in the winners circle tomorrow.  – Download at iTunes
https://www.youtube.com/watch?v=1VQSR6DPP_w