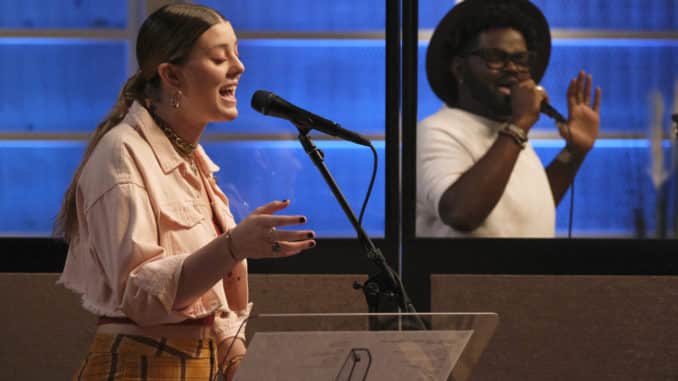 The Voice Recap Season 19 Battle Rounds 2
The Voice season 19 Battle Rounds begin tonight with coaches Blake Shelton, Kelly Clarkson John Legend and Gwen Stefani. Carson Daly hosts. We'll be live blogging all the Battle Round performances and Results right here.
Each of the coaches will work with an all-star advisor. Kane Brown will work with Blake Shelton's team, Leon Bridges will help Kelly Clarkson, Miguel will team up with John Legend and Julia Michaels joins Gwen Stefani,
Each coach gets a steal and a save (The four saves will compete in a four way knockout)
The Voice 19 Top 16 SPOILERS: Battle, Knockout Results, Song Choices
The Voice 19 Battle Rounds 2 Spoilers: Matchups and Song Choices
REMINDER: NO SPOILERS IN COMMENTS. Keep spoiler talk under spoiler posts above, thank you.
The Voice Recap Season 19 Battle Rounds 2
Desz vs Joseph Soul – If You Don't Know Me by Now by Harold Melvin & The Blue Notes – Team Kelly Clarkson – Desz lost her mom at 11 years old. Her dad took over raising three children. Joseph lives in Hawaii, works as a DJ, while his fiancé lives in Boston. She has a phD. Kelly and Leon are full of compliments. But they both note some pitch problems here and there. Joseph is trying too hard, a little intimidated by Desz's powerhouse vocals. The coaches eventually convince him to be himself.  We previewed this performance HERE.
Joseph has a soft voice, but he makes the most of it. He knows his way around a run and has a beautiful falsetto. However, Desz is explosive. That alto tone is so rich and unique. Desz is the clear winner here.
Blake notes that Desz's power fills the room, but he loves Joseph's runs. John laments that she's not on his team. He calls Joseph a "gentle giant." He notes that Joseph's voice has a floating quality. But he would pick Dez. Gwen is drawn to Desz, but calls Joseph's voice "so beautiful and high." She thinks he needs to work on his confidence. "An angel that sings R&B" Kelly calls Joseph. "A warrior vocalist," she says about Desz. Kelly picks Desz. Joseph is stolen by Gwen Gwen claims she wasn't planning to hit her button, but she believes she can help him build confidence. I'm not convinced he was worth saving. 
Jim Ranger vs John Sullivan – Good as You by Kane Brown – Team Blake Shelton – John, a former baseball player, is 6′ 7″. Wow. He plays all over Oklahoma. Still. It's like he's the main attraction at Oklahoma super-spreaders. Jim and his wife are small town country pastors. They have 3 kids. Kane advises the pair to have fun. The song is easy-going and can't be messed up, he says. John, who is an internal singer, needs to open up says Blake. Jim is the opposite, he goes sharp when he oversings. 
All that talk of John's internal style. He's holding his own against Jim the "oversinger." I actually prefer his soulful phrasing. Jim is very raspy, while John's tone is sweet and pure. I would pick John.
John calls the rendition fun.But he thinks Jim's voice has more soul and grit to it. He would lean toward him. Gwen thought John's performance was engaging, but Jim kept ramping up. Kelly calls it a marriage between Keith Urban and John Mayer. Blake picks Jim, John is eliminated. He calls Jim "electrifying." 
Skylar Alyvia Mayton vs Tanner Gomes – Whiskey Lullaby by Alison Krauss and Brad Paisley – Team Kelly Clarkson – This performance is edited down. Kelly picks the singer she believes is ready right now. Kelly picks Tanner, Skylar is eliminated. 
Chloé Hogan vs Lain Roy – Adore You by Harry Styles – Team Gwen Stefani – Another edited performance. Gwen picks the person she can help the most, and the singer most in touch with their identity. Gwen picks Chloé, Lain is eliminated.
John Holiday vs Julia Cooper – Summer Soft by Stevie Wonder – Team John Legend – John, an educator, sings in a countertenor range. John wanted him so much in the Blinds, that he blocked Kelly. Julia does not come from a musical family. Luckily, she listened to a ton of Motown growing up. Miguel is impressed the two can handle such a challenging song. John L advises John to "loosen up just a hair." Coach John wonders if the singer's formal training is getting in his way.  
John has an unusual voice. And he's highly trained. But Julia has a ton of natural talent. John hits some unbelievable high notes. It's hard to compete with that. He has the stronger voice. But Julia is handling a challenging song, even if her chops are quite so massive. John came out on top here. The dude is like a unicorn, and would be hard to beat in most circumstances.
Gwen calls it entertaining and weird. She likes Julia's "swaggy vibe." She doesn't understand how John is real. "As real as your outfit," he quips. Kelly loved Julia's unexpected phrasing. Blake loved Julia's head voice. He calls John a force. John picks John, but SAVES Julia. He calls John a unique talent, but loves Julia's musicality. 
Carson announces that former coach Usher returns to The Voice as a mega-mentor for The Knockouts. Monday is the final night of the Battles. 
Advancing to the Knockouts
Desz – Team Kelly 
Joseph Soul – Team Gwen STEALS from Team Kelly
Jim Ranger – Team Blake
Tanner Gomes – Team Kelly
Chloe Hogan – Team Gwen
John Holiday – Team John
Julia Cooper – Team John SAVES
Eliminated
John Sullivan – from Team Blake
Skylar Alyvia Mayton – from Team Kelly
Lain Roy – from Team Gwen