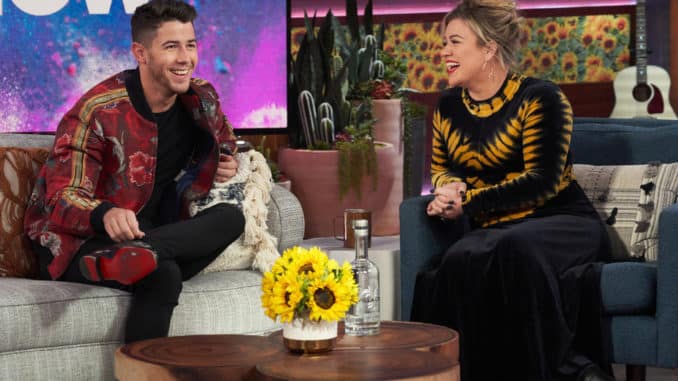 The competition is heating up on The Voice season 17 as the live shows get underway. Meanwhile, The Voice season 18 Blind Auditions were filmed at Universal studios last month! Nick Jonas, who will join Kelly Clarkson, John Legend and Blake Shelton on the season 18 coaches panel, dropped by The Kelly Clarkson Show recently to chat about the upcoming season.
When Adam Levine abruptly left the show last spring, Gwen Stefani filled in. But for season 18, Nick will take over the spot. Like Adam, Nick is a pop guy. So it makes sense! 
However, after sharing shots of Nick Jonas branded tequila, Kelly expressed doubts. "Let's celebrate and drink to your first season of The Voice," Kelly said, adding, "I'm going to kick your tail!"
"Ok, that's not true!" Nick insisted. "Incorrect! I'm not going to clap for that!" he laughed. "It has been a good little friendly competition so far," Nick admitted. "We've done The Blinds which has been really fun. My first ever!" Nick is confident that he's a assembled a "good team."
However, Kelly admits that the two like the same type of artist. Nick agrees, confessing that he did not expect that. "I thought John [Legend] and I would go head to head." Kelly however, knew better. Backstage, she confided to the rest of the team, "I'm gonna have to battle Nick freaking Jonas!" She added, "Like What? I'm not going to win there! I'm so not cool compared to you."
Fans will have to wait until February to find out how things shake out. The Voice season 18 premieres on Monday February 24. Episodes will air MONDAYS ONLY until the live shows kick off in May.
Check out Nick Jonas on the Kelly Clarkson Show below.