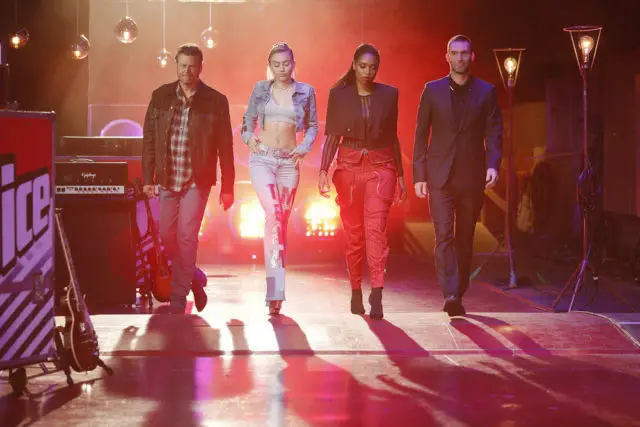 This wide-ranging article on The Voice and the fortunes of the singers that go through the singing show's gauntlet is worth a read. The point the author is making is one long time watchers of the show have made: The Voice is great TV, but not necessarily great for its winners.  Read the full article at HuffPo.
With all of its addictive goodness, you'd think the artists emerging from "The Voice" would also gain some momentum in the music business. However, the popularity of the show and its celebrity mentors doesn't necessarily trickle down to the artists the network highlights for months on end. In truth, the show's 12 winners have produced only five original Top 40 songs and earned one Grammy nomination from 2011 to now. And most of the winners' singles that ranked on the Hot 100 were either "Voice" performances or original victory songs. Cassadee Pope and Danielle Bradbery are the only artists whose post-"Voice" singles have charted on the list.

Unlike the coaches whose fame continues to flourish, it seems many "Voice" winners fare worse in the great expanses of the fair-weather music industry. The days of Kelly Clarkson and Carrie Underwood ? who, after being crowned the champions of "American Idol" in 2002 and 2005, respectively, went on to earn a combined 10 Grammy Awards ? are gone. Today, "The Voice" might do everything in its power to make sure the viewers who vote are captivated by the show's talent in-season. But once those artists are thrust into the music world, why do we rarely hear about them post-show?
The piece goes on to name a few successful winners, Season 9's Jordan Smith whose post show success was bolstered by executive producer Mark Burnett and his wife Roma Downey taking him under their wing. Cassadee Pope had some chart success with Big Machine Label group (before she and the label parted ways). And Danielle Bradbery, a young talent that has been treated by Big Machine as a developing artist. But then, Scott Borchetta and Big Machine didn't drop the ball with these two artists. The rest, most of whom sign with Republic Records after the show are either one and done with the label, or get a quick release with no follow-up
Lately, things seem to be changing a bit. Coach Alicia Keys signed season 12 winner Chris Blue and is helping to promote and produce his upcoming album. And a The Voice residency is opening in Las Vegas featuring various alums–currently Alisan Porter, Mary Sarah, Chris Mann, Matthew Schuler, and the eventual season 13 winner.
Host/producer Carson Daly and executive producer Audrey Morrissey say that once the show wraps, the singers make their own success:
Daly and Morrissey agree. They say "The Voice" is more of a boot camp than a superstar generator, so if people want to make it in the cutthroat entertainment industry, they're expected to put their blood, sweat and tears into their own development. Winning, they insist, is hard work.
And even the American Idol OG winner Kelly Clarkson weighs in. She's set to coach season 14. American Idol season 3 alum Jennifer Hudson is currently on the panel.
"The question is always, 'Why does this one make it and why didn't this one?' And it's hard to tell you that because I think if we knew the answer we'd bottle it up and sell it so everybody could make it," Clarkson told HuffPost. "Jennifer Hudson and I had this talk when I worked with her recently. We were both like, 'You know, it's really not even winning.' Like she's the best example of that. It's taking that opportunity, making something of it and being OK with the fact that it might not be exactly what you thought it was going to be."
It's notable, that when The Voice went on to hire "successful singing show alums" they had to reach into the American Idol alumni pool…
ETA: The lack of stars coming out of The Voice was predictable. Executive producer Mark Burnett is not a music guy. His previous shows featured folks eating bugs and getting sunburned. Another is responsible for the downfall of America but I won't go there. The Voice is more similar to Survivor than its fellow singing shows. It's a fight to the finish–but between superstar coaches. The singers are their means to an end.  Any smart artist going entering into The Voice gauntlet knows it's good for some exposure and that's about it.
On the other hand, American Idol, X Factor, and even the upcoming FOX show, The Four are designed to be vehicles for A&R folk. The company that owned Idol got a cut of their management and record deals. X Factor creator Simon Cowell uses the show to find stars to sign to his record label. And the winner of The Four will be promoted by iHeartRadio. The judges panel is made up of industry professionals set to work with the winner after the show wraps.  Different shows, different goals. 
The Voice season 10 winner Alisan Porter had an interesting reaction to the article. Be prepared for your head to explode as you read through the tweets.
I mean…really? This is 2017 people. It seems obvious that Republic has no interest in developing these winners once they've made money off them during the show. Alisan had several Top 10 songs on the iTunes charts during her run on the show.  
A bit later, Alisan posted another tweet, stressing that she didn't mean to throw shade at her coach, Christina. 
A few hours later, only "NEW MUSIC AFTER THE NEW YEAR" tweet was left up on the website–the other tweets deleted. She might have decided calling out record execs on twitter may come back to bite her–regardless of whether they totally deserve it or not. Plus, Christina's fans may have been and stayed pressed, even after she clarified what she meant.