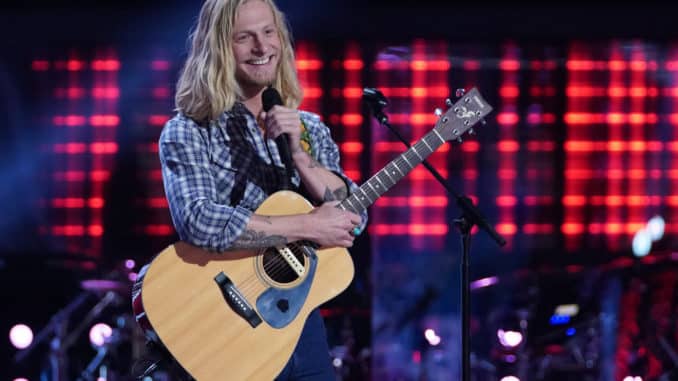 Jordan Matthew Young is a 34-year-old from Austin, Texas who worked for a family business that builds custom homes. He joined a rock-n-roll band which he claims changed his life. Jordan has an outlaw country look with long hair that his sound fits perfectly.  Jordan sang "I'm No Stranger to the Rain" by Keith Whitley for his The Voice Blind Audition on Monday (March 15).
Jordan's voice is interesting. It's got a slight country edge mixed with some rock-n-roll elements. I'm assuming he sees himself more as a southern rock artist. If I'm being honest, the performance bored me a bit, and I felt his range was somewhat lacking. Whenever he tried to go for a more belty note, his voice was very raspy, and not in the most appealing way. I didn't like how he cut off some of the notes, even though I know he made a stylistic choice. His tone might be the one thing that pushes him through in the competition. The song didn't really go anywhere, but nevertheless, Blake Shelton, Kelly Clarkson, and Nick Jonas turned.
John Legend suggested that Jordan not go with the obvious coach in Blake. For his part, Blake noted Jordan's shakiness during the first part of the performance. Blake compares the quick fall off his notes to Eric Church and thinks that is deep baritone sound puts him in his own lane. John continues to reiterate the "don't pick Blake" line. Kelly notes his old-school country sound and uses Blake's girlfriend Gwen Stefani for her pitch, via a highly edited video that suggests the singer choose Kelly over Blake. Kelly also mentions that she's won The Voice with two country artists. Nick claims that he turned at the last minute only because he thought it was a "done deal between Kelly and Blake." Nick suggests they could do something "disruptive."
Surprisingly, Kelly isn't in Jordan's top 2 choices for coach, and he tells her so! Jordan ultimately chooses Blake. Being on Team Blake makes Jordan a threat for sure. Blake jokes that he must've seen through Kelly's lies and manipulation. Kelly says, "sorry Gwen that he let you down!"
The Jordan Matthew Young Band is an award winning rock and soul band based in Austin, TX according to his website. He has opened for ZZ Top before. He sure has energy when he's performing! I like when he sings with a more bluesy edge like on his cover of Gregg Allman's "Come and Go Blues" HERE.  Check out Jordan's Instagram. 
The Voice 20 Blind Audition: Jordan Matthew Young sings Keith Whitley's "I'm No Stranger in the Rain"