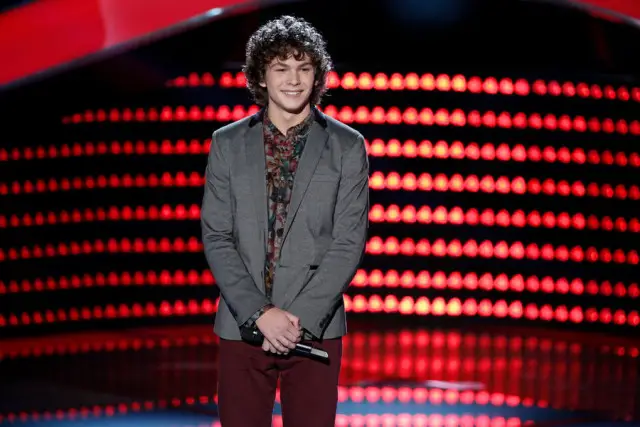 The Voice 9 Recap Blind Auditions #4 – Live Blog and VIDEOS
More hopefuls sing for the coaches–Blake Shelton, Gwen Stefani, Pharrell Williams and Adam Levine–for a spot on their teams and an opportunity to compete in the Battle Rounds.
Click for tonight's SONG SPOILERS with iTunes links
Darius Scott – 23 – Dallas TX – You Make Me Wanna by Usher – His mom is musically inclined. He also plays many instruments. He was immersed in music, theater and dance as a child. He works as a freelance stylist at the moment, but music is where his heart is. He self-funded and produced his own album.  Great voice, but the performance is dull. Adam turns first. Oh. Darius is coming alive on the bridge, hits an impressive high note.  That's when Gwen and Pharrell turn. There are some pitch problems here, Parts of the song are low energy–he tunes in and out. But Darius possesses a natural musicality and beautiful tone. He just needs to be fully present. Pharrell loved his approach to the first verse. It became better and better, he said.  Adam and Pharrell playfully spar. Poor Adam tries so hard. Adam is impressed by Darius' ability to connect (He had his moments…but the connection wasn't sustained. That's my biggest criticsm of his performance). Gwen brags that she's had a longer career than everybody. His style is different, but she's in a position to help him. Adam points out that he's been on The Voice longer than Gwen. Darius reveals that he got a N.E.R.D tattoo in college. Boom. All that wooing for naught. Darius chooses Pharrell –   Download from iTunes
https://www.youtube.com/watch?v=W9rMiHrS7xM
Korin Bukowski – 20 – Miami FL –  Cecilia and the Satellite by Andrew McMahon in the Wilderness – She's a self-styled weirdo, which could become really annoying. She claims she's the least musical in the family. The parents performed in a group called "The Doctors," which they are. Doctors, that is. Korin found her voice in the school choir. She was bullied in school by kids AND teachers. Singing helped her get through tough times. She attends University of Miami on the pre-med track. But she's ready to follow her dreams. Korin has a strong, beautiful tone. She's obviously nervous, though. She'd be even better if she dialed back the cloying vocal affectations. Only Gwen turned. Korin receives compliments all around. Blake says he didn't turn, because he only has a few spots left. More than a character voice, observes Gwen, Korin has range and dynamics working for her too. This is correct, and why she doesn't need to lay on the vocal weirdness. –  Download from iTunes
https://www.youtube.com/watch?v=hNTxg-lUSNY
Krista Hughes – 20 – Cole City, West Virginia – Angel from Montgomery by John Prine – She grew up in a one stoplight town. Her grandparents raised her after mom had her at 14. Yikes. Grandpa bought her a guitar from a pawn shop. Krista is tearful as she thanks her grandparents for everything. The trip to LA was her first ride on an airplane. She's got her eye on Blake or Pharrell, which means she'll probably choose Gwen. Ha ha. Oh. I love this song. Bonnie Raitt recorded a wonderful cover back in the 70s. Wow. Love Krista's rough-hewn voice. So much character and soul. Honest and simple. The rest smack those buttons fast. Adam woos Krista by promising she can stay country. Pharrell compliments how she "landed it perfectly."  Krista loves all kind of music, but her idols are Merle Haggard and George Jones. Blake says song choice will be important. He can help her! And she buys that. Krista chooses Blake. "Ya all didn't get that girl so I'm gonna keep on dancing!" Blake teases. Ha. I dunno. Pharrell worked wonders with Sawyer last season. When Blake has to ditch some of his many country artists, maybe Pharrell will scoop her up. – Download from iTunes
https://www.youtube.com/watch?v=Q_oc2WL8DfQ
Janae Strothers – 28 –  Herndon, VA – "Uptown Funk" – Her mother is a pastor and singer and Janae's role model. She joined the choir at Virginia state, which offered an opportunity to sing at the Vatican. She comes out as a lesbian. She told her very religious parents and they accepted her. She's with the girl she met in college, who has become a member of the family. She teaches music presently. Her goal: She wants to be more than just a gospel singer. But her attempt to tackle a current pop hit does not go well. A bad song choice, she's shouting the lyrics. Her tone is unpleasant, tuneless and pitchy. Unsurprisingly, Nobody turns.  Blake notes there was a party going on, and thinks it hurt her performance. Pharrell has only 3 spots left. He's got to be selective now. Janae admits nerves got to her.
Chance Pena – 15 – Tyler TX –  I See Fire by Ed Sheeran –  His parents own gyms, but Chance is not really interested in following the family business. They're OK with that. He started singing in his room, and graduated to playing for friends. Now, he plays around town. His dad drives him to gigs. Chance looks older than 15. He sounds older too, his voice obviously changed already. He's got really good vocal control for someone his age and a unique tone. It's a vocal that would stand out on the radio. His breath control could use work though. But that's what coaching is for, right? Only Adam turned around. He tells the rest "You screwed up." Gwen agrees. Chance's emotional delivery drew Adam in. Gwen promises to steal him in battles. Pharrell says he didn't turn, because he believed he didn't have a shot. Oh, c'mon Pharrell. Don't be disingenuous! Gwen thought she'd turn and see a 35 year old man. That's not surprising. –  Download from iTunes
https://www.youtube.com/watch?v=ApyCbanvJsQ
Viktor Kiraly – What's Going On by Marvin Gaye – 31 – Budapest Hungary – He was born in New York, but lives back in the old country. His pop star parents took an extended honeymoon in New York City ie. they never left. When mom was diagnosed with cancer, the family moved back to Hungary. Viktor was 16. There were issues fitting in. Nobody wanted him to sing in English. But now, a big star with hit singles on the radio, Viktor is ready to find his way back home. A big The Voice fan, he's got his eye on Pharrell.  First of all, this dude is REALLY easy on the eyes, and has a smooth, soulful voice. He's Robin Thicke without the cocky asshattery. Adam turns immediately. Blake turns next! Adam shoots him daggers. Gwen and and Pharrell finally give in, cause this guy is that good. THAT GUY IS WHITE! exclaims Blake. Gwen approaches him on stage. "I'm the only girl. I have double powers," she purrs. Pharrell notes that he sang the Donny Hathaway version of the song. Viktor is impressed that he noticed. "I'm hungary," puns Adam. Oof.  He calls Viktor a true original who could win the whole thing. Blake thinks he can win too, and as the most winningest coach… Pharrell could feel his personality. Gwen loves his rich sounding voice and dynamics. Victor really wants to make a soul record. We've got to wait until after the break for his decision. Viktor chooses Adam! He picked Adam because "he was so excited." The shameless begging pays off for once. –  Download from iTunes
https://www.youtube.com/watch?v=iehrFzQDBZY
Julie Broadus – "Brand New Key" by Melanie – Julie considers herself an academic nerd. She took 13 AP classes in high school and aced nearly all of them. SHE WANTS A FOUR CHAIR TURN–because she's a type A perfectionist. She's off to study bio-technical engineering at Georgia Tech, but is willing to put it off for music. She's never had vocal coaching and admits her vocal range is limited. Hm. Quirky, but boring. Nobody Turns. A good lesson for an over-achiever.  Show business isn't high school.  Adam and Gwen liked the song choice. Adam was looking for more control. Blake liked the vintage raw sound. They urge her to come back.
Cole Criske – 16 – Temecula CA – Dreaming with a Broken Heart by John Mayer – Cole met Season 1's Xenia, who is also from his home town. When he was 10, Cole's Dad was killed by a drunk driver. It happened the day before Father's day. Mom cries as she recounts the horrible memory. Cole tears up. What a sad story! The song he's singing tonight was the first he listened to after his dad passed.  Unlike Chance, Cole looks his age. But his vocal delivery is unselfconscious and mature. His phrasing is effortless, expressing plaintive emotion. He's not a kid playing grown up. And his tenor is so pretty! Cole is also adorakable, which makes him an instant STAN MAGNET. Gwen is the first to turn. Blake and Pharrell are next. Adam, oddly, never hits his button, but compliments his perfect pitch. Gwen is sure he locked eyes with her. Adam is team Gwen all the way! Gwen knows about using tragedy as inspiration, she says. Blake feels outdone, so he pulls the Xenia card and reminds him of his many wins. Cole chooses Blake. Ah. Xenia got in his ear, she did.  – Download from iTunes
https://www.youtube.com/watch?v=pm3tkJPXBMM
Alex Kandel – 22 – Nashville TN – Bright by Echosmith – She loves kids, and works as a nanny while she goes for a music career. She was lead singer of a band called "Sleeper Agent" we see a clip of her singing high energy pop rock. They did the late night TV shows, and music festivals like Coachella. In fact, she met Adam at a party there, which he doesn't remember, of course. The band split up, and now she's Cassadee Pope 2.0 looking for a fresh start. She does the folk thing with an acoustic guitar, and there's no energy, particularly on the verses. The clips of her singing with her band are vibrant. Something is missing here. Gwen turns immediately. Adam is hesitant, but hits his button anyway. Gwen liked the character in her voice, but notes some weird tuning issues. Alex confesses she feels weird without a band to back her. Gwen really sells herself–she was in a band, but also did the solo thing. She knows where Alex is coming from. Adam isn't as enthusiastic as Gwen, to say the least. He practically hands her off to Gwen. Rightly, Alex chooses Gwen  Alex admits the singer is one of her idols. Maybe Gwen can steer Alex in the right direction. She seems talented, but lost. –  Download from iTunes
https://www.youtube.com/watch?v=yJMTr5joL6s
A montage of rejects: Tom Rhoads, Junior Reed, T'alia Scott. Mostly pitch impaired and/or not ready.
Celeste Betton – 27 – Hinesville GA – Love You I Do from Dreamgirls – Her passion is gospel music. Right after high school, she got pregnant. Singing was put on the back burner while she attended college. She met her military husband singing at church.  Celeste has a lot going for her–an ability to adlib, a smooth delivery–but she overreaches at times, hitting some clunkers. Pharrell almost hit his button, but hesitated when she hit a sour note. But he thought again and went for it. Only Pharrell turned. Adam was impressed by her high notes. Blake thought her performance wasn't perfect, but full of heart. He thinks Pharrell is the perfect coach for her. Her heart changed Pharrell's mind about pushing his button. He notes the other soulful singers on his team. I'm getting a "I didn't love that, but you deserved a turn" vibe from Pharrell. She'll probably lose a battle to one of his better performers. Download from iTunes
https://www.youtube.com/watch?v=Yx_KoC75zwY
Andi & Alex –  23 – Green Bay, WI – Thank You by Dido – The girls are twins, they finish each others sentences and all that. Mom was in a country band, where she regularly pulled the twins up on stage with her. The duo has been singing together since they were 5 years old. They formed an Alt Folk band called Chew the Monster, which recently split up. Now, they've got day jobs. One of them got married. They feel this is their last big shot. Without out ever pounding the pavement on their own? Not really a good sign. Insta reality show wins net a little exposure, but not a career. Nevertheless, these girls display exquisite harmonies. The guitar driven arrangement is interesting, lending the tune a somber tone. Gwen and Adam turn fast! Blake and Pharrell follow. Adam notes the siblings' compassion for each other, calling them "perfectly fitting." When they find out Blake isn't a Packers fan they go "Ohhh" in unison. The twin thing is kind of a riot. Blake reminds them that he's the only coach to bring a duo (Swon Brothers) to the finale. Good point.  Gwen is impressed by their arranging skills. Pharrell notes he won with folk singer Sawyer Fredericks last season, whom he allowed to be himself. All four are fighting hard. But the duo chooses Adam –  Download from iTunes
https://www.youtube.com/watch?v=Xbx43e6mnlU
Next Monday and Tuesday…it's the final Blind Auditions. Carson promises the best has been saved for last…