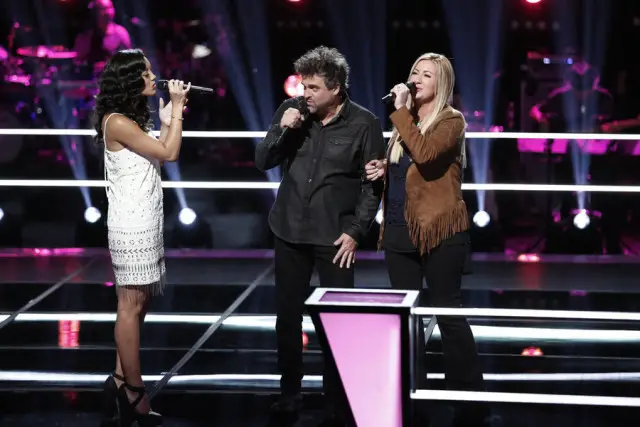 The Voice 9 Recap Battle Rounds #4 – Live Blog VIDEOS
Adam Levine, Blake Shelton, Gwen Stefani and Pharrell Williams are joined by advisers, John Fogerty, Brad Paisley, Selena Gomez and Missy Elliott, respectively, as team members do battle for a spot in the upcoming Knockout Rounds.  It the last night of the Battle Rounds! We're live blogging here.
Pharrell is the only remaining team with a steal…
Rihanna will serve as Key Adviser next week. The show begins with clips of the singer in action. Hugs all around!
Amanda Ayala vs Shelby Brown – Team Adam – Edge of Seventeen by Stevie Nicks – Download from iTunes
Rehearsal: Amanda has been singing classic rock music since she was 12. Shelby is a small town country singer–bowling alleys are her typical performance venue. Amanda was super excited to see John. Her mom is a fan. Both singers are 17. Such a literal song pick. Shelby is excited to explore genres outside of country. But Amanda, as a rock singer, knows the song better. Shelby admits she has problems with timing. Adam says belt it out anyway. In the final rehearsal, Shelby felt overwhelmed. She's never sung with a band before. Uh. oh. Amanda, as an experienced rock singer is really at an advantage here. Still, I think Shelby is the better singer.
Performance: Amanda is definitely the better, more confident performer. But there's something about Shelby. She really has raw talent, and a big beautiful voice. I can't imagine Adam ditching the country singer he wanted so bad, he wouldn't stop bitching about it-for two straight episodes. "I'm going to help my buddy out before his audition for the blue man group," cracks Blake. Thank Jeebus Adam is growing out his hair. Blake loves Amanda's sandpapery voice and notes Shelby's big vocals, but he wouldn't commit. Pharrell admires Amanda's control, but loved Shelby's "big unapologetic notes." Gwen thinks both are incredible. Adam thanks Shelby for sassing it up. He compliments Amanda for being a pro. But .Shelby Wins the Battle. That was a foregone conclusion, folks.  Adam's country contestant is his. Aw. Adam hugs a tearful Amanda.
https://www.youtube.com/watch?v=1MmPqb3SoOI
Now, we explore The Voice contestant's "BoHo vibe" with Christina Grimmie. Yippie.
Amy Vachal vs Jubal and Amanda – Team Pharrell – To Love Somebody by Bee Gees –Download from iTunes
Rehearsal: Amy is a struggling New York City artist. She wowed the coaches with "Dream a Little Dream of Me" in the Blind Auditions. Jubal and Amanda got engaged on the show. which is pretty much going to be their legacy. I don't think they are meant to last. These two acts are really ill-suited.  The duo are older, 70s style country rock singers. Amy is younger and also retro, but with a modern twist. Missy and Pharrelll help Amy figure out away not to be overwhelmed by the duo. In the final rehearsal, Missy suggest all three put their guitars–"crutches"–away. Pharrell takes away the music stands! The duo isn't as willing as the sisters were to work as a trio. They are gonna stick together.
Performance: The duo completely overwhelm Amy vocally, and they ain't going to budge an inch to give her room to shine. Hey. This is a battle! Technically, the duo win this battle, They dominate vocally, and have a polish and precision Amy does not. But I'd bet my house Pharrell's mind was made up even before the battle began. He'll choose the young chanteuse with the retro modern vibe. Gwen compares Amy to Pocahontas, and calls her a star. Adam notes how awkward it was. "You're not the third wheel!" he assures Amy. Blake says his heart is still broken she didn't pick him. "I just don't know how you move forward without Amy." he says. And of course Amy wins the Battle. I loved her audition, she'll shine brighter on her own.
https://www.youtube.com/watch?v=dxoLN9jhclk
Montages!  We hardly knew ye…
A brief look at 3 battles with results are next.
Daria Jazmin vs Darius Scott – Team Pharrell – Lean on Me by Bill Withers – Download from iTunes – Darius wins the Battle
Cole Criske vs Nadjah Nicole – Team Blake – Hit Me Baby One More Time by Britney Spears –Download from iTunes – Nadjah wins the Battle
Hannah Ashbrook vs Summer Schappell – Team Gwen – Leave the Pieces by The Wreckers –Download from iTunes – Summer wins the Battle
https://www.youtube.com/watch?v=qvtFORqrWqs
Emily Ann Roberts vs Morgan Frazier – Team Blake – I'm That Kind of Girl by Patty Loveless –Download from iTunes
Rehearsal: Emily is a country artist with an "old soul."  Morgan sold 30K of her independent CD. She did Cheap Trick country style in the Blinds, and it was cool. Emily's first concert ever was Brad. Morgan was blown away by Emily's sweet voice. Emily is a little intimidated by Morgan's experience. Both these girls are really great. No stress though. We know Pharrell steals the singer Blake doesn't choose. OH THE SUSPENSE. In the final rehearsal, Blake and Brad have only a few notes. Brad says it's the difference between Morgan, the seasoned performer and Emily, the 16 year old, Blake will regret allowing to get away.
Performance: These two are evenly matched. Truly. I can't even tell one is way more experienced. Emily has a pure beautiful tone that reminds me a little of Danielle Bradbery, but more emotionally evolved. I suspect Morgan is more versatile–based on her Blind Audition. The coaches aren't helping  "What you got Mr. Clean?" Blake snarks at Adam. He calls Blake dumb for putting two talented artists together. Oh. Blake compares Morgan to Carrie Underwood. "There's vomit in the inside of my throat," Blake says about the decision. However, Emily Anne wins the Battle. Blake chose the singer who needed the most help, basically. But then, Pharrell steals Morgan. He's looking forward to having a country singer on his team. It's a good split. Blake is really good mentoring young, unformed talent. Pharrell does well with versatile artists like Morgan. It's all good.
https://www.youtube.com/watch?v=pAJe_m8rmSE
We're out with a preview of next week's knockouts, featuring KEY ADVISOR Rihanna. Each singer chooses their own song, and will face off with it against a team member. Each coach gets ONE steal. Thirty two will become 20 by the end of the week!
https://www.youtube.com/watch?v=qRcaVgNfOKg
Advancing to the Knockouts
Shelby Brown – Team Adam
Amy Vachal – Team Pharrell
Darius Scott – Team Pharrell
Nadjah Nicole – Team Blake
Summer Schappell – Team Gwen
Emily Ann Roberts – Team Blake
Morgan Frazier – Team Blake – Stolen by Team Pharrell
Eliminated
Amanda Ayala – Team Adam
Jubal and Amanda – Team Pharrell
Daria Jazmin – Team Pharrell
Cole Criske – Team Blake
Hannah Ashbrook – Team Gwen