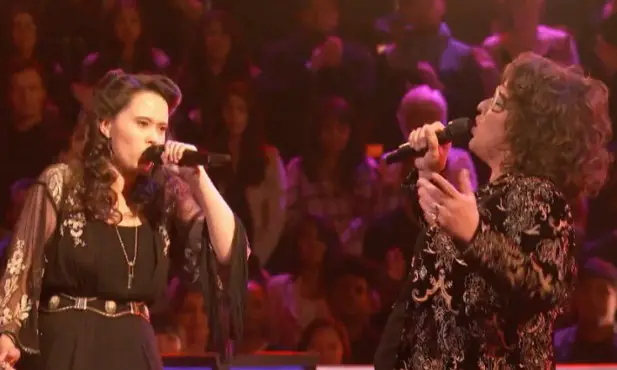 Tonight, on The Voice Battle Rounds, Sarah Potenza and Hannah Kirby battle for a spot on Team Blake Shelton, singing the Rolling Stones' "Gimme Shelter."
"Blew my socks off," said coach, Christina Aguilera, afterward, "That was crazy!" Christina felt it was an even match. Pharrell Williams loved the performance, calling it a straight-up duel. He noted Hannah's fighting spirit. "She ran over there, and was like 'No. Not today. They are gonna hear me too.'"
Read More: The Voice 8 Battle Round #1 Live Blog and VIDEOS
Adam Levine felt Sarah blew the coaches away even more than before, but then Hannah was also a huge surprise. Sarah was tough, said Adam. "But then Hannah came out swinging her purse like a southern church lady," Pharrell added.
"Shame on us," said Adam. "Because we were expecting a murder." Because she stepped up to the plate, Adam feels he has to give the round to Hannah.
With Adam, Christina and Pharrell so vocally supportive of Hannah's performance, will coach Blake Shelton agree and choose Hannah? You'll have to tune in tonight as we live blog The Voice beginning at 8 pm on NBC.
http://youtu.be/ncGXc57pGFQ