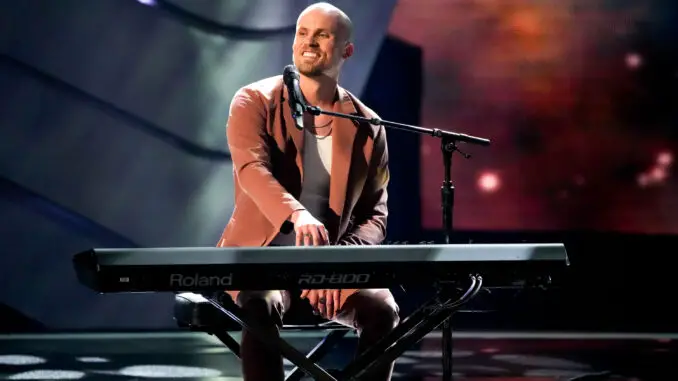 After last week's season premiere of The Voice left each coach–Kelly Clarkson, Chance the Rapper, Niall Horan and Blake Shelton–with a few notable members of their teams, it's time for another round of Blind Auditions!
The Voice 2023: Full Season 23 Schedule
The Voice 23 Spoilers: Top 8 Semifinal Artists Playoffs Results
The Voice 23 Spoilers: Battle and Knockout Round Results
The Voice 23 Contestant List and Guide: Meet the Artists!
Ryley Tate Wilson – 15 – Montgomery, AL – "Dancing On My Own"
Ryley's first few, soulful notes immediately earn him chair turns from Niall, Blake and Kelly, while Chance waits it out. Kelly offers a "Woo!" just before Ryley's next beautiful note that gets Chance to turn!
Kelly is shocked to hear he's only 15 years old, while Niall calls it the best audition they've seen. Niall recalls what it was like being 15 and auditioning for a reality TV show, and says if he were to get Ryley to sing the song again, he would never do it the same way twice. Kelly says she turned light-years before the others, and recalls her own journey being a young person on a reality TV show. Chance calls him insanely talented and compliments his improvised runs. Blake assumes he's Ryley's fourth choice, but says if Riley chooses him, he'll quit coaching after this season (lol). Ryley chooses Team Niall.
Jamar Langley – 36 – Andrews, SC – "Try Me"
Jamar offers some unique notes and another soulful tone, but it takes the coaches time to become convinced. It's a falsetto note near the end that gets Chance and Blake to turn their chairs.
Blake says he's a perfect example of not giving up because it didn't start out good, but then it got great. Chance says Jamar could go far with his tone and he could tell he was proud of himself. Kelly says she doesn't coach nerves well and she felt the beginning was nerves. Niall congratulates him before Jamar chooses Team Chance.
Allie Keck – 28 – Nashville, TN – "Paris (Ooh La La)"
Allies got a deep, grungy tone for this rock song that makes Blake immediately turn. The other three judges jam out in their chairs, but one final, growl makes Kelly turn her chair.
Niall says he was rockin like hell and pitches for Blake while Kelly defends herself as a fellow female singer. Kelly calls her a powerhouse with a Janis Joplin vibe, and the only rock and roll artist on the show so far and loves that it's a female. Blake says there's so much to learn about her and wants to blow it out one last time. Chance says her voice literally sounded like an electric guitar. Allie chooses Team Kelly.
Jayda Klink – 23 – Cincinnati, OH – "No Air"
Jayda turns Jordin Sparks' "No Air" into a beautiful ballad with a tender tone in her voice, yet halfway through the song the coaches are yet to turn their chairs. By her final note, no one has turned.
Blake says he didn't turn because the performance was "loose" and didn't land in the pocket. Niall thought there was a nervous start but has an incredible voice. Chance says to continue doing what she's doing. Kelly says she has potential and needs more experience.
Walker Wilson – 24 – Nashville, TN – "Hurricane"
Walker sings with a Southern accent, a roughness to his voice that makes Blake turn almost instantly. He didn't hit every note perfectly, but enough to get a standing O from Niall.
Blake says he's damn proud to have Walker on his team. Niall says Blake was all over it the minute Walker started. Chance says he's got a distinct voice before Walker tells him he saw him at Bonnaroo a few years ago. Kelly says she would have turned if no one else did. Walker joins Team Blake.
Ali – 24 – California – "Killing Me Softly With His Song"
Ali talks about being born deaf in her package, saying she may not be able to hear every part of the music, but she can feel it. She's got a very unique tone and a voice that flows through the entire song. Kelly and Chance turn at the same time. You can hear a uniqueness in her voice as she sings that simply makes the song her own.
Kelly says she has a gift. Niall says she's jumping hurdles despite the adversity in her life. Blake says she would be the last singer he would think was hearing impaired. Kelly says the changes she made to the song were "Ali." Chance says he's stunned to find out she's hearing impaired and works with a lot of people in the deaf and hard-of-hearing community. Ali chooses…. and commercial! Ali chooses Team Kelly.
Manasseh Samone – 22 – Dallas, TX – "Rise Up"
Manasseh remembers not getting a chair turn when she auditioned last season before she comes out singing this powerful song. Manasseh is only a few notes in when Chance turns his chair.
Kelly stands and claps when she learns Manasseh is from Texas. Chance thinks they're all crazy for not turning, and calls getting Manasseh on his team the biggest blessing of the show for him so far. Kelly thinks she was doing a tug of war between technique and passion. Niall says he took a backseat because Chance was so excited. Manasseh joins Team Chance.
Jerome Godwin III – 20 – Montgomery, AL – "pov"
All four coaches look intrigued by Jerome as he sings, but one note in the middle makes Niall and Kelly turn at the same time. Jerome has this gorgeous Broadway tone to his voice as he ends the song.
Chance calls his voice amazing and says he loves his lower register despite some pitchy moments. Kelly says she hopes he never loses his passion and desire, and compliments his smile. Niall says he turned the minute he "went there." Jerome chooses Team Niall.
EJ Michels – 31 – Draper, UT – "Easy On Me"
EJ starts singing and is hidden from view from even the viewers, singing this ballad with a beautiful, high voice. It's not technically perfect, but makes Chance and Blake turn by the end.
Chance says he could tell he was an instrumentalist before he saw him playing the piano. Blake says his voice is raw and honest and sometimes imperfections make the listener feel more of a connection. Kelly says she didn't expect EJ to look like he does, singing a female powerhouse song. Niall says he regrets not turning. EJ chooses Team Blake.
Sophia Hoffman – 18 – California – "Amor Eterno"
Sophia beautifully sings this Spanish song, and Kelly teases her hand above the button, but ultimately no one turns their chairs.
Blake comments on how the other three hovered over their buttons, while Niall apologizes for not turning. Chance says it was fire and hopes she keeps at it. Kelly says he has an incredible tone and encourages her to pick a song that shows off the range of her voice next time.
Laura Littleton – 26 – Dickson, TN – "Sign of the Times"
Laura puts this folky/country spin on this Harry Styles ballad. Blake, Kelly and Niall all turn their chairs, but Kelly blocked Blake. Laura has a very shaky voice, it completely compliments her style.
Niall says he loves her already, while Kelly says she matches her energy. Blake says he wishes he could have had her on his team. They all applaud Laura's speech about how people walk away from the auditions with more confidence and as a better person. Kelly says she loves her so much that she used her only block for her. Niall says she looks and sounds like she loves this, and loves the natural shakes she has. He also says it was a great song choice and Kelly comments about Niall having a connection with the original singer. Chance says he regrets not turning and if he had gotten to see her stage presence he would have turned. Laura chooses Team Niall.