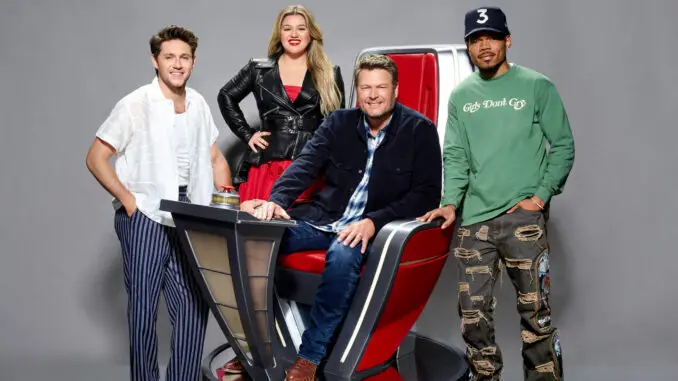 The Voice Playoffs usually air live across one night and is the first opportunity for fans to vote for their favorite artists. Not season 23! The Playoffs were taped at the end of February. As always, IdolForum spoilers have revealed the Top 20 song choices, along with the Top 8 artists who will compete in the LIVE semi-finals (See Idolforums spoiler page HERE).
The Top 20 performed one team at a time. After the five team members finished performing, their respective coach chose TWO artists to move on to the semifinals.
The Voice 23 Playoffs Spoilers
Performances
These performances are listed in no particular order.
Team Kelly Clarkson
Cait Martin – Alone by Heart
D. Smooth – Location by Khalid
Neil Salsich – Have A Little Faith in Me by John Hiatt
ALI – Never Alone by Tori Kelly
Holly Brand – Bring On the Rain by Jo Dee Messina
Team Chance the Rapper
Jamar Langley – The Thrill is Gone by B.B. King
Manasseh Samone -Speak the Name by Koryn Hawthorne
Kala Banham – My Funny Valentine by Standard
Ray Uriel – Essence by Wizkid feat. Tems
Sorelle – Something's Got A Hold On Me by Etta James
Team Niall Horan
Ross Clayton – With or Without You by U2
Gina Miles – Wicked Game by Chris Isaak
Tasha Jessen – Here by Alessia Cara
Michael B. – The Joke by Brandi Carlile
Ryley Tate – when the party's over by billie eilish
Team Blake Shelton
NOIVAS – Come Together by The Beatles
Grace West – Love is Alive by The Judds
Rachel Christine – The Only Exception by Paramore
Kylee Dayne – Flowers by Miley Cyrus
Marykate Conner – If I Die Young by The Band Perry
The Voice 23 Top 8 Results
And here is The Voice 23 Top 8, chosen by the coaches.. The singers will compete in the LIVE semi-final.
Team Kelly Clarkson
D. Smooth
Holly Brand
Team Chance the Rapper
Ray Uriel
Sorelle
Team Niall Horan
Gina Miles
Ryley Tate
Team Blake Shelton
Grace West
NOIVAS