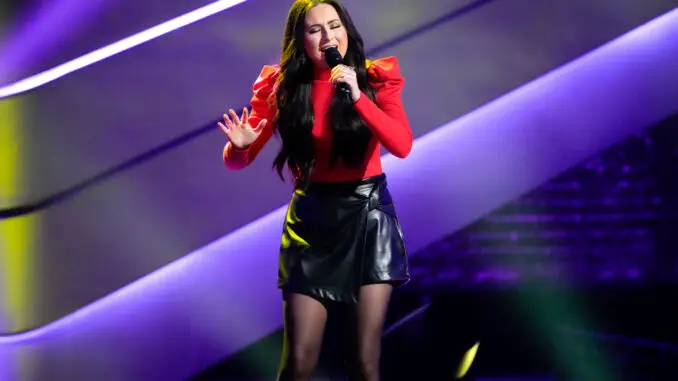 The Voice 23 Blind Auditions Premiere: Pageant Queen Holly Brand is a "Mississippi Girl"
The Voice Season 23 kicked off on Monday night, and it's a big season. Original coach Blake Shelton who is the only coach to appear on every season is saying farewell in May And we sure heard that a lot on premiere night. (Read our Recap)
We also saw two new coaches; Niall Horan who became famous as a member of One Direction on The X Factor UK and Chance The Rapper, the first hip hop artist on the panel. We also saw the return of beloved and OG American Idol champion Kelly Clarkson. She scored big on night 1 with a former pageant queen who is a contender, Holly Brand, a 22-year-old from Meridian, Mississippi.
Holly noted prior to her audition that she hoped Blake turned, so she could be on the last Team Blake. She shares how her first major performance was at 10 years old, when she opened for Blake. Her mom talks about the full-circle moment saying, "you didn't say anything to him, but you were there with him." She started in pageants at the age of 13 before winning Miss Mississippi 2021 and then competed on Miss America. Holly notes the differences between this audition and her pageants, saying "today it's not about what I'm wearing, what my hair looks like, it's about what I sound like."
Holly Auditioned for X Factor USA in 2013
Notably, Holly isn't exactly new to music competitions. She made it past the auditions of The X Factor USA in 2013 at the age of 10. This would have been around the same time she opened for Blake. I don't believe she was ever aired on TV.
Holly sang "Mississippi Girl" by Faith Hill and was confident to start but had a slightly restrained approach, until letting loose later in the performance. At that point, the coaches began hitting their buttons–all except Blake. Kelly turned almost immediately with Niall following after an impressive little run. Chance turned mid performance.
Holly's sings with a clear country tone, and she showed later in the performance that she has impressive range with a set of belts, including hitting an almost whistle note to top it all off. Her ability to belt had me wondering if she'll tackle some other genres too, as the sky is the limit with that range. I'd also like to see a bit more artistic flair in her next performances, but nevertheless this was a very strong start for Holly.
Kelly exclaims, "what is wrong with you" after the performance to Blake and yells in his ear, "is this thing on," indicating that he is crazy for not turning. Niall says her "control is unbelievable" and compares her to Maren Morris, which I don't agree with as Maren's tone is a bit more soulful and has some rasp where Holly's was clear as a bell. Chance says, "you hit every note spot on. The whistle note took me out." Kelly compares her to the original singer Faith Hill and Carrie Underwood, noting that "we don't have that voice in country music right now." And she brags about knowing more about country than the others who turned
Holly brings a photo of herself and Blake
Holly then brings forward a picture of her opening up for Blake when she was 10. The coaches get up to look at the picture, and Niall jokes, "hi, I am Niall your coach" before Blake says, "I would pick Niall". Ultimately, Holly picked Kelly which is probably a smart move. Her style fits well with Kelly's expertise.
Other than Holly, the night had three other 4-chair turners. They were country adjacent singers Neil Salsich (Team Blake) and Ross Clayton (Team Niall), and former American Idol competitor NOIVAS (Team Chance). Other impressive artists included singers like Tasha Jessen (Team Blake) who had a stellar folksy voice and sister trio Sorelle (Team Chance) with their unique Queen cover full of harmonies.
It appears NBC wanted to showcase Blake in the episode but also wanted to show that Chance is a strong coach with both his pitches and strategy to block Blake.